How Mensa Brands Became India's Fastest Unicorn!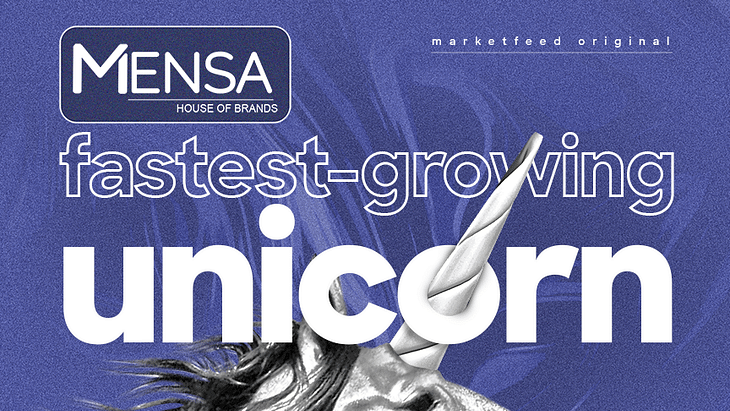 Getting the status of a unicorn (a valuation of $1 billion) is very special for any startup. At the same time, it's no cakewalk. It's extremely difficult to develop a unique product or service, build a purpose-driven team, get financial support, attract customers and, most importantly, scale up. Meanwhile, there are some special Indian startups that make it seem so easy….
Within its first six months, Bengaluru-based Mensa Brands became the fastest Indian startup to become a unicorn. A truly impressive feat! In this article, we throw light on how the company envisioned transforming brands across India and turning profitable in this exciting venture!
Mensa Brands' Origin
In May 2021, Ananth Narayanan, ex-CEO of Myntra and co-founder of Medlife (an online healthcare platform), set out to establish a new venture— a 'house of brands'. He noticed that most early-stage brands or startups in India's fashion and beauty segments could not adopt the right strategies to scale up their business. Many brands failed as they could not effectively promote their products, manage inventory, or drive sales!
Narayanan felt he had the right expertise and connections to scale brands and structure mergers & acquisition (M&A) deals. His four-year term at Myntra helped create a business vision of partnering with and investing in digital-first brands in fashion, beauty, and certain fast-moving consumer goods (FMCG). He called up his friends and drew up an action plan. And thus, Mensa Brands was formed!
So What Does Mensa Brands Actually Do?
Mensa looks into promising brands and entrepreneurs across the fashion, beauty, and personal care segments. They would select brands with strong income streams and a fairly growing customer base.
It will then work out a deal/business plan with brands and acquire a majority stake (>51%) in them.
Then, the founding team or creators of these brands join forces with Mensa Brands to run operations on a larger scale. Mensa will help brands manage and expand their product offerings on their official digital platforms and across all major marketplaces.
Mensa would support brands by sharing its expertise in inventory management, technology, e-commerce, supply chain management, and digital marketing.
They assist startups involved in tech-led product development by identifying a product that prospective customers are looking for. Mensa will also help such startups launch a new product line based on their findings.
Funding & Investors
In November 2021, Mensa Brands raised $135 million at a valuation of nearly $1.2 billion, making it the fastest Indian startup to reach unicorn status! The company is backed by prominent equity investors like Tiger Global Management, Falcon Edge Capital, Accel, and Norwest Venture Partners. Mukesh Bansal (cult.fit) and Kunal Shah (Cred) are angel investors in Mensa.
Mensa Brands has raised a total of $187 million (~₹1,540 crore) over six rounds!
Mensa Brands' Strong Growth
In the initial days, Mensa Brands found it difficult to approach brands with an unfamiliar concept and build trust among them. Picture this scenario: new entrepreneurs were getting calls from someone they had never heard of before. Executives from Mensa were basically talking to founders about taking over the brand/business they built from the ground up with a lot of pain.
But gradually, many brands understood the finer details of Mensa's business model and the expertise they would bring to the table.
By Oct 2021, Mensa acquired a 51-75% stake each in 10 new-age brands! It will also have the option to acquire the remaining stake in these companies/brands over five years if they achieve certain milestones. So once the brands' valuations grow under Mensa's expert supervision, its founders could exit comfortably with crores in their pockets!
These 10 brands have an average revenue of ₹25-35 crore. According to Ananth Narayanan, these brands have been growing at 70-80% annually. They are estimated to grow by at least 10x over the next five years! More than half of Mensa's brands are available outside India across the US, Canada, UK, Germany, Singapore, and UAE.
In June 2022, Mensa Brands announced it was profitable with projected revenues of ₹1,500 crore in the first 12 months of operations. It has become India's largest direct-to-consumer (D2C) tech-led house of brands. Currently, Mensa supports around 20 fashion, beauty, and lifestyle brands. And nearly 80% of them are run by women.
Mensa's Mission
Mensa Brands' vision is to partner and invest in more digital-first brands and scale them. Going forward, the startup will deploy funds to accelerate growth, ramp up acquisitions, and scale its team across operations, marketing, and technology. The company has close to 60 employees and aims to increase it to 150-200 over the next year or so.
Over the next 2-3 years, Mensa plans to acquire more than 50 brands across the home, garden, apparel, personal care, and beauty categories. They hope to see some of their existing brands become household names! Mensa will also expand its influencer and social media networks to ramp up digital marketing initiatives for brands. The startup's business model has opened up new opportunities for potential e-commerce growth!
The Indian e-commerce market is becoming increasingly competitive. There would be hundreds of potential brands whose success depends on effective fundraising and expertise to scale effectively. Let us look forward to seeing more brands grow to new heights with the help of Mensa! What are your views on this startup? Let us know in the comments section of the marketfeed app.
Post your comment
No comments to display