How Has Inflation Impacted The FMCG Sector?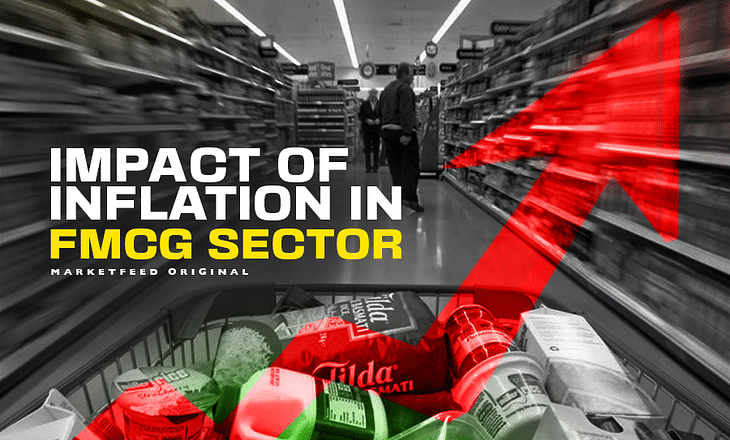 The Russia-Ukrainian crisis, rising fuel prices, and global interest rate hikes have fueled inflation. Many sectors of the worldwide economy are impacted by it. One such is the FMCG or Fast Moving Consumer Good sector.
In a December 2021 issue, we discussed the WPI-CPI divergence and how inflation wasn't reflecting on retail prices. While manufacturers continued to produce goods, there wasn't sufficient demand YET among consumers. Businesses had not yet started passing on the burden of inflation to consumers. The FMCG companies cannot sustain any longer and have now decided to hike prices and pass on the responsibility of inflation to consumers. In this piece, we discuss the outlook of the FMCG sector and the impact of inflation on it.
Effects of Inflation
Central banks across the globe have started hiking interest rates. Most are following a contractionary monetary policy, meaning they have started taking money out of the economy. If the tapering of liquidity impacts personal income, it could restrict consumers from spending, eventually stalling economic growth and causing a considerable output gap.
High prices could mean the following for FMCG companies:
Lower Profit Margins
High Cost of Transportation/Supply Chain
Increased Cost of Storing
Reduction In Volumes of Goods Sold
Where do we see the impact of inflation around us? For the first time since 2007, the price of a matchbox has doubled from Rs 1 to Rs 2. Even the iconic, Maggi Noodles are now dearer by Rs 3 for a pack of Rs 140 gm. India has a long battle to fight against inflation.
How is Dalal Street Reacting To It?
The NIFTY FMCG, a benchmark index consisting of the top four FMCG Companies, was fueled by the COVID bull run till September 2021. The index has stalled ever since then, sliding by 12-15% since it hit an all-time high of 40,426. The market has been on a downtrend, and the reason is apparent. It is dimming investor sentiment due to inflationary pressures on the FMCG sector.
Varun Beverages, Colgate-Palmolive, Proctor & Gamble (PGGH), and ITC have been the top gainers for the quarter, seeing around 4-16% gain in share price in the last three months. Top FMCG Players like Hindustan Unilever, Jubilant Foodworks, Bajaj Consumer Care, and Nestle India lost anywhere between 9-21% in share price in the last three months.
The Way Ahead
According to the latest reports, FMCG companies have decided to hike prices by around 10-15%. One can eventually expect the prices to go down with time. With events that folded after the COVID-19 pandemic, inflation was imaginable.
There is one interesting paradigm that we can see in India's case. India's exports are at an all-time high, crossing $400 billion. Even the USD to INR conversion rate is fluctuating at higher levels. This means that we could make more in rupee terms for every commodity that we export. India hasn't yet started to take advantage of the global shortage of certain commodities. If Indian FMCGs managed to tune the exports to get better realization and higher gross margins, they could use the surplus from exports to adjust domestic prices to improve domestic volumes. However, this remains a possibility until domestic FMCG companies act on it.
Do you think FMCG stocks are likely to perform better in the coming months? Let us know in the comment section available in the marketfeed app.
Post your comment
No comments to display