How Does Monsoon Impact The Indian Stock Market?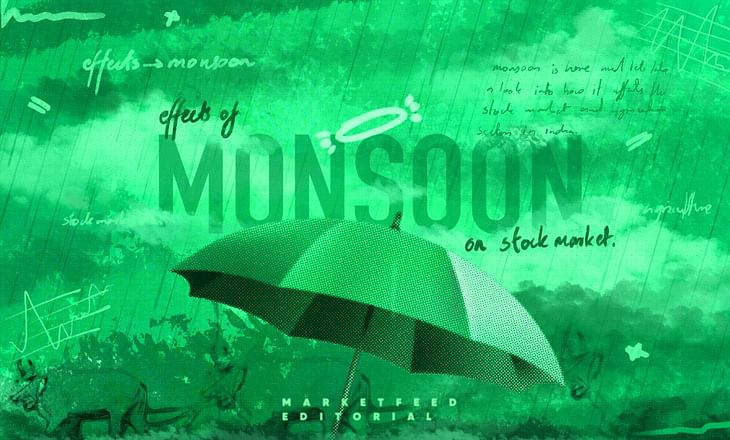 Many factors drive the stock market. Not just quarterly results, profits, rumors, or news. Even the weather or weather forecast impacts the stock market. Weather plays such a crucial role in the economy that markets in the US have started betting against weather conditions. That's right! The Chicago Mercantile Exchange had listed Weather Futures and Options way back in 1999. This allows companies to hedge against the risk associated with weather changes which could otherwise lead to a loss.
India is an agrarian economy. Almost every economic aspect in India depends on agriculture. Close to 70% of the Indian population is rural and depends on agriculture for livelihood and mind you, ~84%(FY2021) of India's annual budget is dedicated to agriculture itself.
India is a country with two monsoon seasons, one in the north half of India caused by the South-West Monsoon Winds and the other in the southern half of India caused by North-East Monsoon Winds. Bad rains could hugely affect the Indian economy. Bad Rains = Bad Agriculture. Farmers start to default on loans. Microfinance companies get affected. Lending Activities Take a Hit. Shortage of food causes food prices to go up and therefore inflation goes up. Government announces loan waivers which impacts credit discipline and the list goes on…
How Does Monsoon Impact The Economy? Where Should I Invest?
The Indian Meteorological Department(IMD) sets a benchmark for monsoon called the Long Period Average or the LPA. LPA is defined as the average rain received by the country as a whole during the southwest monsoon(July-September) over 50 years. The current LPA is 88 cm. The IMD forecasts or predicts the weather before the monsoon each year. However, the predictions are often inconsistent. The IMD has predicted that India is going to receive normal rainfalls at almost 98% of the LPA. Any 'major' deviation from the LPA can impact your portfolio
Rains that impact agriculture, finance, inflation, and even power consumption. In this piece, we cover those sectors and stocks that could possibly be impacted by monsoons. One should keep a keen eye on how the monsoon turns out this year and how it can possibly impact the stock market. Speaking of which, the following sectors might get impacted due to monsoons:
Fertilizers Chemicals and Seeds
When rains are optimum, agriculture flourishes. Companies selling fertilizers, chemicals, and seeds tend to profit. This is because due to good produce and sale, farmers' buying power increases, and thereby prepare for the upcoming sowing season.
In case of abnormal rains(drought or excess rains), farmers can face a loss and therefore might not be able to scale up for the next sowing season.
Micro Finance
Agricultural financing and rural financing is a big market in India. They yield a good interest income to banks since many are unsecured, have a bad credit profile, or have risks associated with them. The Reserve Bank of India(RBI) classifies such rural and agricultural financing as 'Priority Sector Lending(PSL)'.
Small Finance Banks are required to give out at least 75% of Adjusted Net Bank Credit as Priority Sector Lending. Small Finance Banks(SFBs) along with Micro Finance Institutions(MFIs) form the chunk of entities that lend out money for rural and agricultural activities.
In case the rainfall is optimum, farmers can pay back their respective loans taken from SFBs and MFIs. In case of bad rains, farmers are likely to default on loans. The government might then announce a moratorium for them or a loan waiver. This would eventually impact the balance sheet of SFBs and MFIs as well as overall credit discipline.
Power
We often see pre-monsoon repairs going on in power companies right before the season. This is because power companies lose quite some money due to power cuts and damages caused by heavy rains. In 2018, the financial capital of Mumbai saw a ~30% slump in power consumption due to heavy rains.
Things may work the opposite way around for a state like Kerala. Unlike many states, Kerala receives most of its power from Hydel or Hydro Power. For Kerala, it means that the state needs good rains to generate more electricity. Heavy rainfall would mean the higher generation of electricity. However, this does not save the state from damaged transmission and distribution lines due to heavy rains.
FMCG
A good monsoon would mean a good harvest and good mobility. FMCG stocks, especially ones that focus on rural themes benefit from a good rainfall. Companies like Dabur, Godrej Consumer, Emami, Britannia, Nestle India, and Marico.
Automobile
Rural areas have usage of two-wheelers, tractors, and other agro-tech automobiles. A good rainfall would mean greater income for farmers who are more likely to purchase automobiles after a good harvest. Along with an increase in automobile sales, one can also witness increased sales in tyres, auto-ancillary, batteries, etc.
For two-wheelers, we have companies like Hero and TVS that have a good rural cover. For tyres, we have stocks like Apollo Tyres, MRF, and Balkirshna Industries. A special emphasis on tyres since many might want to change tyres before or after a monsoon to avoid mishaps.  
What Lies Ahead
A lockdown has been imposed due to the second wave of COVID-19. The rural part of India has been impacted this time, which wasn't the case in the first wave. The question remains, with the second wave of the coronavirus, can monsoon really change things?
Monsoons have impacted the stock markets over the years. There has been a reduction in the dependence of India on agriculture as a percentage of GDP. Moreover, changes in technology and better weather forecasting have made it easier to be prepared for a calamity way in advance. 
Even though monsoon predictions have been normal for this year, we have the second wave of COVID-19 as well as the challenge of vaccinations on our backs. Do you think that a good monsoon could override the effect of the pandemic? Let us know in the comment section right in the marketfeed app available for both Android and iOS.
Post your comment
No comments to display