How Cox & Kings Promoters Trapped Investors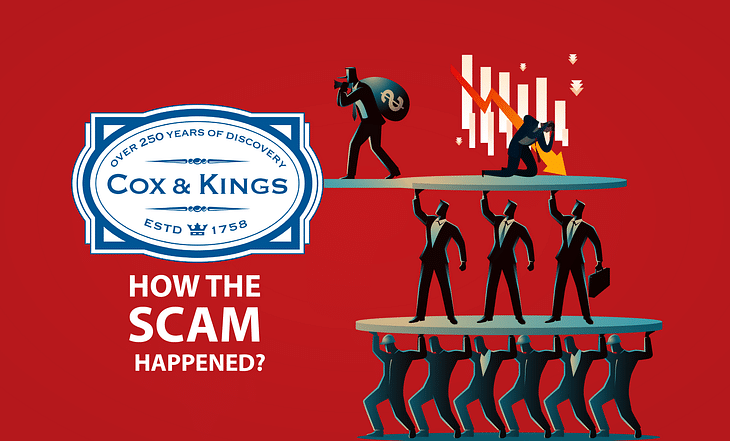 Cox & Kings Limited (CKL) used to be one of India's largest tour and travel operators. Many people in India and abroad would have used their services for land, air, and cruise bookings, hotel bookings, visa processing, and passport solutions. The Mumbai-based company was also a pioneer in outbound tourism, business travel, conferencing, trade fairs, foreign exchange, and insurance services. Cox & Kings had a strong presence in almost every state in India and had major subsidiaries across the United States, United Kingdom, UAE, and Australia.
The company that once had a great reputation and legacy has collapsed due to certain fraudulent activities committed by its promoters. The share price of CKL, which was trading at Rs 200 levels in 2018, is now at a mere Rs 1.30. Let us have a detailed understanding of what led to the downfall of Cox and Kings.
What Led to the Fall of Cox & Kings?
Leveraged Buyouts
The shares of Cox & Kings got listed on the Indian stock exchanges in December 2009. It was showing constant growth in revenue and profit during this period. At that point, the company initiated a massive expansion plan. They acquired US-based East India Travel Company for around $22 million, Tempo Holidays for $25 million, LateRooms Limited for £8.5 million, and Holidaybreak plc for £323 million. The company even entered into certain businesses they had no prior experience with (such as NBFCs, education business, etc). CKL used a method known as leveraged buyout to acquire most of these firms.
A leveraged buyout (LBO) refers to when a company borrows a significant amount of money from banks to acquire another company. The assets of the company being acquired are often used as collateral for these loans.
High Debt Obligations and Cash Crunch
Things started to go downhill for Cox & Kings immediately after the acquisitions. The company was burdened with very high debt as a result of its highly ambitious expansion plan. The firm had borrowed thousands of crores from commercial banks in India and abroad. On top of this, their newly-acquired subsidiaries were performing poorly and started to incur heavy losses. They also found it difficult to manage those businesses in which they had no prior experience. As compared to competitors, CKL failed to adapt to the changes in technological advancements in the field of travel and tourism. The company began to face a severe cash crunch, which meant that it did not have sufficient funds to cover normal business expenses.
Thus, CKL started to sell off many of its assets/subsidiaries from foreign countries from 2014 onwards. Given below is a list of business units or subsidiaries that were sold:
| | | |
| --- | --- | --- |
| Year | Name of Business Unit | Amount |
| June 2014 | Camping division Holiday Break | Rs 892 crore |
| Dec 2015 | Explore Worldwide Limited | £25.8 million |
| March 2016 | LateRooms | £20 million |
| March 2016 | Superbreak business | £9.25 million |
| 2018 | Education business | Rs 4370 crore |
Manipulation of Financial Records
The company began to default on its loans in 2019. In April 2019, CKL announced that it would not be able to declare its financial results for the first quarter (Q1) of FY 2019-20. The firm did not repay two sets of loans of Rs 150 crore and Rs 50 crore, respectively.
During this period, many found irregularities in the firm's books of accounts. In the balance sheet dated 31 March 2019, the company had Cash & Cash Equivalents of Rs 1,830 crore and Receivables (ie, amount due to CKL) of over Rs 2,000 crore. With such a significant amount of cash in their books, many wondered why the firm was unable to pay off its loans. Moreover, it was found that only a part of the net proceeds from the sale of various business units was used for meeting debt obligations. The remaining amount could not be traced in the company's financial records.
Many shareholders lodged a formal complaint against Cox & Kings and its management to the Serious Fraud Investigation Office (which is under the Ministry of Corporate Affairs) around this time. CKL's stock price started to fall heavily.
The Forensic Audit
Yes Bank was one of the biggest lenders of Cox & Kings. The company owed around Rs 2,267 crore to the private sector lender. The bank approached PricewaterhouseCoopers (PWC) and asked them to conduct a forensic audit on CKL (as it had defaulted on loan repayments).
The results of the audit were quite alarming. It was found that Cox & Kings had been illegally transferring money and falsifying its financial records between 2014-2019. The company did not take board approvals for loans worth Rs 6,071 crore extended to at least 20 'related parties'.
Bankrupt firm Alok Industries received a loan of Rs 1,100 crore from Cox & Kings. The Chief Financial Officer (CFO) of this firm was Sunil Khandelwal, the brother of Anil Khandelwal— the CFO of Cox and Kings!
The audit also revealed that the company made sales of over Rs 9,000 crore to 160 fake customers between 2014 and 2019. Physical verification of the addresses of these 'customers' showed that they were residential addresses, and no travel agencies ever operated in those places. Most of the amount received from sales could not be traced in its bank accounts. This was because Cox and Kings never really received any of this money.
Another major observation was in the company's debt status. For the financial year 2018-19, CKL reported a total (consolidated) debt at Rs 2,000 crore. However, its standalone debt by itself was Rs 3,600 crore. There was also a credit card debt of Rs 750 crore that was not disclosed to the company's lenders. Ultimately, the company was declared bankrupt and insolvent. [Insolvency means a state of financial trouble when the company is unable to pay its bills. An insolvent company would have to convert all its assets to cash and pay off its lenders]
Recent Developments
Cox & Kings began to shut down many of its branches across the country. It stopped all operations (including ticketing services) without any fair warning. Most of their customers who had booked slots for domestic or international tour packages did not receive their tickets. There were instances of tickets getting cancelled at the last minute. Most of their customers have not received refunds for the same. Franchisee owners did not get any commission from the company. Moreover, CKL failed to pay its employees for several months. Many angry customers and franchisee owners filed police complaints against the company. Private sector lenders including Kotak Mahindra Bank, HDFC Bank, Axis Bank, IndusInd Bank also filed separate FIRs against CKL for defaulting on loans.
ED, CBI Investigation of Cox and Kings
Towards the end of 2019, the Enforcement Directorate (ED) and CBI began their investigation into the alleged fraudulent activities of CKL and its promoters. It was estimated that the company owed a total of more than Rs 5,800 crore to banks and financial institutions. Between 2019 and 2020, both investigation agencies (and even local police) filed numerous cases against Cox & Kings Group entity, its promoters, and other related parties for alleged fraud involving thousands of crores. CKL's promoter Peter Kerkar, other senior officials, and employees were arrested. Recently, ED named Kerkar as the mastermind behind this large-scale fraud.
The insolvency proceedings of Cox & Kings are now underway. The Insolvency Resolution Professional (IRP) of CKL, appointed by the National Company Law Tribunal (NCLT), had initially sent recovery notices to 57 debtors of the company that owes Rs 1,775 crore. Out of these, notices to 11 debtors— including two connected to the promoters and employees of Cox & Kings that owe Rs 479 crore— were returned undelivered. Four debtors have denied any liabilities and four others asked for more documents from the IRP.
Let us look forward to seeing how the concerned parties are held accountable for their actions.
Post your comment
No comments to display