How Asian Paints Used Innovative Tech to Drive Growth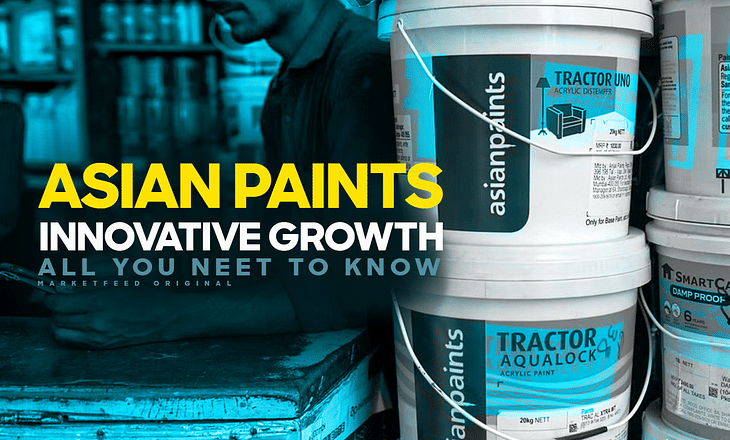 With a remarkable 80-year-old legacy, Asian Paints Ltd is one of the biggest names in the global paint industry. It is double the size of any other paint company in India. The group operates in 15 countries and has 26 paint manufacturing facilities in the world, servicing customers in over 60 countries! The company's business growth has been astronomical as a result of the forward-looking and innovative mindset of its founders.
In this article, we discuss how Asian Paints adopted digital innovations to become one of the fastest-growing companies in India.
Humble Beginnings
In 1942, Champalal Choksey, Chimanlal Choksi, Surykant Dani, and Arvind Vakil set up "Asian Oil and Paint Company" out of a small garage in Mumbai. The Second World War, Quit India Movement, and Japan's attack on Burma (now Myanmar) prompted the British Empire to impose a temporary ban on imports, especially oil. The four individuals wanted to address this dire situation and turn it to their advantage.
They were one of the first companies to distribute paint in tiny packets, rather than selling them in tins. This innovative packaging method simplified and accelerated their distribution process. By 1952, Asian Oil & Paint Company registered an annual turnover of Rs 23 crore! It launched trendy marketing campaigns that changed perspectives surrounding painting as a lifestyle choice. The company became Asian Paints (India) Pvt. Ltd in 1965 and later a public company in 1973. By then, it had become India's leading paints manufacturer.
Initially, paints were sold through wholesalers or distributors who took ~20% of the margins. Asian Paints decided to cut all wholesale channels and started to sell their products directly to consumers through tens of thousands of retail dealers.
Focus on Digital Transformation
In 1970, Asian Paints bought a mainframe computer for Rs 8 crore, becoming India's first private company to own one. Most Indians had no clue what computers were or what it was capable of during that time. The company began to improve its services with computer assistance. They digitised inventory and billing management, which helped save time and costs. Asian Paints started using computerized color matching in the mid-1970s. They also trained employees to use personal computers in the 1980s and established a customer care helpline in the 1990s. The company was truly far ahead of its time!
The paint company used information technology (IT) systems for manufacturing, order processing, and supply chain. They centralised the order-taking process into a single corporate call center to increase efficiency and customer service. Even storage and retrieval systems were automated in 2008. For more than 50 years, Asian Paints has been collecting data on the colour, size, and quantity of paints purchased all over India. They continue to store proprietary data on paint demand for each neighbourhood in our country.
Recently, the company implemented state-of-the-art automatic truck-loading systems in the two new plants at Mysuru and Visakhapatnam. They also use advanced artificial intelligence (AI) and machine learning (ML) software/algorithms to constantly improve the overall demand forecast. It has ultimately helped Asian Paints to provide better customer service. The company has executed its digital vision with utmost focus.
Massive Growth
As a result of its digital initiatives, extensive distribution network, and consumer-centric approach, Asian Paints has been a market leader in paints since the 1970s. Currently, it commands a market share of nearly 42% in the domestic paint market. Based on data derived from consumer preferences, the company expanded its product portfolio from paints to decorative coating. Asian Paints is now present in the home improvement & decor segment and has even added furniture and lighting solutions to its portfolio. They also diversified into chemical products used in the paint manufacturing process.
By leveraging data analytics, Asian Paints can accurately forecast demand for each of its products. The company can easily identify what product will be required at a particular place on a specific date with more than 90% accuracy! Thus, the company delivers paints to 70,000+ registered dealers nearly 3-4 times a day! On any particular day, the stock gets sold off within just three hours, and new batches keep arriving at fixed periods. The entire distribution process is fully automated and seamless.
As per reports, Asian Paints could be one of the only companies in the world whose revenue has grown by ~20% per annum for over 60 years! Its business essentially doubles itself every three years. While most manufacturers or FMCG firms lose 30-45% of the maximum retail price as channel costs, Asian Paints spends just 3% on distribution. A truly impressive feat!
What are your views on Asian Paints? Have you invested in the company? Let us know in the comments section of the marketfeed app.
Post your comment
No comments to display