How Adani Group Became India's Largest Airport Operator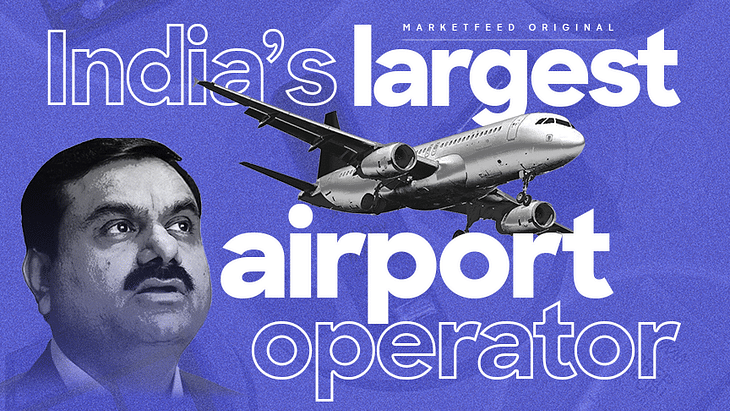 Adani Group is one of the biggest diversified conglomerates in India with a market cap of over ₹19.75 lakh crore. It has established a world-class transportation and utility infrastructure portfolio across our country.
The group has spent the past few years expanding its businesses and even venturing into the data centers, cement, telecom, and media segments. It now owns India's largest city-gas distributor, coal miner, private-sector port, and airport operator.
Moreover, Adani's airport business became the second-largest revenue generator for the group. In today's article, we dive into how the Adani Group aims to transform India's transit gateways into world-class destinations.
Adani Airport's Origin
The Adani Group entered the airports industry in 2019 as part of its mission to become a recognised leader in the integrated infrastructure and transportation industries. The group is dedicated to providing travellers with the greatest airport infrastructure possible by delivering seamless and secure airport experiences.
Through Adani Airports Ltd (AAL), the group envisions redefining the city-airport relationship. It aims to build shared facilities that cater to the ever-evolving global travel, life, and work requirements. AAL is a 100% wholly-owned subsidiary of Adani Enterprises Ltd (AEL).
Adani Airport Holdings
Adani Airport Holdings is the airport management and operations subsidiary of the group. It holds controlling ownership in Mumbai International Airport Ltd (MIAL), which operates the Chhatrapati Shivaji Maharaj International Airport. It also holds a majority stake in Navi Mumbai International Airport (currently under construction). Additionally, the company has a 50-year lease on the international airports of Ahmedabad, Guwahati, Jaipur, Lucknow, Mangalore, and Thiruvananthapuram since January 2021.
In February 2020, the company signed the Concession Agreement (CA) for three airports and subsequently commenced operations at Mangalore International Airport on October 31, 2020, Chaudhary Charan Singh International Airport (Lucknow) on November 2, 2020, and Sardar Vallabhbhai Patel International Airport (Ahmedabad) on Nov 7, 2020. Furthermore, it will operate, oversee, and expand each of the six airports for the next 50 years.
Adani Airport's Strong Growth
Adani Enterprises Ltd's (AEL) expansion and growth initiatives for its airports business are paying off! Its airport operations were the conglomerate's second-highest revenue producer in the past financial year (FY22).
The integrated resources management (IRM), solar, and mining businesses of the Adani Group are considered "established businesses". Meanwhile, its airports segment is considered "emerging". The airport business has grown substantially over the past year, contributing to strong revenue creation. However, the IRM division continues to contribute the most in terms of revenues and profits.
Financial Performance in FY22:
So far, the group has acquired management rights for at least eight airports, including four international and four regional airports. Together, these airports generated revenue of ₹1,165.58 crore in Q4 FY22, compared to ₹89.80 crore in Q4 of FY21.
The airport business' net profit stood at ₹75.37 crore in Q4 FY22. It incurred a loss of ₹87.78 crore in the same period last year (Q4 FY21).
As of Q4 FY22, Adani Airports Holdings' total assets stood at ₹30,937.47 crore, compared to ₹2,062.23 in Q4 FY21. On the other hand, liabilities increased multifold to ₹8,266.30 crore in Q4 FY22, compared to ₹928.16 crore in Q4 FY21.
The group had to borrow huge funds to finance its airport projects.
Recent Developments
AEL's established businesses have been enhancing their performance, while new businesses like networked airport ecosystems, road & water infrastructure, and green data centres are expected to have a promising future.
Out of the eight airports under AAL, at least seven are operational. Together, the airports handled 36.9 million passengers in FY22, accounting for at least 20% of the overall passenger traffic in India.
The company claimed that the next generation of its strategic business investments is centered around airport management and roads.
Adani Group is also aiming to build aerotropolises around airports. They plan to develop real estate projects alongside its airports in the country. These "aero cities" will include a variety of accommodations, conference centres, shopping, entertainment, healthcare facilities, logistics units, and business offices. The company is in preliminary talks with hospitality chains such as Marriott International, InterContinental Hotels Group (IHG), and Hilton for developing hotels under this plan. 
The company is looking to create 'lifestyle destinations' for customers both inside and outside the airport. Adani strives "to dominate the airports' space with 300 million+ consumer base leveraging network effect and consumer mindset".
Acquisitions:
Adani Airport Holdings acquired AirWorks, the oldest Maintenance, Repair, and Operations (MRO) firm in India, for an enterprise value of ₹400 crore. 
According to sources, the group is negotiating to buy a 30% share in a joint venture between US-based MRO provider AAR Corp. and Prajay Patel-owned Indamer Aviation. AAR holds 40% of the MRO business. The Adani Group is in negotiations to acquire half the stake held by Patel. 
The company is also poised to make a competitive offer for AI Engineering Services (AIESL), which is the MRO unit of Air India that the government is looking to sell in the first quarter of the next financial year (FY23).
Adani's Mission
From a college dropout to a business tycoon, Gautam Adani's story is nothing short of remarkable. Adani Group, which focuses on large-scale infrastructure development in India, has established itself as the market leader in its transportation logistics and energy utility portfolio industries.
Adani Group owes its success and leadership position to its core philosophy of 'Nation Building' driven by 'Growth with Goodness' - a guiding principle for sustainable growth. It is committed to increasing its environmental, social, and governance (ESG) footprint by realigning its businesses with an emphasis on climate protection. The group is also increasing community outreach based on the principles of sustainability, diversity, and shared values.
Adani is a prominent global infrastructure operator with a diversified portfolio of operations, including coal mining, coal trading, ports, power generation, multi-model logistics, renewable energy, and gas transmission and distribution. The group has long been renowned for its capacity for expansion and national-building aspirations. But will it continue to thrive or will it perish with the 'emerging' airport sector?
Will a single entity be able to operate airports more efficiently or is there a danger of a monopoly arising in India's airport space? Let us know your views in the comments section of the marketfeed app!
Post your comment
No comments to display