History of India's Volatile Oil Prices and Taxes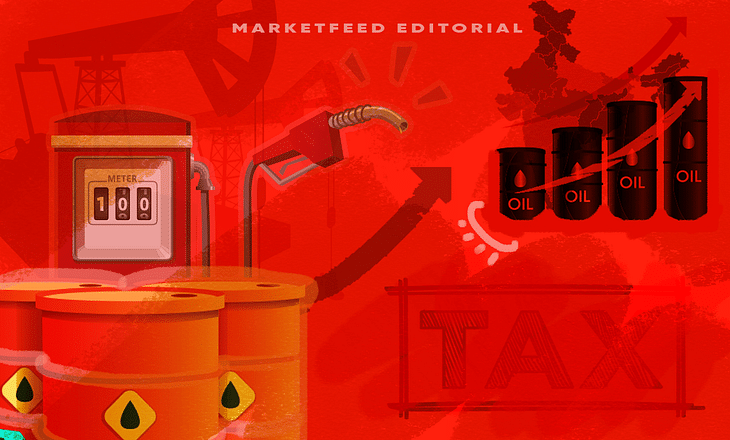 Petrol and diesel prices have crossed Rs 100/litre across most cities in India. There are many reasons behind it like the petrol supply crunch and the OPEC+, UAE, and Saudi dispute. Another factor that has been eating into pockets of Indian citizens that goes unnoticed is how the government taxes oil. As an estimate, for every Rs 100 worth of petrol you buy, you are paying close to Rs 60 to central and state governments as tax. The figure keeps varying with time. Indians pay some of the highest taxes in the world on fuel.
In this piece, we decode the history of petrol prices in India, how it stands in the world forum, and how the government acts on it.
History Of Oil In India
India first struck oil in Assam in 1866. Oil production began in 1889 and the Assam Oil Company was set up in 1899 to oversee its production. As a British Colony, the oil discovered in India did not benefit our country directly, and the output was used to replenish British Troops in World War I and World War II.
In 1928, the Asiatic Petroleum Company (a joint venture between Shell and Royal Dutch) allied with Burmah Oil Company. The joint venture was called Burmah-Shell Oil Storage and Distributing Company of India Limited. In 1976, Burmah Shell was taken over and nationalized by the Government Of India. It is now known as Bharat Petroleum Company Limited or BPCL.
After 1947, India moved to a communist regime also known as License Raj. Just like any other country, India needed a big oil industry to be a superpower. Burmah Shell (now BPCL) and Oil India, two of the largest oil companies in the country, were still a joint venture with the British-owned Burmah Oil Company. In 1959, an act was passed which gave the state-owned Oil and Natural Gas Company (ONGC) the power to explore oil and develop resources in the field. The company struck gold when it took over Mumbai High, India's first offshore oil field discovered in 1974.
Post-1991, after the collapse of the USSR, the Indian economy was liberalized. This meant that oil became a rather freely traded commodity and could be impacted by global power and prices. Yet, the Government continued to regulate the prices of petrol and diesel till 2010.
Deregulation, Taxes, And More
Oil prices weren't always so volatile. Till 2010, the Government would decide the baseline price of oil in India keeping room for oil marketing companies to earn profit. In 2010, then-PM Manmohan Singh decided to deregulate the price of petrol. In 2014, PM Narendra Modi decided to deregulate diesel. This meant that the fuel prices in India would change every 15 days in line with global crude oil prices. In 2017, the Government decided to change the fuel prices every day in line with global prices.
In May 2020, the oil future prices became negative. Shouldn't this have made oil prices in India a lot cheaper than they actually were? The central government took advantage of low oil prices and decided to hike excise duty on petrol and diesel. The Government saw the slump in oil prices as an advantage to add cash to the treasury. Essentially, petrol and diesel are cash cows for the government.
In India, petrol prices have consistently risen. Speaking with an estimate, petrol cost Rs 50/litre in 2010 in India and has now doubled up and crossed Rs 100/litre in 2020-21. On the other hand, fuel prices have been extremely volatile, sometimes high, sometimes low. There is no fixed trend in the recent decade
So why have fuel prices in India consistently risen? Whenever oil prices decrease, the Government increases the excise duty. Conversely, whenever the oil prices increase, the Government decreases the excise duty, but only a little. The state governments tax petrol separately. Apart from global fuel prices, the answer to high fuel prices is bad taxation and policy regarding oil prices by the Government.
So even if the prices go down, one continues to pay the same or even a higher price for petrol. This makes us ask, are fuel prices really deregulated in that case?
Where Are Oil Prices Headed?
Oil prices hit all-time highs after UAE and Saudi had a disagreement at an OPEC+ meeting regarding production quotas. You can check out the article over here. To know how the Organization of the Petroleum Exporting Countries (OPEC) influences fuel prices, click here.
Coming back, the disagreement between UAE and Saudi led to inflated oil prices globally. The two came to an agreement and settled their vows. Oil prices started declining globally after that, but not in India. Minister of State for Finance Pankaj Chaudhary has said that the government is not deciding to cut down the excise duty anytime soon. The revenue generated by taxing petrol and diesel will help the Government conduct vaccination drives and run welfare programs. Long and short of it, one can't expect a cut in excise duty anytime soon, one could have to watch global oil prices fall in order to see a change in Indian fuel prices.
Post your comment
No comments to display