Here are the Best Sectors to Look Out For in 2023!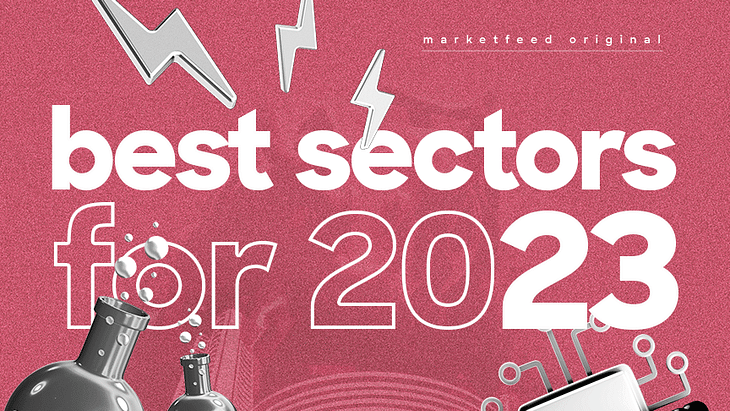 What a thrilling year it's been! NIFTY50 touched an all-time high of 18,887.60 amidst some heavy volatility. We've seen the markets make wild movements in both directions. Fears of an upcoming economic recession and interest rate hikes have spooked most investors. But we're sure our community continues to be highly bullish on India's economic growth and are holding on to smart investments. 🚀
In today's special article, we take a look into some of India's fastest-growing and promising sectors that could flourish in 2023. You may potentially find better investment opportunities or even your next multibagger!
Green Energy
The Centre, state governments, business groups, and the general public need to recognise the urgency of climate action and advocate it on a wider scale. It's high time we take coordinated actions to reduce carbon emissions. We need to rapidly increase its renewable energy deployment to meet the rising energy demands:
India has pledged to achieve net-zero carbon emissions by 2070.
The Central Govt. has committed to installing a non-fossil fuel electricity generation capacity of 500 gigawatts (GW) and sourcing 50% of India's energy requirement from renewable sources by 2030.
It also aims to reduce 1 billion tonnes of projected emissions within the same time frame. As India continues to rely heavily on fossil fuels, it will be a mammoth task to reach these green targets.
According to India's Ministry of Power, the Indian renewable energy sector received a total investment of about ₹5.2 lakh crore over the last seven years. By 2028, this sector could reportedly see investments worth $500 billion (~₹37.25 lakh crore). We're seeing some highly ambitious projects in the solar, wind, green hydrogen, and battery cell manufacturing sectors.
Here are some of the companies that have aligned their business strategies with the government's green energy targets:
Adani Group (Adani Enterprises, Adani Green Energy)
Borosil Renewables (solar glass manufacturer)
JSW Energy
Sterling & Wilson (contract manufacturer of solar power infrastructure)
Speciality Chemicals
India is one of the world's fastest-growing markets for chemical products of all kinds. According to recent estimates, our country ranks sixth in chemical sales worldwide and contributes 4% to the global chemical industry! Meanwhile, specialty chemicals are a vital segment of chemicals used as finished product ingredients and to improve manufacturing processes. It accounts for 22% of India's total chemicals market!
The Indian middle class is showing a significant shift in demand for food, clothing, medicines, and transportation— all of which drive demand for specialty chemicals! As per a report from India Brand Equity Foundation (IBEF), the specialty chemicals sector is expected to grow at a CAGR of 12.4% to $64 billion within the next four years. No wonder there are a large number of players in this industry:
Tata Chemicals
UPL
Deepak Nitrate
Aarti Industries
PI Industries
The companies mentioned above have been focusing extensively on enhanced research & development (R&D) capabilities to launch new and improved offerings. The future of the chemical sector is bright indeed. To learn more about leading fertilizer & agrochemical companies, click here!
Digital Transformation & Inclusion
We've seen the information technology (IT) sector grow to new heights over the past few years, especially in artificial intelligence (AI), data analytics, data science, and big data. Business entities and govt. agencies around the world are shifting from traditional/outdated systems to seamless, customer-driven digital operations. Moreover, government initiatives such as Digital India seek to improve internet connectivity throughout the country.
5G has been officially launched in India, and telecom operators & network infrastructure providers are gearing up for a pan-India rollout. It will pave the way for new economic opportunities and benefits for Indian societies.
However, there is significant room for expansion as internet penetration is only 47-48% in India, compared to more than 90% in developed countries. Let's look at some of the listed entities leading the digital revolution:
IT majors like Tata Consultancy Services, Infosys, and Wipro
Telecom operators like Jio (Reliance Industries), Bharti Airtel
Digital payments - SBI Cards & Payment Services, HDFC Bank, IndusInd Bank
Online Communications Services - Route Mobile
Electric Mobility
The Government of India has set a target of achieving sales of 60-70 lakh hybrid and electric vehicles (EVs) every year from 2020 onwards. You may also be aware of several Central and state government initiatives aimed at increasing EV production and sales. The primary goal of such programs is to make a seamless transition from internal combustion engine vehicles (ICEs) to reduce pollution levels. It will also reduce India's reliance on costly fuel imports.
Several Indian companies have already begun to work toward gaining a foothold in the rapidly evolving EV market:
Mahindra & Mahindra
JBM Auto Ltd (electric buses for public transportation)
Olectra Greentech
TVS Motor Company
Ashok Leyland (through its UK-based electric mobility arm Switch Mobility)
Make in India! (Or China-Plus-One Strategy)
For decades, China has been known as the "World's Factory" as it's the center of global manufacturing or supply chains. It offered cheap labour and production costs. Unfortunately, China's Zero-Covid Policy has led to prolonged industrial lockouts and supply chain disruptions. So, large multinational companies are adopting a new strategy to avoid investing only in China and diversify into other countries. It's called "China Plus One".
Thus, Indian firms could benefit from this shift by analysing the demand in global markets and ramping up production capabilities. The government has introduced several initiatives like the Production Linked Incentive (PLI) scheme to offer special subsidies for manufacturers in key sectors.
Many listed companies in our country have a competitive advantage to offer the best speciality chemicals, electronic products (like Dixon Tech, Havells India), and textiles (Trident, Welspun India).
---
Now, it's up to you to figure out the right investment options or themes that fit your profile and financial goals. Go for those investments that you clearly understand from your own research. Let's hope for a profitable 2023! HAPPY INVESTING!
Disclaimer: The stocks mentioned in this article are purely for educational purposes. Invest your hard-earned money only after thorough research.
Post your comment
No comments to display