Shares of HDFC Bank, HDFC Surge on Merger Plans. Know More About it Here!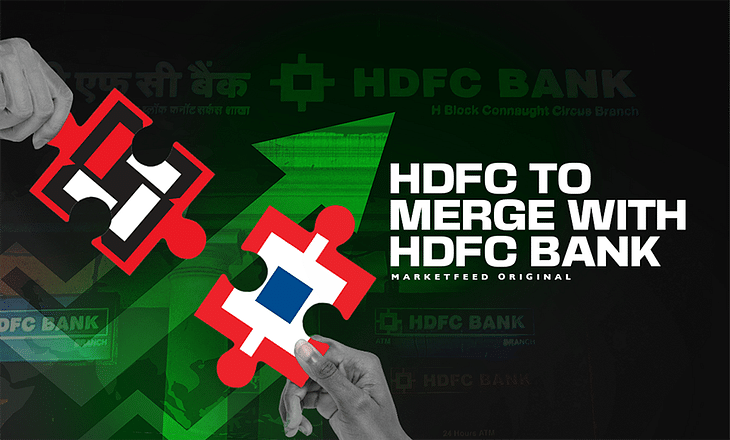 Today, shares of HDFC Bank jumped nearly 11% to Rs 1,683, while that of HDFC surged 14% to Rs 2,800! The Board of Directors of mortgage lender Housing Development Finance Corporation Ltd (HDFC) has approved the merger of the company with HDFC Bank.
The share exchange ratio for the amalgamation will be 42 equity shares (of the face value of Re 1 each) of HDFC Bank for every 25 equity shares (of the face value of Rs 2) of HDFC Limited.
Post the transaction, existing shareholders of HDFC Limited will own 41% of HDFC Bank. The subsidiaries and associate firms of HDFC will also shift to the bank. HDFC, India's leading housing finance company, has total assets under management (AUM) of Rs 5.26 lakh crore. Its market cap stands at Rs 4.44 lakh crore.
Shares held by HDFC in the lender will be extinguished, making HDFC Bank a full-fledged public company.
HDFC Bank will now offer mortgages as a core product to its customers. The lender will also offer new credit and deposit products. For the uninitiated, a mortgage is an agreement between a person and a lender to buy or refinance a home without having to pay all the cash upfront. This agreement gives lenders the legal right to repossess a property if a person fails to meet the terms of the mortgage. With interest rates expected to rise in the upcoming quarters, this merger reduces the cost of funding for HDFC.
Impact of the Merger
As per HDFC's exchange filing, the proposed merger will help leverage and create meaningful value for various stakeholders. It is expected to benefit from increased scale, comprehensive product offering, and the ability to drive synergies across revenue opportunities. The merger will also help to reduce HDFC Bank's proportion of exposure to unsecured loans. HDFC Bank will gain access to building a sizeable home loan portfolio, thus increasing the size of their overall loan books.
The merger also has the potential to attract a 7-8% increase in participation from foreign investors.
Based on the market capitalisation of HDFC and HDFC Bank as of April 1, the market value of the merged entity will be ~Rs 12.8 lakh crore. It is likely to be the third-largest company in India, after Reliance Industries Ltd and Tata Consultancy Services (TCS).
The merger is expected to be completed by the second or third quarter of the next financial year (FY24). The scheme of amalgamation is subject to the approval of the Reserve Bank of India, Securities & Exchange Board of India, and other regulatory authorities.
Post your comment
No comments to display