HDFC Bank's Net Profit Rises 30% YoY to Rs 11,952Cr in Q1- Top Indian Market Updates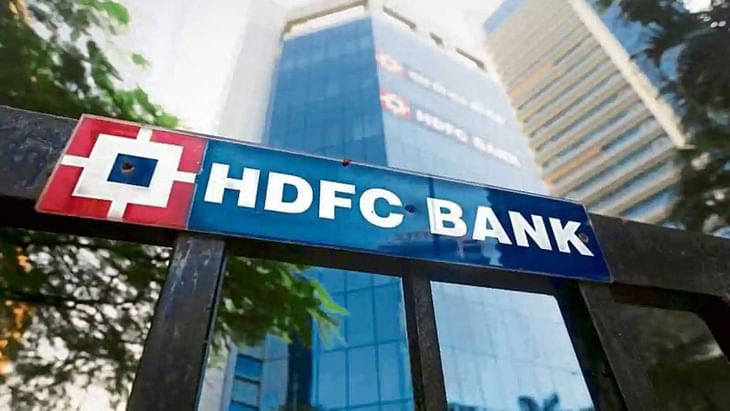 Here are some of the major updates that could move the markets tomorrow:
HDFC Bank Q1 Results: Net profit jumps 30% YoY to Rs 11,952 crore
HDFC Bank reported a 30% YoY jump in net profit to ₹11,952 crore for the quarter ended June (Q1 FY24); meeting street estimates. The total income for the quarter increased 39% YoY to ₹57,817 crore. The net interest income (NII) rose 21% YoY to ₹23,599 crore during the same period. The bank's gross non-performing asset (NPA) declined to 1.17% against 1.28% in Q1 FY23. This is the first earnings of the bank following its merger with HDFC.
Read more here.
Ashok Leyland wins defence orders worth Rs 800 crore
Ashok Leyland has secured significant orders in the defence sector. The orders are collectively valued at ₹800 crore. The contracts awarded also include the procurement of the Field Artillery Tractor (FAT 4x4) and the Gun Towing Vehicle (GTV 6x6). The FAT 4x4 and GTV 6x6 are specialised vehicles employed by the Indian Artillery for towing light and medium guns, respectively.
Read more here.
LTIMindtree Q1 Results: Net profit jumps 4% YoY to Rs 1,151 crore
LTIMindtree reported a 4% YoY increase in consolidated net profit to ₹1,151 crore in Q1 FY24. Its revenue from operations rose 14% YoY to ₹8,702 crore. EBITDA rose 9% YoY to ₹1,635 crore during Q1. The company has added 19 clients in the quarter, taking the total number of active clients to 723. The deal wins for the first quarter stood at $1.41 billion.
Read more here.
Reliance Brands to buy kidswear range for ₹300 crore: Report
According to an Economic Times report, Reliance Brands is planning to buy Ed-a-Mamma, a kidswear brand promoted by actress Alia Bhatt. Talks between Reliance and Ed-a-Mamma are in the final stages and an agreement is likely in the next 7-10 days. The brand has been selling largely through online platforms like FirstCry, AJIO, Myntra, Amazon, and Tata CLIQ, apart from its own webstore. Reliance Brands is part of Reliance Retail Ventures Ltd (RRVL).
Read more here.
Tata Elxsi Q1 Results: Net Profit up 2% YoY to Rs 189 cr
Tata Elxsi reported a 2% YoY increase in net profit to ₹189 crore in Q1 FY24. Its operating revenue stood at ₹850 crore, up 17% YoY in Q1. The company's EBITDA also rose 4.15 YoY to ₹230 crore. Its financial performance was also altered due to the increase in the Effective Tax Rate (ETR). The increment was on account of lower tax exemption due to the completion of 5 years for 2 of its Special Economic Zone (SEZ) units.
Read more here.
GQG acquires 5.96% stake in Patanjali Foods via OFS
GQG Partners bought a 5.96% (2.15 crore shares) stake in Patanjali Foods on July 14. The stocks were bought through the stock exchange settlement process via an offer for sale (OFS). Last week, Patanjali Foods concluded a 7% stake sale, with the promoter group stake falling to 73.82% from 80.82% earlier, meeting the minimum shareholding norms.
Read more here.
L&T's construction unit bags 'large' orders from UP Water and Sanitation Mission
Larsen and Toubro's subsidiary L&T Construction has secured orders for water supply-related works. The orders are from the Uttar Pradesh government and NTPC, with an approximate value of ₹2,500-5000 crore. The order is for constructing a water supply scheme in Ballia and Firozabad districts in Uttar Pradesh. The projects are aimed at providing safe and potable drinking water to 50.85 lakh rural citizens in the two districts.
Read more here.
USFDA recommends no regulatory action for Aurobindo Pharma's Andhra Pradesh unit
Aurobindo Pharma Ltd received an Establishment Inspection Report (EIR) from the United States Food and Drug Administration (USFDA). The company's Andhra Pradesh unit received the EIR with a 'Voluntary Action Indicated' status. The VAI inspection classification indicates that investigators found and documented objectionable conditions during the inspection. However, no regulatory or enforcement action is recommended.
Read more here.
Sheela Foam to pick 94.66% in Kurlon for Rs 2,150 cr
Sheela Foam is set to acquire a 94.66% stake in Kurlon Enterprise. The company will acquire Kurlon at a valuation of ₹2,150 crore. Additionally, Sheela Foam has purchased a controlling stake in the furniture rental company Furlenco. The company would infuse a primary fund of ₹300 crore to buy a 35% stake in Furlenco at a valuation of ₹857 crore.
Sheela Foam will fund the acquisition through a mix of equity, internal accruals, and debt.
Read more here.
PNGRB rejects Adani's application for Noida city gas licence
The Petroleum and Natural Gas Regulatory Board (PNGRB) has rejected Adani Total Gas Ltd's application for a licence to retail CNG to automobiles. The application to retail piped gas to household kitchens in Noida and on the outskirts of New Delhi has also been rejected. The rejection comes as the company does not meet the criteria. Adani has been eyeing a city gas distribution (CGD) licence for cities adjoining the national capital for nearly two decades now.
Read more here.
Indian Oil signs long-term LNG import deals with ADNOC LNG, TotalEnergies
Indian Oil Corp has signed long-term liquefied natural gas (LNG) import deals with United Arab Emirates' s Abu Dhabi Gas Liquefaction Co Ltd (ADNOC LNG) and France's TotalEnergies. The company signed both deals during Prime Minister Narendra Modi's Visit to France and UAE last week. ADNOC LNG would supply up to 1.2 million metric tonnes per year of LNG to IOC for 14 years.
Read more here.
Post your comment
No comments to display