HDFC Bank Posts 50% YoY Rise in Q2 Net Profit - Top Indian Market Updates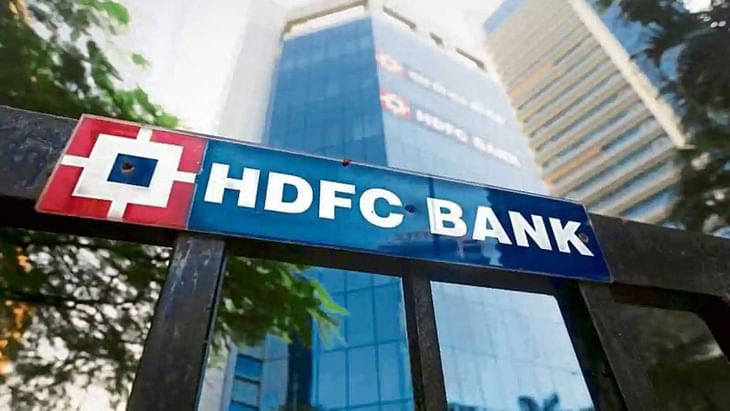 Here are some of the major updates that could move the markets tomorrow:
HDFC Bank Q2 Results: Net profit rises 50% to ₹15,976 crore
HDFC Bank reported a 50% YoY rise in net profit to ₹15,976 crore for the quarter ended September 2023 (Q2 FY24). Net interest income (NII) rose 30.2% YoY to ₹27,385 crore during the same period. However, the bank's gross non-performing assets (NPA) rose 17 basis points to 1.34% in Q2. Provisions for the quarter fell 10.3% YoY to ₹2,903 crore. This is HDFC Bank's first quarterly result post-merger.
Read more here.
Wholesale inflation hits 6-month high in Sept
According to data released by the Ministry of Commerce & Industry, India's Wholesale Price Index (WPI)-based inflation reached a six-month high of -0.26% in September. This marks WPI's sixth consecutive month in negative territory. The persistent deflation in factory gate prices is attributed to a high base effect and significant deceleration in food prices. Food inflation fell significantly from 10.6% in August to 3.35% in September.
Read more here.
Jio Financial Q2 Results: Net profit doubles QoQ to ₹668 crore
Jio Financial Services (JFS) posted a 101.3% quarter-on-quarter (QoQ) increase in consolidated net profit to ₹668.18 crore in Q2 FY24. The company's total income rose 47% QoQ to ₹608 crore during the same period. Share of profit of joint venture and associates rose above 3.25 times over the previous quarter to ₹217.82 crore.
Read more here.
Grasim to raise up to ₹4,000 crore via rights issue
Grasim Industries Ltd's board has approved raising up to ₹4,000 crore through a rights issue. The company will issue equity shares with a face value of ₹2 each through rights issue for an amount not exceeding ₹4,000 crore to eligible shareholders as on the record date. The record will be announced later. The board or a constituted committee of the board will decide all other terms and conditions of the rights issue.
Read more here.
Federal Bank Q2 Results: Net profit rises 36% YoY to ₹954 crore
Federal Bank reported a 35.54% YoY increase in standalone net profit to ₹953.82 crore in Q2 FY24. Net Interest Income (NII) grew 17% YoY to ₹2,056.42 crore during the same period. The gross non-performing assets (NPAs or bad loans) fell from 2.46% in Q2 FY23 to 2.26% in Q2 FY24.
Read more here.
Domestic PV sales up 2% at 3.61 lakh in September: SIAM
According to the Society of Indian Automobile Manufacturers (SIAM), domestic passenger vehicle (PV) sales increased by 1.87% YoY to 3.61 lakh units in September, compared to 3.55 lakh units in September FY22. Domestic two-wheeler sales rose to 17.5 lakh units in September FY23, compared to 17.4 lakh units last year.
Read more here.
ICICI Securities Q2 Results: Net profit rises 41% YoY to ₹424 crore
ICICI Securities reported a 41% YoY rise in net profit to ₹424 crore in Q2 FY24. The company had posted a net profit of ₹300.4 crore in the year-ago period. Total income rose 44% YoY to ₹1,249 crore in Q2, led by growth in broking income. During the quarter, ICICI Securities added 2.24 lakh clients, expanding its customer base to 95 lakh.
Read more here.
KPIL secures ₹2,217 crore new orders in India, abroad
Kalpataru Projects International Ltd (KPIL) has secured new orders worth ₹2,217 crore in the domestic and international markets. The company's Transmission and Distribution (T&D) business secured contracts worth ₹1,993 crore in India and overseas markets. Furthermore, its building and factories (B&F) segment has received ₹224 crore new orders in the domestic market.
Read more here.
Venus Remedies receives marketing approval for chemo drugs from Philippines
Venus Remedies has received marketing approval from the Philippines for six key chemotherapy drugs. The approved drugs are crucial for cancer treatment and include bortezomib, cisplatin, doxorubicin, docetaxel, fluorouracil, and paclitaxel. With this, Venus Remedies has secured 525 marketing approvals for its oncology products across 76 countries.
Read more here.
KEC International bags orders worth ₹1,315 crore
KEC International Ltd has secured new orders amounting to ₹1,315 crore across its diverse business verticals. Its transmission and distribution (T&D) sector received a series of notable projects spanning India, the Middle East, Australia, and the Americas. These projects include the installation of a 765 kV Transmission line and a 765 kV AIS Substation in India. The company's cables business also secured orders for the supply of various types of cables, both within India and overseas.
Read more here.
Post your comment
No comments to display