Happiest Minds Technologies: A Strong Pick for the Long Term?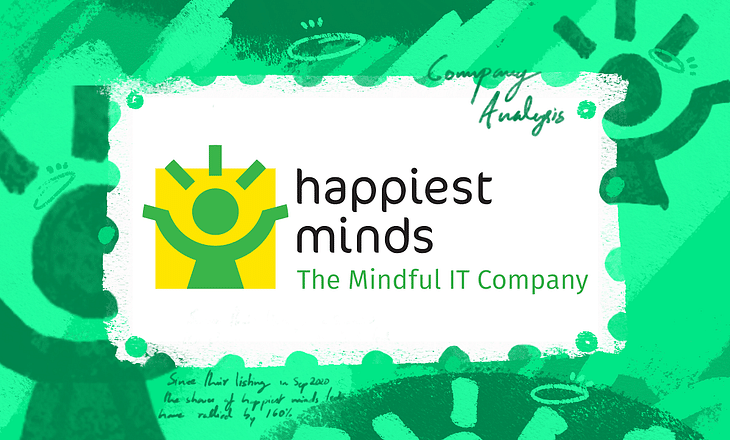 A mid-cap IT company has given stellar returns to its investors ever since its listing in September last year. It had recently posted remarkable growth in earnings as well. They have turned out to be one of the fastest-growing companies in the highly competitive IT industry in India. We are talking about Happiest Minds Technologies. In this article, learn more about the company and its recent performance.
Company Profile - Happiest Minds Technologies
Happiest Minds Technologies Limited is a leading IT solutions and services provider based in Bengaluru. It is a relatively young company (established in 2011), and its shares were listed on the stock exchanges in September 2020. They primarily operate through three segments:
Infrastructure Management & Security Services (IMSS) - This segment provides cyber and infrastructure security, risk and compliance, data privacy, access management, and threat & vulnerability management services. The infrastructure management services provided by the firm include hybrid cloud services, workspace services, service automation, and software-defined infrastructure services.
Digital Business Solutions (DBS) - This segment offers enterprise applications and customised solutions that include advisory, design & architecture, custom-app development services. It also comprises package implementation, testing, and ongoing support services to IT initiatives.
Product Engineering Services (PES) - The segment assists software product companies in building products and services that integrate mobile, cloud, and social technologies. Happiest Minds also provides Internet of Things (IoT) solutions, consisting of digital strategy creation consultation, end-to-end system integration on IoT platforms, IoT security and managed services, and implementation of IoT roadmaps.
Other Offerings
Apart from these three verticals, Happiest Minds offers analytics/artificial intelligence (AI) solutions, including the implementation of advanced analytics using AI, machine learning, and statistical models. They also provide digital process automation solutions, such as robotic process automation and intelligent business process management (BPM).
The IT company offers its services across India, the United States, Canada, the United Kingdom, Australia, and the Middle East. Over the years, they have partnered with major players such as Google, Microsoft, Amazon Web Services (AWS), and Salesforce. By leveraging these partnerships, the firm has been able to secure large orders. As of March 31, 2021 (FY21), they have a total of 173 clients spread across the Banking, Financial Services & Insurance (BFSI), Edutech, Retail, Manufacturing, and Travel, Media & Entertainment sectors.
Ashok Soota, widely recognised as one of the pioneering leaders of the Indian IT industry, is the Executive Chairman and Promoter of Happiest Minds. [He previously led Wipro's IT business for around 15 years and was a driving force behind its exponential growth]. Moreover, Happiest Minds is considered one of the best places to work in India. They have also launched corporate social responsibility (CSR) initiatives that support poorer sections of society.
Financial Performance
Similar to most companies in the Indian IT & ITeS sector, Happiest Minds has posted a phenomenal increase in its revenue and profits over the past few years. More businesses and even government entities are being forced to adopt digital transformation practices to improve efficiency and cut costs. There has been an increase in demand for the services and products of IT firms, especially amidst the Covid-19 pandemic.
Happiest Minds reported a 580.19% year-on-year (YoY) jump in consolidated net profit to Rs 36.05 crore for the quarter ended March (Q4 FY21). However, net profit had declined by 14.47% when compared to the previous quarter (Q3 FY21). Its total income in Q4 stood at Rs 223.74 crore, up 17.64% YoY and 11.16% on a quarterly basis.
Net profit for the full financial year 2020-21 (FY21) jumped 126.55% YoY to Rs 162.46 crore. The company's total income rose 11.68% YoY to Rs 797.65 crore in FY21. They have reported an Earnings Per Share (EPS) of Rs 11.45 in FY21, a 113.6% jump over FY20. The attrition rate declined from 18.7% in FY20 to 12.4% in FY21, which is a great sign that shows increased job satisfaction amongst employees.
Over the past five years, its revenue has grown at an amazing CAGR of 20.93%, whereas the industry average stood at just 9.78%. EBITDA has grown at a CAGR of 205% between FY18-FY21! However, Happiest Minds has only been able to secure a market share of 0.14%. As we all know, the level of competition in the IT services industry is extremely high. Overall, the fundamentals of the firm look very strong.
The Way Ahead
In March 2021, Happiest Minds announced a change in its shareholding structure. Most of Ashok Soota's shareholding (~53%) will go into a holding trust and a medical research trust. However, there will not be any decline in total promoter holding. The IT firm has also indicated that it will continue with the Executive Board (EB) structure. Currently, the EB structure consists of three executives under each business segment (instead of a single Chief Executive Officer). This arrangement has proved to work in their favour for years.
The company has targeted an organic revenue growth of 20% for the current financial year (FY22). Its management has stated that the growth will exceed its medium-term target in FY22 due to a series of acquisitions. In February 2021, they had completed the acquisition of US-based Pimcore Global Services for $8.25 million (~Rs 61 crore). PGS is a leading digital e-commerce and data management solutions firm. It will continue to focus on partnering with leading industry players and improve its offerings across key business segments. Happiest Minds plans to announce its vision for the next decade (2021-2031) before its 10th anniversary on August 29.
Since its listing in Sept 2020, the shares of Happiest Minds Tech have rallied by ~160%! The strong fundamentals of the company and its future growth prospects could continue to drive up stock prices in the years to come.
Have you invested in the company? Let us know your views on Happiest Minds in the comments section of the marketfeed app.
Post your comment
No comments to display