HAL Registers Rs 26,500 cr Revenue for FY23- Top Indian Market Updates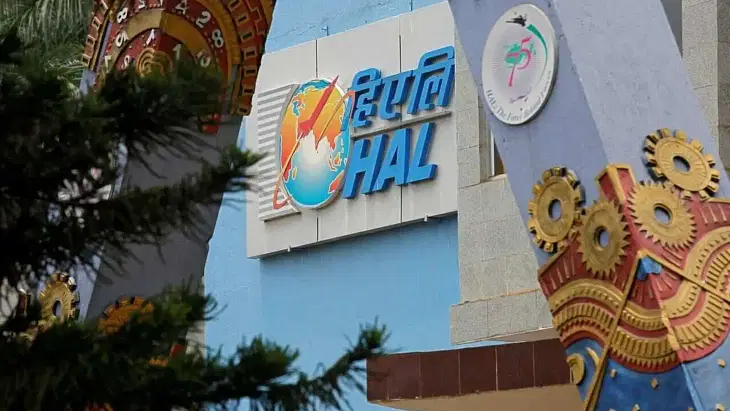 Here are some of the major updates that could move the markets on Monday:
HAL registers Rs 26,500 crore revenue for FY23
Hindustan Aeronautics Ltd has registered its highest-ever revenue from operations of around Rs 26,500 crore (provisional and unaudited) for FY2022-23, up 8% YoY. The order book of the Bengaluru-headquartered company stood at around Rs 82,000 crore at the end of March 2023. The cash flow of the company has improved substantially with payments of around Rs 25,000 crore received from various Defence customers.
Read more here.
Larsen & Toubro secures multiple EPC projects in domestic market
Larsen & Toubro's power transmission & distribution (PT&D) business has secured multiple significant orders (in the range of ~Rs 1,000-1,500 crore) in the domestic market. The company will establish 765kV and 400kV gas-insulated substations to serve as pooling substations at the RE zone of Khavda Renewable Energy park in Gujarat's Kutch region.
Read more here.
Sanofi looks to spin off its consumer business in India: Report
As per an Economic Times report, French drugmaker Sanofi has initiated a process to turn its consumer healthcare business in India into a listed entity through a demerger. The unit's products include leading anti-allergy brands such as Allegra and Avil, pain management drug Combiflam, and Vitamin D brand Depura. The business posted revenue of Rs 1,000-1,250 crore in CY22.
Read more here.
Va Tech Vabag secures Rs 4,400 cr seawater desalination project in Tamil Nadu
Va Tech Wabag has secured a Rs 4,400 crore seawater reverse osmosis project in Tamil Nadu. After completion, it would be the largest sea-water desalination project in the South East Asia region. The project will enhance the water security for Chennai through a stable source of drinking water.
Read more here.
Bandhan Bank adds 50 new branches to its network
Bandhan Bank has added 50 more branches to its existing network of around 1350 others across the country. The majority of the new branches opened are in Bihar, Gujarat and Madhya Pradesh. The private sector lender also plans to introduce new products and increase the width of services in the next financial year (FY24).
Read more here.
IDBI Bank gets NCLT approval to set off accumulated losses of Rs 45,396 crore
IDBI Bank has received approval from the National Company Law Tribunal (NCLT) to set off its accumulated losses worth Rs 45,396 crore by reducing its share capital. The bank plans to utilize the balance of Rs 50,719.75 crore in its Securities Premium account to offset the losses. The Central government and the Life Insurance Corporation of India are currently in the process of selling their stake in the bank.
Read more here.
Coal India exceeds annual output target of 700 mn tonnes for first time in 17 years
Coal India Ltd (CIL) has exceeded its annual production target of 700 million tonnes (MT) for the first time in 17 years. It produced an estimated 703.4 MT in the financial year ended March 2023 (FY23). This marks a 13% increase from the previous year and the highest annual production volume in the company's history. CIL is targeting a production of 780 MT in the upcoming financial year (FY24) to meet the increasing demand from India's power utilities.
Read more here.
ZEEL enters into a one-time settlement with Standard Chartered Bank for credit facility availed by Siti Networks
Zee Entertainment Enterprises Ltd (ZEEL) has reached a one-time settlement agreement with Standard Chartered Bank for a loan taken by Siti Networks, a subsidiary of the Essel Group. The bank had provided credit facilities to Siti Networks that were secured by a Debt Service Reserve Account (DSRA) support and undertaking from ZEEL. While the amount has not been disclosed, the settlement will resolve any outstanding issues related to the loan.
Read more here.
RVNL secures road project worth Rs 720.67 crore
Rail Vikas Nigam Limited (RVNL) has been declared the lowest bidder for a project worth Rs 720.67 crore by the National Highway Authority of India (NHAI). The project involves the construction of a 7.192-kilometre-long six-lane elevated Kona expressway in West Bengal.
Meanwhile, RVNL's joint venture with Metrowagonmash & Locomotive Electronic System has received an order from the Ministry of Railways for manufacturing Vande Bharat Trainsets. The contract involves the supply of 200 trainsets, with a cost per set of Rs 120 crore.
Read more here.
Reliance Jio, Bharti Airtel gain subscribers in Jan
Reliance Jio Infocomm and Bharti Airtel gained 16.5 lakh and 12.8 lakh mobile users, respectively, in January 2023. Jio and Bharti Airtel's user bases jumped to 42.6 crore and 36.8 crore, respectively. Meanwhile, Vi lost nearly 13.6 lakh mobile users in January, further shrinking its user base to 23.9 crore.
Read more here.
Tech Mahindra and YIT Corp Enters into Strategic Partnership
Tech Mahindra has entered into a strategic partnership with Finland-based YIT Corporation to drive its business transformation. As per the partnership, Tech Mahindra will provide a significant part of YIT's IT services and consolidate the current services to one dedicated supplier. The IT company will also optimise YIT's business processes through automated IT operations.
Read more here.
BEL secures export orders worth $52 million
Bharat Electronics Limited (BEL) has received export orders worth $52 million in March. This includes communication equipment, electronics assembly, micro modules and mechanical parts for various customers from France, Israel, and the US. Yesterday, the Ministry of Defence signed 10 contracts worth ₹5,498 crore with BEL for the three armed forces.
Read more here.
Post your comment
No comments to display