HAL, GE Aerospace to Produce Fighter Jet Engines for IAF - Top Indian Market Updates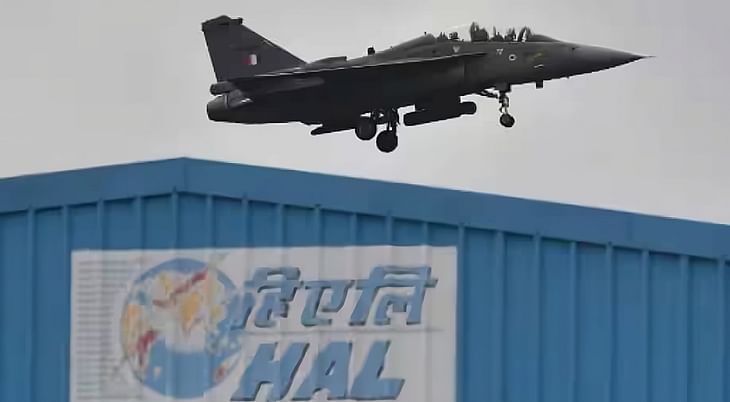 Here are some of the major updates that could move the markets tomorrow:
GE Aerospace signs pact with HAL to produce F414 fighter jet engines for IAF
Hindustan Aeronautics Ltd (HAL) has signed a Memorandum of Association (MoU) with GE Aerospace to manufacture fighter jet engines for the Indian Air Force (IAF). The agreement aims to bolster defence collaboration between the two nations. It encompasses the possibility of joint production in India of GE Aerospace's F414 engines, pending export authorization from the US government.
Read more here.
Fortis Healthcare sells hospital to Kauvery for Rs 152 crore
Fortis Healthcare Ltd has announced the sale of its hospital operations in Vadapalani, Chennai. Sri Kauvery Medical Care (India) Ltd will acquire the business for a sum of ₹152 crore in an all-cash deal. The transaction is expected to be finalised by the end of July 2023, pending the fulfilment of specific conditions outlined in the agreement. The hospital became operational in October 2020.
Read more here.
Thermax subsidiary commissions wind-solar hybrid captive power plant in Gujarat
Thermax Ltd's subsidiary First Energy Private Limited (FEPL) has successfully inaugurated a cutting-edge wind-solar hybrid captive power plant in Gujarat, India. The facility has a total capacity of 45.80 MW. It harnesses 24.3 MW from wind energy and 21.50 MW from solar energy, enabling a significant reduction of approximately 1,11,700 tonnes of carbon emissions each year.
Read more here.
MM Forgings to spend upto ₹750 crore in EV business
MM Forgings plans to invest between ₹500-750 crore in the next five years in its EV business. The company's foray into the EV sector aligns with its commitment to innovation and adaptability. MM Forgings plans to leverage its existing expertise in forging and machining to manufacture components for electric vehicles. This strategic expansion will not only enable the company to diversify its product portfolio but also contribute to the ongoing sustainability efforts within the automotive industry.
Read more here.
PNB Housing Finance to consider fundraise upto Rs 5,000 cr via NCDs
PNB Housing Finance's board has arranged a meeting on June 22 to discuss and finalize the issuance of Non-Convertible Debentures (NCDs) worth up to Rs 5,000 crore through private placement. The company specialises in providing various loans to retail customers, such as individual home loans, loans against property, non-resident property loans, and more.
Read more here.
Venus Remedies gets approval for marketing meropenem drug in Spain
Venus Remedies Ltd has obtained regulatory approval to market its popular generic product, Meropenem, in Spain. Meropenem is used to treat skin and abdominal infections. The company received clearance to sell Meropenem through its German subsidiary. Venus Remedies aims to capture a 10% market share in Spain's meropenem market, which is valued at approximately $6.34 million in Europe.
Read more here.
RVNL emerges lowest bidder for two orders worth ₹280 crore
Rail Vikas Nigam Ltd. (RVNL) has emerged as the lowest (L1) bidder for two packages offered by the Madhya Pradesh Poorv Kshetra Vidyut Vitaran Company Ltd. (MPPKVVCL) in Jabalpur. The combined value of these two orders amounts to ₹280 crore. The first order entails the supply, installation, testing, and commissioning of new 11 KV lines and LT lines on AB cable in the Chhatarpur circle of MPPKVVCL.
Read more here.
L&T partners with DRDO for AIP systems for Indian Navy submarines
Larsen & Toubro (L&T) has entered into a contract with the Defense Research and Development Organization (DRDO) to develop two Air Independent Propulsion (AIP) system modules for the Indian Navy's Kalvari class submarines. AIP technology enables non-nuclear submarines to operate without relying on atmospheric oxygen. L&T's involvement in the realisation of AIP modules will enhance the capabilities of these submarines in terms of extended underwater endurance and stealth operations.
Read more here.
Glenmark Pharma's manufacturing facility in North Carolina gets USFDA warning letter
Glenmark Pharmaceuticals' manufacturing facility in Monroe, North Carolina, USA, has received a warning letter from the US Food & Drug Administration (USFDA). However, this development will not affect the current revenue generated from the plant as the company has not been selling any products from the site since August 2021. As a result, the warning letter will not have any impact on the company's existing revenues.
Read more here.
LTIMindtree launches generative AI platform
LTIMindtree has launched Canvas.ai, a powerful generative AI platform tailored for enterprises. Canvas.ai expedites the journey from concept to value for businesses. The platform enables organizations to quickly initiate and expand their generative AI capabilities. It incorporates a well-structured framework and robust governance measures, ensuring the proper management of proprietary and industry-specific data while prioritizing ethical use, sustainability, privacy, and security.
Read more here.
Post your comment
No comments to display