Grasim Industries: A Jack Of All Trades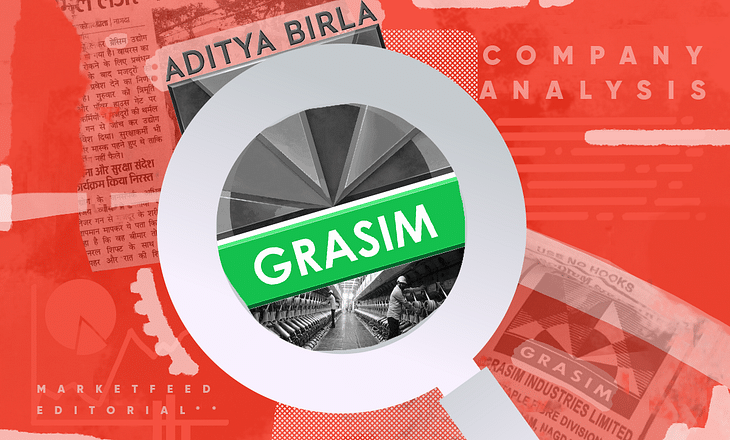 Aditya Birla Grasim, popularly known as GRASIM is an Indian company that manufactures textile, cement, sponge iron, chemicals and even runs an Asset Management Company on the side! A flagship of the well-known Aditya Birla Group with its many subsidiaries, the company is a buzz on Dalal Street. The company's profitable Q4FY21 results did boost its share price. The company has recorded some really good profits for the last two quarters. We shall analyze how the company runs, how good or bad is its financials, and what lies ahead of it.
Grasim: The Business
The company has a fair share of unrelated and diversified businesses in its briefcase. They are:

Textile, Viscose Staple Fibre
Cement
Chemicals
Financial Services
Others
Grasim initially started as simply a textile business. It imported Viscose Staple Fibre (VSF)/Viscose popularly known as 'Rayon' and used it to manufacture garments. The company later started manufacturing VSF domestically. The company is now the largest VSF manufacturer in India. Its textile business has grown into over 30 major brands and a VSF manufacturing capacity of 578 kilotonnes per annum (KTPA).
Speaking of the segment that contributes the most (54%) to the revenue, the cement business. Grasim already had a thriving cement business, Samruddhi Cement Limited (SCL). In 2004, the company gained a controlling stake in UltraTech Cement. It kept on increasing its stake in UltraTech Cement over the years and then merged Samruddhi Cement with UltraTech. Ultratech Cement is listed on NSE and has delivered good profit growth of 18.59% CAGR over the last 5 years.
Speaking of its chemical business, Grasim manufactures chemicals used for various industrial applications. Furthermore, It has two sub-segments -

Chlor-Alkali- Used to manufacture chlorine-based chemicals used for different industrial processes. Production of Caustic Soda is a major contributor to the Chemicals segment.
Epoxy- Used to make plastics paints, adhesives, coatings, primers, sealers, and other such materials.
Aditya Birla Capital is the holding company of all financial services on behalf of Grasim. It offers just about any and every kind of service that a financial services company can offer. In the insurance business, it offers life insurance, health insurance, motor insurance, corporate general insurance, The Aditya Birla Asset Management Company, the mutual fund business also falls under it. To know more about the services offered by Aditya Birla Capital, click Here.
The company had a fairly successful fertilizer business named Info-Gulf Fertilizers (IGF). The company sold its fertilizer business to Singapore-based Indorama Corp's Indian entity for a cash consideration of Rs 2,649 crore. The divestment is expected to be completed by Q2FY22.
Finances
| | | | |
| --- | --- | --- | --- |
| . | Q4FY21 | Q3FY21 | Q4FY19 |
| Revenue | 24,529.5 | 21,341.1 | 20,174.6 |
| Profit/Loss | 1,715.5 | 1,388.8 | 1,505.9 |
Consolidated Performance Statement(All Amounts in Rs Crore)
If we take a look at the visual representation given above we understand that even though the company's revenue has increased massively, it has performed rather poorly on its expenditure which happens to eat into its profits. 
Grasim's debt management isn't too impressive either. The company has loaded itself with debt as it expanded its operations. It has long-term borrowings of Rs 58,745.9 crores for some of its VSF, Cement, and Chemical segment projects. The company has short-term debt of Rs 11,988.1 crore. Its Debt/Equity ratio has also increased considerably due to the heavy debt burden.
The company is growing inorganically. The diversification is a good thing but Grasim doesn't seem to manage it in a proper way. The company's profit margins have been showing decreasing profitability. The second wave of COVID-19 will impact profitability with decreased production volumes, a disrupted supply chain, and reduced demand.
Coming to liquidity and insolvency, the company's cash position isn't bright considering the amount of debt burden that the company has. The current ratio and quick ratio are two important indicators of a company's liquidity. These two metrics for the companies have deteriorated over the past.
The company has witnessed an increasing FII and Promotor shareholding over the past few years. This is seen as a positive sign by investors since a promotor would have its personal interest vested in the company and might also believe that the company is undervalued. Other Birla Group companies like HINDALCO and Birla Group Holdings Pvt Ltd. also own a stake in Grasim.
Despite the negative outlook towards the financial performance of the company, one shouldn't forget that UltraTech Cement, one of Grasim's subsidiaries posted a profit while the country was still ravaged by the first wave of COVID-19. It did so by cutting costs and "efficiently" managing its inventory and projects. Things could always change for a company with a legacy like Grasim.
Over the past 1 year, Grasim has returned ~154% and more than 67% in the past 6 months on investors' money. The company has such returns amidst a lockdown despite being a 'large-cap' company that tends to move about in a consolidated manner.
What Lies Ahead
The Q4FY21 reports of Grasim show that the company's revenue was up by 19.42% while its net profit grew by 33.62%. The company's operating expenses for the quarter also grew by 20% (QoQ). These profits were supported by a surge in international prices of VSF, especially in China. China also happens to be the largest producer of VSF. One should note that the international markets are recovering faster than the domestic markets and Grasim continues to increase its exports. This could be a silver lining in turbulent times.
From the earnings call of Grasim for Q4FY21, we get to know the following about Grasim's plan for Capital Expenditure (CAPEX) for FY22. The total CAPEX spent for FY21 stood at Rs.1,508 crores.
Grasim plans to spend The CAPEX plan for FY22 excluding paints and fertilizer is Rs.2,604 crores
The company plans to expand VSF capacity at the existing VIlayat Plant in Gujarat.
It plans to expand its epoxy production capacity by 125,000 tons.
In the Chlor-Alkali business, Grasim plans investment in a ~200TPD Caustic brownfield expansion at Vilayat, Gujarat.
Grasim faces what is called the 'Conglomerate Discount'. A conglomerate is a company that owns a stake in smaller companies that are diversified. A diversified company could face two of the potential outcomes. Firstly, it could mitigate risk by diversifying its business. Second, it could so happen that its loss-making businesses could eat into the consolidated profit. Essentially, we are talking of over-diversification over here. While things seem bright before the second wave of coronavirus and dull after it struck, the story seems no different for Grasim.
The company is focusing on vaccinating its employees to ensure smooth operations in business. If the company alters its expenses, manages to hike exports, and improve efficiency, one can expect something good on the way for its investors.
Post your comment
No comments to display