Govt to Sell Up to 3.5% Stake in HAL - Top Indian Market Updates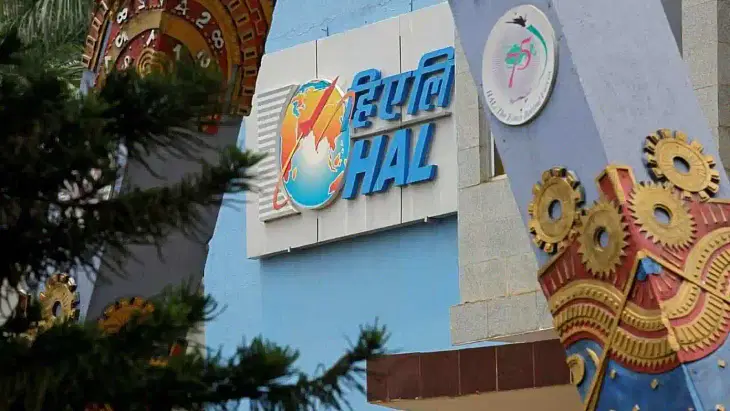 Here are some of the major updates that could move the markets tomorrow:
Govt to sell up to 3.5% stake in Hindustan Aeronautics
The Indian government is planning to sell up to 3.5% stake in Hindustan Aeronautics Ltd (HAL). The stake sale would be valued at ₹28.6 lakh crore, based on a floor price of Rs 2,450 per share. According to the latest shareholding pattern, the govt holds a 75.15% stake in the public sector aerospace and defence company. HAL's current market cap stands at Rs 87,800 crore.
Read more here.
IOC to invest Rs 61,077 crore in petrochemical complex at Paradip
Indian Oil Corporation Ltd (IOCL) will invest Rs 61,077 crore in building a petrochemical complex at Paradip in Odisha. This mega project will be the largest-ever investment of Indian Oil at a single location. This is part of IOCL's transition plan, including boosting petrochemical intensity to help protect against volatility.
Read more here.
India's 2022/23 iron ore exports to hit 5-year low
India's iron ore exports are set to fall 24% to a five-year low in the current financial year (FY23) as an export tax imposed last May stalled shipments. The country is likely to export about 20 million tonnes (MT) of iron ore in 2022/23, down from 26.3 MT last year. In May 2022, the government imposed a 50% export tax on low-grade iron ore lumps and fines and a 45% export duty on pellets to meet rising local demand.
Read more here.
Hero MotoCorp to hike prices by up to 2% from April
Hero MotoCorp Ltd will increase prices of its model range by around 2% from next month to offset the impact of rising production costs in order to conform to stricter emission norms. The company will make an upward revision in the ex-showroom prices of its select motorcycles and scooters, effective from April 1, 2023. The Indian automobile industry is currently working to make its products meet the second phase of Bharat Stage Emission Standards 4 (BS-VI).
Read more here.
KEC International bags orders worth Rs 1,560 crore from PowerGrid
KEC International has secured new orders worth Rs 1,560 crore from Power Grid Corporation of India Ltd (PGCIL). This includes a 765 kV transmission line, a 765/400 kV AIS substation, and 765 kV GIS substations. With this order, the company's year-to-date (YTD) order intake stands at an all-time high of over Rs 21,000 crore, a substantial growth of 30% YoY.
Read more here.
RailTel wins order worth Rs 35 crore to establish data centres
RailTel Corporation of India has secured a Rs 34.91 crore contract from Madhya Pradesh State Electronics Development Corporation for the expansion and setting up of data centres. The work order includes the expansion of the existing State Data Centre (SOC) and the establishment of a Disaster Recovery (DR) Center. The contract will be executed over five years.
Read more here.
HPCL plans to set up its third LPG cavern in Gujarat
Hindustan Petroleum Corporation (HPCL) is planning to set up its third Liquefied Petroleum Gas (LPG) underground storage facility (or cavern) in India. The facility will be set up in Vadodara, Gujarat, with a capacity to store 60,000 tonnes of LPG. HPCL plans to spend up to Rs 1000 crore to set up the cavern.
Read more here.
Power Finance Corporation to get Rs 165 cr loan from JBIC
Power Finance Corporation (PFC) has signed a pact with Japan Bank for International Cooperation (JBIC) for a project loan of JPY 2.65 billion (~Rs 165 crore). Under this facility, JBIC has proposed to finance some of PFC's projects that ensure the effective reduction of greenhouse gas emissions and conservation of the global environment.
Read more here.
IFC invests Rs 240 crore in JK Tyre for 5.6% stake
International Finance Corporation (IFC) will invest around Rs 240 crore in JK Tyre & Industries Ltd. As part of the deal, IFC will receive a 5.6% stake in JK Tyres through the issue of compulsorily convertible debentures (CCDs) on a preferential basis. The investment will help JK Tyres become a "green company" with sustainable use of energy & natural resources.
Read more here.
Reliance Consumer expands FMCG portfolio
Reliance Consumer Products (RCP) announced the expansion of its packaged goods portfolio, including soaps, hygiene, laundry and home care products. It has set up direct competition with established players such as Hindustan Unilever (HUL), Reckitt Benckiser and Procter & Gamble (P&G). RCP is the FMCG arm and wholly-owned subsidiary of Reliance Retail Ventures Ltd (RRVL).
Read more here.
Post your comment
No comments to display