Government Becomes Largest Stakeholder in Vodafone Idea: What Next?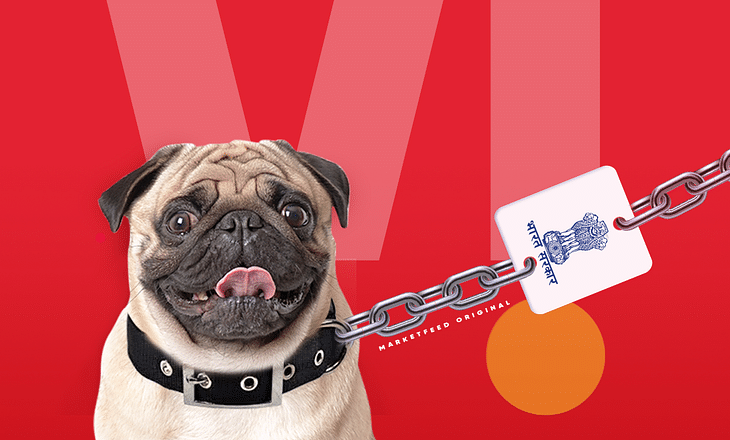 The Government of India has become the largest shareholder in private telecom company Vodafone Idea. Vi has faced quite some turbulence in terms of its finances and is heavily burdened by debt to banks as well as the government. The government will be the largest shareholder in Vodafone Idea after converting all of its pending interest on Adjusted Gross Revenue (AGR) dues to equity. The government would now own a 35.8% stake worth Rs 16,000 crore in Vi. This piece covers all you need to know about the deal between the two entities.
Click here to know more about the AGR dues saga that shook the telecom industry.
Government Holds The Largest Stake in Vodafone Idea(Vi)
Quite a few telecom companies came under pressure after a Supreme Court verdict ordered them to pay 'pending' AGR dues to the Telecom Regulatory Authority of India (TRAI). These dues ran into thousands of crores—something which they could not afford after a disrupted telecom sector.
Moving on, the government had come up with financial relief packages for distressed telecom companies burdened by AGR dues. While these relief packages have managed to keep Vodafone Idea and Bharti Airtel afloat, they have done little to ensure faster recovery dues. Vodafone Idea owed the government ₹58,254 crore in AGR dues. It has paid back ₹7,854 crore or 13% of the total dues. The company faced stiff competition from its relatively better-off rivals Airtel and Jio. Both Vi and Airtel had the daunting task of clearing AGR dues along with expanding their business. 
The government eventually proposed converting all the pending interest on the spectrum and AGR dues into an equity stake in telcos. Vodafone Idea accepted the deal.
It is a pretty common practice in the business world wherein a lender converts the pending debt into equity shareholding. The government now owns a 35.8% stake worth Rs 16,000 crore in Vodafone Idea. This deal has brought down the combined promoter holding of Vodafone Plc and Aditya Birla Group from ~72% to ~46%. "The shares may be held through the statutory undertaking of the Unit Trust of India (SUUTI) on behalf of the Government of India or by any trustee-type or other suitable arrangement," said Vodafone Idea in an exchange filing.
Vodafone Idea NOT a Public Sector Undertaking (PSU)
The stock hit the lower circuit after the announcement. The first question that comes to the mind of an average shareholder is: Will Vodafone Idea become a PSU? The answer is, no.
The government holding a majority stake in Vi does not make the company a PSU. TRAI has confirmed that the government shall not pay to acquire any shares, nor does it intend to convert telcos into PSUs.
Vodafone Idea's Managing Director Ravinder Takkar said in a statement that the government had no intention to manage the company's business. He stated that the article of association was amended to allow voting rights to shareholders with taking over 13%, allowing promoters to make decisions even if their shareholding falls below 21%. Long story short, the promoters Vodafone Group and Aditya Birla Group will continue to manage the company.
Vodafone Idea's shares rallied ~11% after the statement by MD Ravinder Takkar.
Despite reassurances from government officials and company management, one must not forget that the government is the largest shareholder in Vodafone Idea. It could decide to move back on its word and take over or influence Vi's management if the need arises. 
The Way Ahead
After the decision to convert pending dues into equity was announced, Vi's shares nosedived ~20% in a single trading session. The company gained ~11% after MD Ravinder Takkar announced that the government had no intention to participate in management decisions.
After Vodafone Idea, Tata Teleservices said it is planning to convert its interest on AGR dues into government equity. Tata Teleservices has AGR dues of Rs 16,798 crore, of which it has paid Rs 4,197 crore. Following conversion, it is expected that the Government will hold nearly 9.5% of the company's total outstanding shares. The company's stock price (NSE: TTML) hit a lower circuit after the announcement.
There is also BSNL and a possible merger with the state-run telecom. Although the current stand is to not interfere in Vi's operations, there is a possibility it could be changed.
Mukesh Ambani's Jio had managed to capture a significant market share through its competitive pricing. According to a Competition Commission of India (CCI) report, there were 21 telecom companies in 2009. The figure died down to just 6 companies in 2021. Out of the six, two are financially distressed PSUs. One is defunct, and the remaining three are the only active private players in the country. The government is trying to keep afloat all three private players, i.e. Jio, Airtel, and Vodafone Idea. If one company shuts down, there would be a duopoly in the sector. A duopoly would give telecom companies greater bargaining power over their consumers, which would go against an average Indian citizen and thereby the government. 
Post your comment
No comments to display