Godrej Consumer Products: An Analysis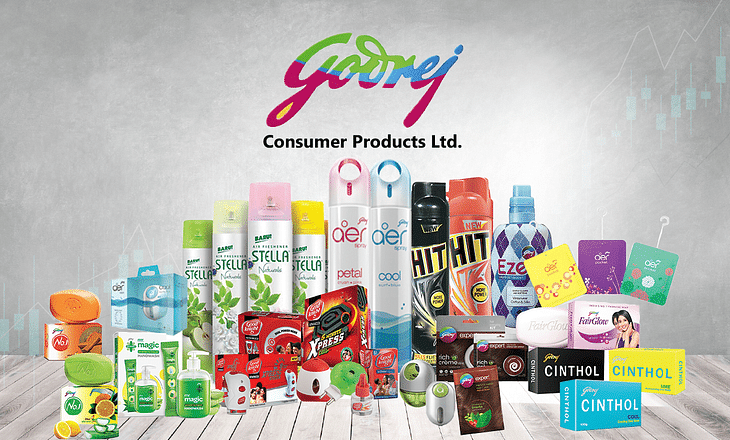 As you may know, the FMCG industry in India is highly competitive. Companies such as Tata Consumer Products, Hindustan Unilever, Dabur, ITC, and Britannia have time and again launched some of the best brands and products that have become a big part of our lives. These firms have kept a constant track of rapid changes in consumer tastes and preferences. At the same time, they have ensured superior quality and have established strong distribution networks for their products.
Let us learn more about one such FMCG firm that has created a wide portfolio of essential products that have become a part of our everyday lives— Godrej Consumer Products. Like most prominent business houses, the 124-year old Godrej Group has focused extensively on scaling up its FMCG segment as well. And, they have become highly successful in the field. Let us dive into the specific details surrounding this company and its financial highlights.
Company Profile - Godrej Consumer Products
Godrej Consumer Products Limited (GCPL) is one of the leading fast-moving consumer goods (FMCG) firms in India. It was established in 2001 and is headquartered in Mumbai. The company manufactures and markets personal care and household products in India and internationally. GCPL offers a wide range of air care products, household insecticides, liquid detergents, soaps, air fresheners, hair care products, personal wash products, wet wipes, and color cosmetics. It also offers skincare, fabric care, and hygiene products. Godrej Consumer sells its products primarily under the Good Knight, Godrej Expert, Cinthol, Godrej No. 1, Hit, Darling, Stella, Godrej Protekt, Godrej Aer, TCB Naturals, MegaGrowth, Renew, African Pride Moisture Miracle, NYU, Mitu, and Godrej Professional brands. It has established a strong presence in more than 90 countries.
GCPL is currently one of the largest household insecticide and hair care players in emerging markets. The company's manufacturing units are spread across Madhya Pradesh, Himachal Pradesh, Assam, and Sikkim.
Financial Performance
Godrej Consumer Products has been reporting a very gradual yet consistent increase in revenues and profits since 2016. Its total revenue has grown at a CAGR of 3.68% over the last 5 years, whereas the industry average stood at 3.6%. The firm's Return on Capital Employed (ROCE) stands at 18.65%, which is quite low when compared to peers. This means that for every Rs 100 worth of capital employed, GCPL earns Rs 18.65 on it. Moreover, the company is virtually debt-free.
Despite challenges posed by the Covid-19 pandemic, GCPL has thrived in terms of sales. This can be attributed to its strong and diversified product portfolio that focuses on health and hygiene. The company reported a 12.77% year-on-year (YoY) increase in consolidated net profit to Rs 502.08 crore for the quarter ended December (Q3 FY21). GCPL's household insecticides, hygiene, and value for money segments grew by over 14% YoY. These three categories contribute to 81% of its global portfolio.
The company had entered into strategic partnerships with Zomato, ShopKirana, and Zoomcar for the delivery of essential goods to consumers, retailers, and distributors during the government-imposed lockdowns. This has helped Godrej Consumer to deliver consecutive quarters of double-digit, profitable sales growth in FY21. GCPL has been able to secure a market share of 24.82% so far.
GCPL - Stock Performance
The shares of Godrej Consumer Products have been underperforming the Nifty indices for quite a while now. It had touched a new 52-week high of Rs 808.35 in January 2021. Since then, the stock has declined and is now trading ~8% lower from those levels. Financial analyst Nomura Financial Advisory & Securities believes that two out of GCPL's three core segments (India household insecticides and Indonesia market) have still not recovered in terms of sales margins. This conclusion was based on forecasts and current industry trends. In the report, Nomura states that the company's growth in both segments will pick up very gradually.
However, there are promising signs of steady growth in the Indian market and improvements in the operating performance of its international units.
The Way Ahead
On April 5, Godrej Consumer Products announced a highly promising market expansion plan. They have initiated a Go-to-Market (GTM) strategy to increase its overall distribution footprint from 1.2 million to 1.5 million direct coverage outlets. The company will also enhance indirect coverage from 6 million to 7 million over the next 2-3 years. GCPL's primary objective from this mission is to deliver consistent double-digit growth within 3-4 years. A GTM strategy is basically an action plan that specifies how a company will reach target customers and achieve a competitive advantage. It provides a blueprint for delivering a product or launching an existing product in a new market.
As part of this strategy, the FMCG firm will leverage emerging channels and invest in innovative technologies (including analytics). It will transform the existing distribution software by converting it into cloud-based systems. This would ensure better accuracy and promptness. They would focus on expanding coverage in key rural markets and improve the quality of existing outlets in urban areas. GCPL expects its e-commerce segment to contribute 8-10% of its total business in the coming years.
Godrej Consumer is also building an integrated chemists' network. The company has appointed over 400 distributors and acquired 50,000 pharma outlets for the same. It will focus on building a technology structure that will support the pharma channel. Through this, GCPL will be able to push its range of hygiene products (via the Godrej Protekt brand).
All eyes will be focused on how GCPL executes these strategic plans.
Post your comment
No comments to display