GoAir seeks SEBI nod for IPO: More Turbulence ahead?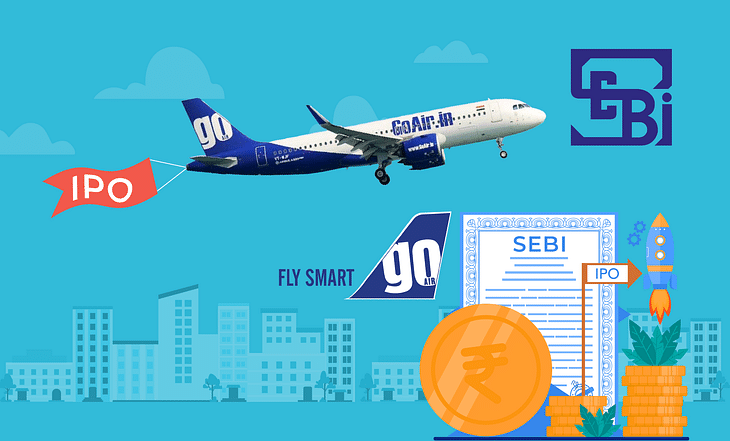 A few days back, Zomato sought the market regulator's approval for going public. We covered its DRHP in length. You can find the article here - Zomato IPO – A leap of faith for investors? Now, one of the Indian aviation companies has decided to list itself in the stock market. We are talking about GoAir.
According to its draft red herring prospectus, the airline plans to raise Rs 3,600 crore via a fresh issue of shares. They have plans to raise up to Rs 1,500 crore through a preferential placement of shares before the IPO. If this amount is received, the planned sum to raise from IPO will be decreased. ICICI Securities, Citi and Morgan Stanley have been appointed as global coordinators and book running lead managers to the IPO.
Here we dig deeper into their Red Herring Prospectus and analyse a few of the interesting findings.
Company Profile - GoAir
India's Wadia Group is one of the most well-known conglomerates of the country. They operate in a number of businesses and the arm which functions in the Indian Aviation industry is GoAir. GoAir started its flight operations in November 2005 and has been in the industry for the last 16 years. Last week GoAir rebranded itself as Go First to avoid some legal issues. 
As of February 10, 2021, the GoAir fleet comprises 56 aircraft, of which 46 aircraft were A320 aircraft and 10 were A320 CEO Models. Even in these tough times, the company is trying to focus on the future and expand their fleet.
Currently, GoAir has a 98-plane order book and expect to receive eight more A320 NEOs in fiscal 2022, 14 more in fiscal 2023, and 14 more in fiscal 2024. As of January 2020, it operates flights across 37 destinations – 28 domestic and 9 international destinations. By FY20, GoAir had a market share of 10.8% in the Indian airline industry.
A look at GoAir's Financials
The decision to go public has come at a time when the company is finding it very hard to deal with the pandemic. The first wave of Covid-19 disrupted airlines' business massively. It put a huge dent on their financials and this second wave have made things worse for the company.
With operation being shut or restricted, their revenues and profits have taken a big hit. The chart below explains the movement of revenues and profits of GoAir in the last three years. From FY19 to FY20, their revenues grew by a modest 21% but their profits hit a new-nadir. Their losses zoomed up by a mammoth 228% inside one year.
The finance cost mentioned in the income statement refers to the cost, interest, and other charges involved in the borrowing of money. This finance cost stood at Rs 434.96 crore in FY18. This almost doubled in two years. In FY20, GoAir had a finance cost of Rs 855.15 crore.
The airline is planning to use the net proceeds for prepayment or scheduled repayment of all or a portion of outstanding borrowings. They believe that this debt reduction will decrease their interest costs and improve their lease rate factors. Only around Rs 1,000 crore will be used for expansion purposes.
Cash flow is an important metric for any company. In adverse situations, it is this cash flow value that signals the investors if the company is fundamentally strong to survive or not. They had a cash inflow of Rs 167.83 crore in FY19 but this value fell drastically in FY20. In fact, they recorded a cash outflow of Rs 69.17 crore.
A tricky situation for GoAir!
The Covid-19 pandemic has forced many companies to go bankrupt. The operations of the companies have hit very strongly and GoAir is not immune to it. There was a constant increase till FY20 in the number of departures. From 69,136 in FY18 this number increased to 1,02,944 in FY20 but the latest data, that is of 9M FY21, reveals that only 19,913 flights were departed. Talk about the negative consequence of Covid-19 on the airline industry!
It is fair to say that the longer we don't get back to normalcy, the airline industry will keep getting more and more in trouble. Maybe the national government can come to their aid? It is fair to say that even in these uncertain times, air travel has proved to be safer when compared to other mediums.
The airport authorities and the companies have tried to practise all the norms but this has come at a cost to them. Their expenses due to extra safety have increased and the price cap placed on the flight ticket has certainly made things worse for them. Fair to say that the aviation industry is going through its biggest and most difficult challenge ever.
Concerns on GoAir
Recently, there has been some inconsistency in the leadership cabin of GoAir as well. GoAir has changed three CEOs in the past three years which is a sign of instability and indecisiveness.
Reduction of debt will decrease the burden on the company's financial statement. However, a company using its IPO proceeds to clear its debt does not motivate me personally. But if GoAir can simultaneously focus on expanding, then we might see an upturn in their fortunes. Once they get listed, they will directly compete with the other prominent listed airline stocks of Indigo and SpiceJet. It will be interesting to see what is the price band at which it announces its IPO. 
What are your views on GoAir? Are you excited about the airline's future? Do let us know in the comments section of the Marketfeed application. Lastly, stay at home and take all the precautions. Be safe!
Post your comment
No comments to display