Global Energy Crisis 2021: Can it Impact India?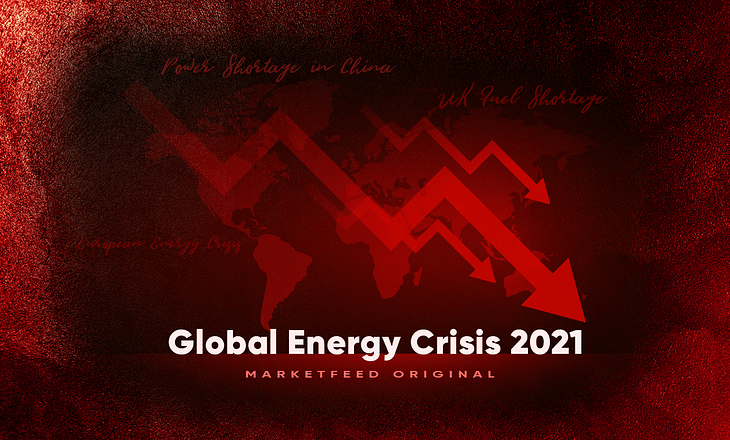 For years, the world has been glorifying renewable energy or green energy. Many climate change accords have been signed, and countries have capped their carbon emission limits. However, the propensity towards 'green energy' seems to have left the globe in an energy crisis. The crisis that seems to have spread from Europe through Asia can have repercussions on other countries as well. In this article, we discuss the whole global energy crisis and its impact on India and other countries.
What Is The Energy Crisis All About?
Power Shortage in China
China is facing an extreme power shortage. Factories have been asked to stay shut, and cities have been facing blackouts. Simply speaking, China is facing a power shortage because of one reason— a coal deficit. China relies on coal for 60% of its electricity. It mainly gets this coal from Australia.
China's relationship with Australia has been shaky over the past year, with both countries fighting a trade war. Amidst all this, Australia restricted the supply of coal to China. Now, China has been relying majorly on Australian coal to power its factories. When Australia stopped supplying coal, the prices of domestic coal shot up. If this was not enough, China decided to 'crackdown' and 'improve' its current coal mines so that they are safe and do not contribute vastly to carbon emissions. The crackdown on establishments giving out emissions comes amidst China's goal of becoming a 'carbon neutral' country by 2060.
In 2022, Beijing is set to host the Winter Olympics. The country has set the goal to hold a 'green' Winter Olympics to leave a legacy in low emission urban development.
UK Fuel Shortage
The United Kingdom's fuel crisis is pretty severe. The supply chain has halted completely, gas stations have dried up, and the supply of essential goods disrupted. The shortage of fuel could last a few more weeks before things fall in place. Both electricity and gas station bills are getting fatter by the day. The country has failed to produce enough natural gas to meet demand. UK's renewable energy assets have been unable to meet production targets due to low winds in the North Sea. The country heavily relies on these renewable resources, and therefore, a shortage has impacted prices. The army has been kept on standby to keep the situation in check.
Another reason why the UK is not able to replenish its gas stations is the shortage of qualified truck drivers. Throughout COVID-19, the country has put trucking licenses on hold. Before Brexit, many truck drivers in the UK came from European countries. Post-Brexit, these drivers were required to obtain a work visa to operate in the UK. The country has decided to relax its visa rules and grant 10,000 temporary visas to truck drivers to meet its supply chain needs. UK's Road Haulage Association (RHA) says that the country currently faces a shortage of 100,000 truck drivers in total.
European Energy Crisis
Apart from the UK, natural gas prices across Europe are on fire with electricity bills almost doubled or tripled. What seems to be worrisome is the approaching winter. Some fear that Europe might not have enough natural gas to power Europe if the winter is too cold. Just like the UK, Europe's 'green transition' seems to be taking a toll on energy prices. The phasing out of coal and a grave year for wind energy production has skyrocketed the demand for natural gas.
Global Supply Chain Disruption
After the COVID-19 pandemic, China became one of the first economies to open up. Naturally, it bagged more export orders where factories decided to pump up production capacity, which led to rising demand for power. China could not keep up with the demand when it faced a shortage of its primary source of energy, coal.
Globally, the supply chain has been hammered for the past year. If the shipping container shortage wasn't enough, China decided to shut down the world's third busiest port, Ningbo Zhoushan, after detecting one COVID positive case. According to Russel Group, the port shutdown could cost $17 billion per month and increase further every month the shutdown persists.
The Port of Los Angeles is facing a 'historic' backlog of ships waiting to unload cargo. The normal waiting time for a ship used to be 0-1 day in total, which has now gone up to weeks. Ships are being forced to park in the waters and await their turn to docks while the port functions 24x7.
Impact on India
Organization of the Petroleum Exporting Countries (OPEC) is a cartel of countries that controls the supply and price of oil across the world. The organization faced turbulence when UAE and Saudi Arabia locked horns on production issues. We at marketfeed covered the topic in a July 2021 issue.
Moving on, OPEC's supply constraints have impacted petrol prices globally, more so in India. The Indian government refuses to decrease excise duty on fuel, eating into the household incomes and contributing to inflation. Lower the savings, lower the investment. A global energy and supply chain crisis could seriously impact inflation in India, eating away household savings eventually affecting investments in India. With US Fed interest rate hikes around the corner, increasing costs could compel Indians to dilute their investments, ultimately impacting broader markets.
India's automobile sector could face some heat as well. With winter approaching, China has started to cut down on production to meet overall power requirements until it mobilizes enough resources. China cutting down on electronic equipment and chip manufacturing could fire the pre-existing semiconductor crisis in the automobile sector. Just like the rest of the world, India is staring at a shortage of fossil fuels as well. It won't be long before the crisis starts impacting our economy. The only way the world can get out of the crisis is through mutual co-operation and focussing on improving the global supply chain.
Post your comment
No comments to display