From ₹4 lakh to ₹7,000Cr: The Story of Bisleri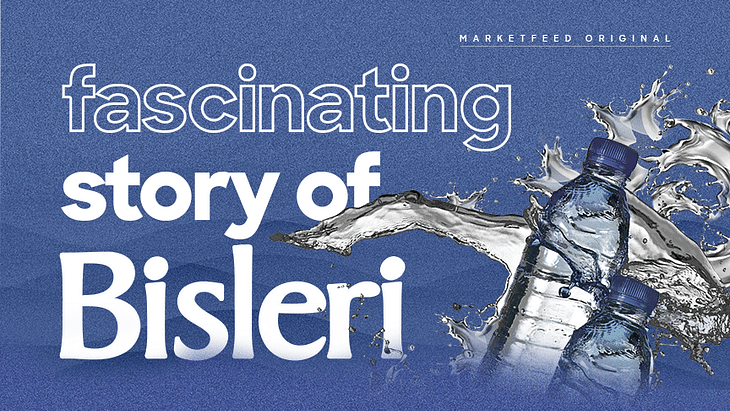 Water is essential for all life on Earth and is a valuable natural resource. It is all we want during a long day of work or travel. When we need a bottle of water, we often ask shopkeepers, "Bhaiya, Ek Bisleri Dena": it's almost instinctive. In fact, some of us may have received an alternate brand when we asked for a Bisleri.
But have you ever wondered what went behind the success of Bisleri? How did it secure a 60% market share in the Indian water bottle industry and dared to be synonymous with water? Well, we've got you covered. Here's everything you need to know about Bisleri, one of the most well-known brands of bottled water.
Bisleri's Origin
Bisleri was originally an Italian brand created by Felice Bisleri. In 1965, Italian doctor Cesari Rossi and Indian businessman Khushroo Suntook introduced Bisleri bottled water to India by setting up a factory in Thane. It was initially sold only in luxury hotels and restaurants in Mumbai in glass bottles in two varieties— bubbly and still. By 1969, the brand was struggling. It wanted to exit the Indian market and was bought out by Parle Group's Jayantilal Chauhan for ₹4 lakh (~$50,000 at the time).
Bisleri expanded after 1969 when Parle and Bisleri produced beverages, soft drinks, and soda at the same time. The brand became renowned across India and proposed to expand overseas. The company came up with a unique concept of selling soda in two categories: carbonated and non-carbonated mineral water. This led to a surge in the production of mineral water in India and made it a necessity for the common man.
Bisleri's Consumer-Friendly Marketing Strategy
Product Strategy: Over the years, the company has developed new products in response to growing demand. Bisleri initially started with its packaged water brand. It ran successfully and gave scope to the launch of many other products in the line. Bisleri's main product (packaged water) has undergone numerous changes and modifications. Later, the company introduced carbonated and non-carbonated soft drinks, energy drinks, soda, iceboxes, etc. Bisleri is also well-known for offering high-quality facial wipes.
Pricing Strategy: Bisleri aims to produce safe and affordable products and make them available to all. Its packaged water is priced similarly to its competitors. The differential pricing strategy has been used for the package of larger volumes. The larger the volume, the lesser the price. If the price of the 1L bottle is ₹20 in a specific area, 2L bottle costs ₹30. On the other hand, the company also uses a location-based pricing technique. The prices of products in theatres, restaurants, and shopping malls are higher than in a typical retail shop.
Positioning Strategy: Since 1965, the company has been expanding and spreading its reach throughout India. However, not all of its products are available in all regions. The 'Vedica' brand is sold in every region apart from Eastern India. This packaged water series is made available in the most remote villages in India.
Promotional Strategy:
Bisleri has adopted several forms of promotional activities such as advertising on television, print forms, personal selling, billboards, and posters. The brand also has a complete website detailing its various products.
The famous one-liner 'Biasleri is veri veri extraordinari' in Bisleri's first advertisement gave the brand a great deal of exposure. Other notable campaigns include the 'one nation, one water', where labelling was done in different languages to connect with people from different regions. 'Har Pani ki bottle Bisleri Nahi' promoted the idea that not all water is pure and hygienic like Bisleri.
Challenges Faced
Bisleri water bottles are the most popular in the country right now. As a result of its enormous success, several other companies have cloned the water bottle and put it on the market. You can find "Belsri", "Bilseri", "Brislei", or "Bislaar" in local shops. So, be alert when you buy a Bisleri! Bisleri has launched a new integrated 360-degree campaign called 'Samajhdaar Bisleri Peete Hai'. It aims to boost customer confidence and promote consumer knowledge about the difference between genuine Bisleri and counterfeit alternatives on the market.
Intense competition and new entrants: The Indian market is becoming crowded in the packaged drinking water segment. Many consumer giants monitoring this lucrative industry (such as Tata, Nestle, and HUL) will influence Bisleri's market share, earnings, and sales.
Repacking Bisleri Bottles: Many locals collect Bisleri bottles and refill them with local unclean water and sell them. This decreases Bisleri's brand value and can be dangerous for consumption.
Local Players: Since there are few barriers to entry in the market for bottled water, there are several competitors who were born and raised in various regions. They are able to give consumers better costs and increase demand since they operate a smaller business than Bisleri.
Water Purifiers: The rise in sales of water filters, purifiers, and ROs in the nation can directly affect the business of Bisleri.
Government Rules and Regulations: Government norms for packaged drinking water and the use of plastics can severely impact Bisleri.
Recent Developments
Bisleri brand's turnover for FY23 is estimated at ₹2,500 crore with a profit of ₹220 crore!
On the occasion of Children's Day, Bisleri International Pvt. Ltd. collaborated with youth changemakers of Delhi to drive the cause of appropriate plastic segregation, disposal, and recycling under its flagship sustainable program— 'Bottles For Change'.
Bisleri International partnered with Ghaziabad Nagar Nigam and IPCA to launch Gazab Street last month, a distinctive street made using recycled plastic waste. The street has been conceptualised to beautify the abandoned street that was once covered in dirt and filth.
Tata Consumer Products Ltd reportedly plans to acquire packaged water giant Bisleri for about ₹7,000 crore! TCPL is aggressive in the fast-moving consumer goods (FMCG) space and aims to be at the top. It also sells packaged mineral water under the Himalayan, Tata Copper Plus Water, and Tata Gluco+ brands. Acquiring Bisleri will help them attain the No. 1 position in the segment.
Bisleri's Mission
With the idea that was once called madness, Bisleri has gained a 60% stake in India's sealed water bottle industry. It has been able to grow its customer base and maintain its lead in the industry.
Today, Bisleri has dominated the Indian market for bottled drinking water for over two decades with a large product line. It has 122 operational plants (13 owned) and a strong distribution network of 4,500 distributors & 5,000 distribution trucks across India and neighbouring countries, Bisleri stands true to its promise of providing safe, pure & healthy mineral water to consumers for the last 50 years.
Almost every shop in India sells Bisleri's green-capped bottles and has become a trademark of every wholesaler. With TATA taking over, will it be a sweet farewell to the legacy and rule of Bisleri, or will TATA nurture it and help attain new heights? Let us know your views in the comments section of the marketfeed app!
Post your comment
No comments to display