Flipkart - Aditya Birla Fashion Deal. Future of Indian Retail Getting Re-written?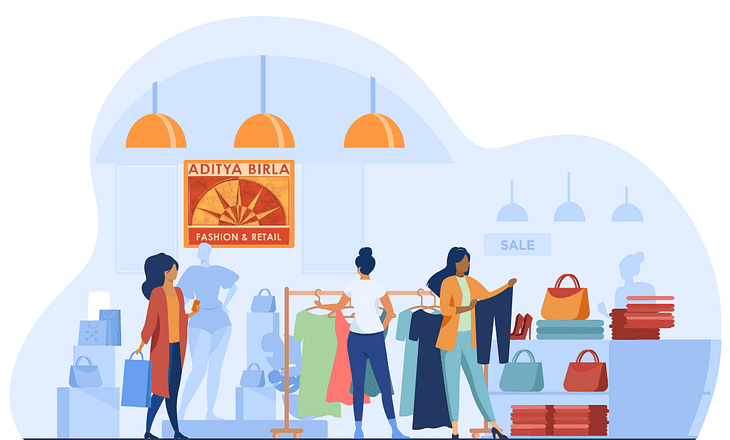 About Aditya Birla Fashion & Retail Limited
Mumbai-headquartered Aditya Birla Fashion & Retail Limited (ABFRL) is an Indian clothing retail chain. ABFRL emerged after the consolidation of two businesses in 2005. These two businesses were Pantaloons Fashion and Retail (PFRL) and Madura Fashion & Lifestyle (MFL).
The company has 3,000+ brand stores and 25,000 multi-brand outlets all over the country. They span around a retail space of 8.1 million sq.ft. Big apparel names like Allen Solly, Louis Philipe, Peter England, Forever 21, Pantaloons, Ted Baker, Ralph Lauren, and Van Heusen are part of ABFRL's brands. These are some of the most desirable brands for upper-middle-class families in our country!
Based on Market Capitalization, ABFRL is the leading company Retail sector (Industry: Textiles-Products) with a market cap of Rs 13,720.05 crore. It is well ahead of its listed competitors Future Lifestyle Fashion Limited and Shoppers Stop.
Focussing on the deal
Aditya Birla Fashion & Retail Limited announced on Friday that the company is raising Rs 1,500 crore from Flipkart Group. Walmart-owned Flipkart will buy a 7.8% stake in Aditya Birla Fashion for Rs 1,500 crore at Rs 205 per share. The promoters will be left with a 55.13% stake in the company after the completion of the issuance, which is a respectable number.
The rumours of Flipkart buying a minority stake in the retail company started surfacing earlier. On Friday morning, the company's board approved the issuance of equity shares on a preferential basis to Flipkart Investments Private Limited. You can refer to the press release from ABFRL here. This news was taken positively by the market participants. ABFRL's share price rose by 7.59% to close at Rs 165.05. The stock hit an intraday high of Rs 178.80.
Aditya Birla Fashion & Retail plans to invest this capital to strengthen its balance sheet and accelerate its growth in the apparel segment. This deal reflects how well the apparel industry of the country is expected to do in the near future.
According to Kumar Mangalam Birla, Chairman of Aditya Birla Group, the apparel industry in India will touch $100bn in the next 5 years. With the rise in disposable income of the middle class, people are aspiring to wear clothes from famous brands. Companies in the sector are also following different digital transformation strategies. They believe that the future would comprise both online and offline sales. Thus, the company needs to transform digitally as well.
Covid-19 slowing the business
The business of manufacturing and retailing of branded apparel suffered massively during the lockdown. Aditya Birla Fashion & Retail reported a revenue of Rs 323 crore in Q1FY20. This was 85% below of Rs 2,065 crore they reported in the same quarter the previous year. The company reported a net loss of Rs 410 crore as compared to Rs 21 crore profits they declared in June 2019. Due to poor earnings, their EPS also dropped into negative.
Even though the company reported disappointing first-quarter results, they are expected to bounce back in Q3. As the lockdowns are getting eased, people are returning to the shops as they start to return to offices. Also, Diwali, Navaratri, and Dussehra are just around the corner. The company is optimistic about its sales during this festive season. This cash infusion will help ABFRL revive its business post Covid-19.
A win for both the parties?
Flipkart will benefit from this deal by strengthening the range of brands offered on its e-commerce platforms. It acquired Myntra in 2014 in a deal valued at Rs 2,000 crore. Getting international and domestic brands associated with ABFRL on its platforms will attract more customers to the company. Also, they are getting this deal at Rs 205 per share. This is at a discount as ABFRL was trading above Rs 250 during February 2020. Due to the COVID-19, the company's share tumbled to Rs 102 in May.
But yes, compared to Flipkart is paying more than the current market price of the stock. So what is the catch? It is that Flipkart gets pre-emptive rights, or the right to buy additional shares from ABFRL before the general public for a period of 1-5 years. That means there is a chance of Flipkart increasing their stake in the future.
Kalyan Krishnamurthy, CEO, Flipkart Group said: "Through this transaction with ABFRL, we will work towards making available a wide range of products for fashion-conscious consumers across different retail formats across the country."
Covid has forced the ABFRL to relook at their business. Engaging with e-commerce platforms will make them less vulnerable during these times and also help them save rental or other asset-heavy costs. Rather than fighting against the growing prominence of online retail, the decision to collaborate with them makes more sense.
The coming together of two large fashion houses will help them to make use of synergies in manufacturing and supply chain. It will help them to get more customers to derive more sales. Due to synergies in business, the cost of operations will also decrease. Thus, boosting both, the profits and revenue in the long run. According to market analysts, this deal will aid ABFRL to receive the most favoured status on Flipkart's website.
Hopefully, the brands will refrain from offering their premium products at huge discounts, as Flipkart is notoriously known for doing this. This will decrease the 'premium' appeal of the brands of Aditya Birla Fashion like Van Heusen and Louis Philippe.
This new deal does give birth to positive sentiments about the apparel industry but to what extent Flipkart will be able to help ABFRL recover their lost business will be a thing to watch. Either way, ABFRL will surely appreciate this new capital along with the possibility of improved sales. Flipkart is also seeking to brand itself as "India's Fashion Capital" and ABFRL will help them tackle the premium clients.
Post your comment
No comments to display