Financials Drag Market Down. Volatility Continues- Post Market Analysis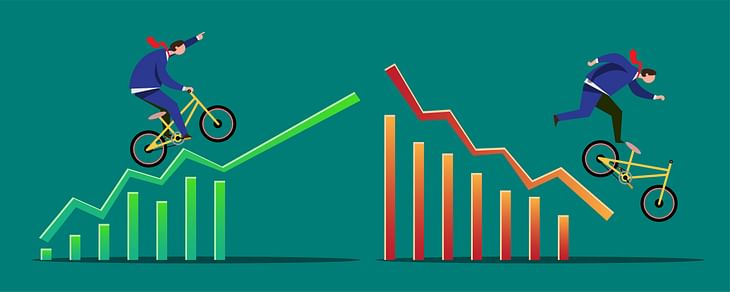 NIFTY opened the day at 17,609 with a gap-down of 108 pts. The index showed some bullishness after hitting an opening low below 17,600. But, then came a sharp fall and hit a day low at 17,532. The 17.520-530 region acted as major support and it bounced back. Even though it broke the resistance trendline, lost its recovery momentum above the opening high. NIFTY closed the day at 17,629, down by 88 points or 0.50%.
BANK NIFTY started the day at 40,889 with a gap-down of 314 pts. From the opening range high of 41,159, the index fell sharply and hit a day low at 40,360. From there it made a recovery of 560 pts, but couldn't break 40,900 resistance. Bank Nifty ended the day at 40,630, down by 572 points or 1.39%.
Nifty Bank (-1.3%), Nifty Finserv (-1.3%), Nifty FMCG (+1.3%) and Nifty Media (+1.8%) moved more than 1% today.
Major Asian Markets closed in the red. European Markets are trading in the red.
Today's Moves
Tata Group's Titan (+2.6%) closed as the Nifty 50 Top Gainer after signing an agreement with Manappuram Finance (-1%) for gold jewellery manufacturing.
PowerGrid (-3%) continued the recent fall and closed as the Nifty 50 Top Loser.
Financial stocks- Axis Bank (-2.1%), Bajaj Fiance (-1.6%), HDFC Bank (-2.1%), HDFC (-1.7%), ICICI Bank (-1.2%) and Kotak Bank (-1.3%) closed in the red.
FMCG stocks- HUL (+2.6%), Britannia (+1.8%), Dabur (+2.5%), ITC (+1.2%), and Marico (+2.6%) closed in the green today.
Fortis (-14.7%) fell heavily as Supreme Court extended the stay on IHH open offer. Metropolis (+5.5%) moved up well.
Markets Ahead
Yesterday, U.S Fed announced an interest rate hike of 75 bps as expected. Power said that there will be more rate hikes in this calendar year itself. And this led to a huge fall in U.S markets.
We are seeing huge volatility this week, Nifty moving up and down. Sometimes we feel like, the market is falling. Then it will perform a super breakout recovery and finally, we will realise that it was a false one- a typical volatile market scenario.
Nifty gave a good V-shaped recovery today, but it was spoiled after 2 pm. The resistance trendline is not letting the market move up. On the downside, we are expecting support at 17,480,420.and 180.
From this Monday, Bank Nifty is witnessing a fall of 0.7-1%, at some point every day. If the 40,280 level is broken, we may see a fall towards 40k.

HDFC Bank is losing its strength and has closed below the 1500 level. The next support is at 1479.
Infosys hit a fresh 52-week today and closed in the red.
Russia's Medvedev said that the country is ready to defend territories added to it with all means, including strategic nuclear weapons.
Bank of England increased the interest rate by 75 bps to 2.25%.
Which is your favourite pen brand? Pen is used everywhere. We have many listed paper companies. Do we have any listed companies that make pens? Share your thoughts in the comment section below.
Post your comment
No comments to display