Federal Bank Posts 64% YoY Rise in Q1 Net Profit - Top Indian Market Updates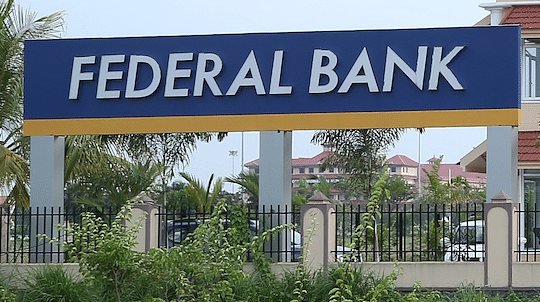 Here are some of the major updates that could move the markets tomorrow:
Federal Bank Q1 Results: Net profit rises 64% YoY to Rs 601 crore
Federal Bank reported a 63.5% YoY increase in net profit to Rs 600.66 crore for the quarter ended June (Q1 FY23). Its net interest income (NII) grew 13% YoY to Rs 1,604.5 crore during the same period. [NII is the difference between the interest income a bank earns from loans and the interest it pays depositors.] The bank's gross non-performing assets (GNPA) ratio stood at 2.69% in Q1 FY23, compared to 2.8% in Q4 FY22. Provisions fell 74% YoY to Rs 166.68 crore.
Read more here.
Bharti Airtel declares successful trial of 5G captive network at Bosch facility
Bharti Airtel Ltd announced the successful trial of India's first 5G private network at the Bosch Automotive Electronics India (RBAI) facility in Bengaluru. The telecom major's on-premise 5G Captive Private Network was built over the trial 5G spectrum allocated by the Department of Telecommunications (DoT). Airtel has implemented two industrial-grade use cases for quality improvement and operational efficiency at Bosch's manufacturing facility
Read more here.
Yes Bank selects JC Flowers ARC to offload bad loans worth Rs 48,000 crore
Yes Bank has signed a term sheet with JC Flowers Asset Reconstruction (ARC) for the sale of identified stressed loans of the bank worth up to Rs 48,000 crore. The bank proposes to run a transparent bidding process for the sale of its bad loan portfolio, with JC Flowers ARC's bid as the base bid. JC Flowers has likely valued Yes Bank's bad loan book of Rs 48,000 crore at Rs 12,107 crore, which will get transferred to the ARC.
Read more here.
Kesoram Industries Q1 Results: Net loss at Rs 61 crore
Kesoram Industries Ltd reported a consolidated net loss of Rs 61.25 crore for the quarter ended June (Q1 FY23). It had posted a net profit of Rs 12.77 crore in the corresponding quarter last year (Q1 FY22). Revenue from operations grew 4.18% YoY to Rs 891.23 crore in Q1 FY23. The company's total expenses stood at Rs 998.54 crore in Q1, up 19.5% YoY. Kesoram Industries manufactures cement, tyres, tubes, rayon, paper, and heavy chemicals.
Read more here.
Adani Group plans to create aero cities alongside its airports: Report
As per a report by Economic Times, Adani Group has plans to develop real estate projects alongside its airports in India in addition to its aeronautical and non-aeronautical (terminal) operations. Adani Airports will develop nearly 70 million sq. ft. on over 500 acres of land across all airports under its city-side developments portfolio. These "aero cities'" will be a mix of hotels, convention centres, retail, entertainment, logistics, and other allied real estate segments.
Read more here.
Kotak Mahindra Bank completes its integration for direct tax payments
Kotak Mahindra Bank has become one of the first private banks to integrate with the new e-filing portal of the Income Tax Department. The bank's customers can now pay their direct taxes through the e-pay tax tab on the portal using Kotak Net Banking or by visiting a branch. In October 2021, Kotak Mahindra Bank became the first Scheduled Private Sector Bank to receive approval as a collections partner for taxes.
Read more here.
JK Tyre strengthens retail presence with 70th outlet
JK Tyre & Industries Ltd has set up a new truck wheel centre in Tamil Nadu, in line with its strategy to strengthen its presence in India. The new outlet is the company's 15th outlet in Tamil Nadu and 70th in the country. Spread across 4,000 sq. ft., the facility provides end-to-end solutions for truck and bus tyres. It is equipped with trained technical advisors, wheel servicing equipment, and a wide range of truck tyres.
Read more here.
NHPC signs pacts to develop green hydrogen tech in Leh, Kargil
NHPC Limited has signed two agreements to develop green hydrogen technologies in Leh and Kargil. The company will consider the development of a Pilot Green Hydrogen fuel cell-based Microgrid (including hydrogen production) to meet the power requirements of NHPC's guest house at Nimmo Bazgo Power Station in Leh. NHPC will also produce green hydrogen fuel to run two buses for up to 8 hours in Kargil.
Read more here.
LTTS Q1 Results: Net profit rises 27% YoY to Rs 274 crore
L&T Technology Services (LTTS) reported a 27% YoY increase in consolidated net profit to Rs 274.2 crore for the quarter ended June (Q1 FY23). Revenue from operations grew 23.4% YoY to Rs 1,873.7 crore during the same period. The company secured a $50 million plus deal, four $15 million deals, and two $10 million deals in Q1.
Read more here.
Post your comment
No comments to display