Elon Musk - The World's Richest Person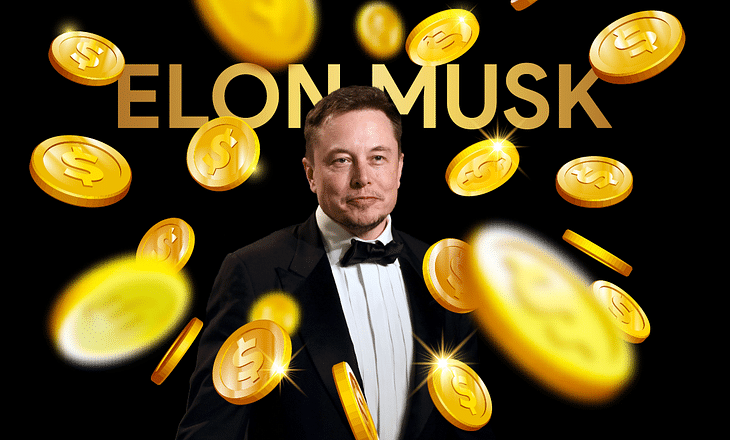 It's official. According to the Bloomberg Billionaires Index, Elon Musk is the richest person in the world. His total worth has increased to $194.8 billion, surpassing Jeff Bezos' net worth of $185 billion. There are two indexes in the world which are the most important to calculate a person's net worth. One is the Bloomberg Billionaires Index and the other is the Forbes Richest People List.
Even though the numbers are staggering, it does not mean that Elon Musk has $190 billion in his bank account in the form of cash. The number is the summation of the total worth of assets, shares and all the other investments. At the start of the year, Elon Musk was not even one of the likely individuals who could top the list inside in just one year. So, how did Elon Musk get to the top of the chart? Let's find out.
Elon Musk's Journey to Becoming the Richest Person
One of the biggest reasons behind Elon Musk's rise is Tesla's unprecedented rally in 2020. Tesla's stock has rallied at a break-neck speed last year. It has surged by more than 700% in one year alone. To give you a perspective, Tesla's stock was traded at just $88.60(adjusted for 5:1 stock split) on 3rd January 2020. Today, on 8th January 2020, it is being traded at an astonishing $880.02. Assume that you had invested Rs 6,424 to buy one share of Tesla on 3rd January 2020. Today, that small investment would have been worth Rs 64,240. How stunning is that, right? Elon Musk holds 20% of the total shares of Tesla. The stock's recent outburst in the prominent reason that Musk is now declared as the world's richest person.
The truth is, Tesla, is an automobile company but not "just a normal automobile company." Elon Musk and his team at Tesla build revolutionary automobiles. They are one of the biggest companies in the world which leverage technology to the fullest and manufacture products which no one can really imagine!
Most of the success of Tesla hinged on its electric vehicle car 'Model-3', which was their most affordable car yet. Their business model is very unique. Elon Musk states "The strategy of Tesla is to enter at the high end of the market, where customers are prepared to pay a premium, and then drive down market as fast as possible to higher unit volume and lower prices with each successive model."
Tesla turned into a profit-making company only in 2018. Before that, they were unable to produce a high volume of cars. Thus, their cost of production was always very high. After the launch of Model 3, Tesla managed to produce 5,000 cars in a week. This is where they achieved their break-even point. That quarter, they reported $312 million in profits. Since then, the company has never looked back.
Elon Musk's Performance-Based Bonus Package
Big companies reward you for good performances. This is what happened with Elon Musk as well. Just that, rewards awarded to him are something which no CEO has ever been offered! Musk set 10 lofty ambitions with Tesla. If he reaches those goals and sustains the company's performance, he will get a total of $56 billion worth of stock options over 10 years. Musk has already achieved 4 out of 10 goals inside two years. This has helped him earn $11.8 billion already.
His first payout came when Tesla's six-month trailing average market capitalization surpassed $100 billion. He was rewarded with 1.69 million Tesla shares at $350 each. Musk profited around $750 million from this first payout. Tesla awarded him with his second payout after just 1.5 months when the company's value increased by $50 billion more. He instantly exercised all the stock options provided to him, thus, earning a profit of $2.1 Billion.
Tesla's unstoppable rally meant that Musk will receive another 8.44 million stock options. They were valued at $2.9 billion. Tesla's CEO got his fourth tranche of bonus in October last year. He received another 8.44 million stock options which were valued at $3 billion again. It's quite clear that if Tesla can sustain this unique rally, Elon Musk's net worth will increase by many more billions.
Tesla's Dominance
Visionary, charismatic, imaginative, creative, leader. All of these terms describe who Elon Musk is. And, this vision and imagination are what he has imparted to Tesla. The recent rally took their market capitalization to over $830 billion. This had aided the company to enter into the prestigious S&P 500 index. This index measures the performance of 500 large companies listed on stock exchanges in the United States. Not only have they entered, but Tesla has become the biggest company ever to join the S&P 500. The previous biggest entrant to this index was Berkshire Hathaway. Tesla joined the S&P 500 at three times the value of Berkshire Hathaway.
The following chart shows the market capitalization of Tesla with respect to the biggest automakers around the globe.
All of these factors have played a huge role in making Elon Musk the richest person in the world. Many analysts believe that Tesla is highly overvalued. That might be true as well. But what we understand here is, Elon Musk is selling dreams and people back him to fulfil those dreams! And the hidden gems in Musk's arsenal, including SpaceX and Boring Company are yet to go public. When they do go public, he will be getting a lot richer. Will Elon Musk be the world's first-ever trillionaire?
Post your comment
No comments to display