Electronics Mart India Ltd IPO: All You Need to Know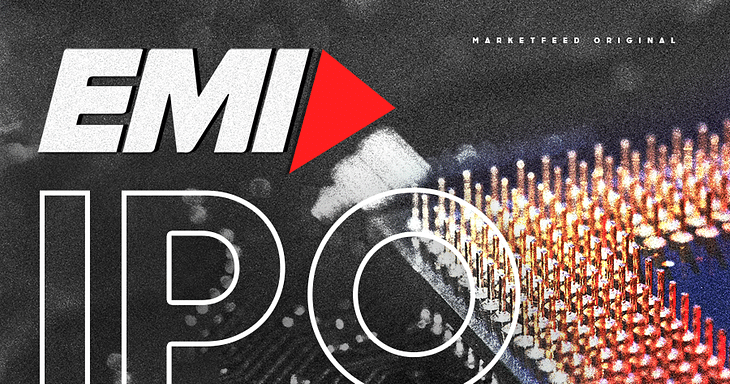 Electronics Mart India has launched its initial public offering (IPO) today— October 4. It is one of the fastest-growing consumer durables and electronics retailers in India. In this article, we take a closer look into the company and its IPO.
Company Profile - Electronics Mart India Ltd
Established in 1980, Electronics Mart India Ltd (EMIL) is the fourth largest consumer durables and electronics retailer in India as of FY21. It is also the largest regional organized player in South India in terms of revenue, with dominance in Telangana and Andhra Pradesh. EMIL offers a diversified range of products such as air conditioners, televisions, washing machines, refrigerators, mobile phones, and small electronic appliances.
So What's EMIL's Business Model?
The company focuses on securing retail spaces that ensure high visibility and easy accessibility to customers.
Under the ownership model, EMIL owns the underlying property, including the land and building.
In the lease rental model, they enter into long-term lease agreements with property owners.
The company operates business activities across three channels: retail, wholesale, and e-commerce.
As of August 31, 2022, EMIL operates 112 stores across 36 cities with a retail business area of 1.12 million sq. ft. The company offers more than 6,000 stock-keeping units (SKUs) from more than 70 consumer durable and electronic brands. EMIL owns brands like Bajaj Electronics, iQ (an authorised Apple reseller), Kitchen Stories, and Audio & Beyond.
About the IPO
Electronic Mart India's public issue opens on October 4 and closes on October 7. The company has fixed ₹56-59 per share as the price band for the IPO.
The fresh issue of shares (of the face value of ₹10 each) aggregates to ₹500 crore. Individual investors can bid for a minimum of 254 equity shares (1 lot) and in multiples of 254 shares thereafter. You will need a minimum of Rs 14,986 (at the cut-off price) to apply for this IPO. The maximum number of shares that can be applied by a retail investor is 3,302 equity shares (13 lots).
EMIL will utilise the net proceeds from the IPO for the following purposes:
Expansion and opening of stores and warehouses - ₹111.44 crore
Funding incremental working capital requirements - ₹220 crore
Repayment or prepayment of borrowings - ₹55 crore
General corporate purposes.
The total promoter holding in the company will decline from 100% to 77.97% post the IPO.
Financial Performance
Like most firms, the Covid-19 pandemic severely impacted the company's sales and operations. However, EMIL has been profitable over the past three financial years. Its revenue grew at a healthy CAGR of 17.9% between FY16 and FY21. Net profit in FY22 rose 78% YoY to ₹81.6 crore, while its EBITDA margin increased marginally from 6.4% in FY21 to 6.7% in FY22. E-commerce accounts for nearly 1% of its total sales.
Electronics Mart reported a total income of ₹1410.2 crore and a net profit of ₹40.65 crore in Q1 FY23. It anticipates that margins will remain between 6.5% and 7% in the upcoming quarters.
Risk Factors
While Electronics Mart has a strong presence in Telangana and Andhra Pradesh, it is planning to expand to new geographies. This may expose the firm to significant liabilities.
The company faces tough competition from online retailers who are able to offer a wide range of products at competitive prices.
EMIL derives a majority of its revenues (61%) from its top five brands. The loss of any of these brands or a decline in their supply or volume could adversely affect its financial performance.
Any delay or failure from external suppliers or third parties in delivering its products could severely impact the company's business.
The inability to promptly identify and respond to changing customer preferences and trends may lead to a decline in the demand for EMIL's merchandise.
IPO Details in a Nutshell
The book-running lead managers to the public issue are JM Financial Ltd, IIFL Securities Ltd, and Anand Rathi Advisors Ltd. EMIL filed the Red Herring Prospectus (RHP) for its IPO on September 23. You can read it here. Out of the total offer, 50% is reserved for Qualified Institutional Buyers (QIBs), 15% for Non-Institutional Investors (NIIs), and 35% for retail investors.
Conclusion
A recent report from CRISIL Research estimated that the size of India's consumer durables industry (including large consumer durables, mobile phones, and small appliances) stood at ₹2.4 lakh crore as of FY21. The organized segment's share in this market is likely to grow from 58% in FY21 to 76-78% by FY26. Electronics Mart India is well positioned to benefit from this growth with its diversified portfolio of essential electronics.
EMIL recently entered the National Capital Region (NCR) market with 8 outlets. It plans to open 60+ stories over the next three years with an average size of 10,000-12,000 sq. ft. The company also aims to improve its operating efficiency and ensure efficient supply chain management.
EMIL's IPO shares are trading at a premium of ~₹31-33 in the grey market today. Before applying to this IPO, we will wait to see if the portion reserved for institutional investors gets oversubscribed. As always, do consider the risks associated with the company and come to your own conclusion.
What are your opinions on this IPO? Will you be applying for it? Let us know in the comments section of the marketfeed app.
Post your comment
No comments to display