DreamFolks Services Ltd IPO: All You Need to Know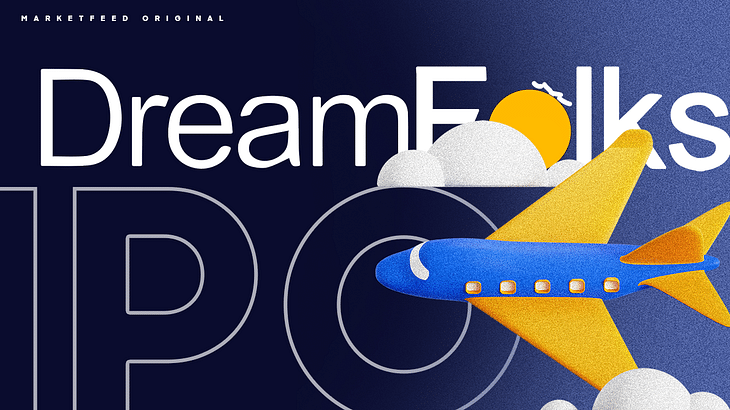 Airport service aggregator platform DreamFolks Services Ltd has launched its three-day initial public offering (IPO) today— August 24. In this article, we dive into the company's business model and its IPO.
Company Profile - DreamFolks Services Ltd
DreamFolks Services Ltd (DSL) is India's largest airport service aggregator platform. The Gurugram-based firm offers enhanced airport experiences to passengers with the help of its technology-driven platform. They facilitate customers' access to services like lounges, food & beverage, spa, airport transfer, transit hotels, and baggage transfer.
So what do they actually do?
DSL has partnered with card networks operating in India, including Mastercard, Visa, Diners/Discover, and RuPay. They have also tied up with leading card issuers such as ICICI Bank, HDFC Bank, Axis Bank, and SBI Cards. The company has essentially crafted a service proposition and tech platform to help clients (card networks & issuers) offer a wide range of services as part of their customer engagement and loyalty programs.
Factsheet
DreamFolks Services has a global footprint extending to 1,416 touch-points across 121 countries. It has nearly 244 touch-points in India and 1,172 touch-points overseas as of March 31, 2022 (FY22).
The company holds more than 80% market share in the domestic lounge access market in our country.
DSL enjoys a market share of ~95% of all India-issued credit and debit card access to the airport lounges!
DSL's first-mover advantage and asset-light business model have helped them dominate the airport service aggregator industry.
About the IPO
DreamFolks Services' public issue opens on August 24 and closes on August 26. The company has fixed Rs 308-326 per share as the price band for the IPO.
The IPO is entirely an offer for sale (OFS) of 1.72 crore equity shares by promoters and early investors, aggregating to Rs 562.10 crore. Individual investors can bid for a minimum of 46 equity shares (1 lot) and in multiples of 46 shares thereafter. You will need a minimum of Rs 14,996 (at the cut-off price) to apply for this IPO. The maximum number of shares that can be applied by a retail investor is 598 shares (13 lots).
The primary objective of the IPO is to provide an exit strategy (or liquidity) to DSL's promoters. The company aims to achieve the benefits of listing the equity shares on NSE and BSE. The total promoter holding in the company will decline from 100% to 67% post the IPO.
Financial Performance
DSL's revenue had been on a downward trend due to the severe impact of the Covid-19 pandemic on the airline industry. In FY21, revenue declined 70.6% YoY to Rs 108.11 crore, while it reported a net loss of 1.45 crore. However, the company's financial performance improved in FY22 as lockdown restrictions eased and airports saw more footfall.
Over the past three financial years (FY20-22), the average revenue from lounge fees stood at 98.55%. They have witnessed an annual average growth rate (CAGR) of 90.7% in the number of touch points over FY18-22. 
The company is now on a path to recovery and expects to cross above pre-pandemic levels in the near term.
Risk Factors
DSL is highly dependent on its long-term relationship with card networks and issuers. The inability to retain them as clients could severely impact the company's overall business.
Almost all of their revenue is derived directly from the use of various services at airports. Thus, any downturn in the air travel industry will adversely affect DSL's financial performance.
The company relies heavily on its top five clients for a majority of its revenue (~84.91% on average). If any of these clients terminate their contract with DSL, it could significantly impact their revenue.
Any adverse regulatory order or monetary penalty against card networks and issuers could harm the company's operations and financial condition.
Airport lounge operators could partner with card networks and issuers directly, which will severely affect DSL's business.
IPO Details in a Nutshell
The book-running lead managers to the public issue are Equirus Capital and Motilal Oswal Investment Advisors. DreamFolks Services filed the Red Herring Prospectus (RHP) for its IPO on August 17. You can read it here. Out of the total offer, 75% is reserved for Qualified Institutional Buyers (QIBs), 15% for Non-Institutional Investors (NIIs), and 10% for retail investors.
Conclusion
The Covid-19 pandemic had a severe impact on the aviation/air travel industry. Fortunately, the air passenger traffic has been gradually increasing over the past few months. The number of lounges is expected to grow at a CAGR of 7% in the next two decades. There were 54 airport lounges in India in FY22. This figure is expected to grow to ~204 by 2040! Currently, DreamFolks Services is enjoying a virtual monopoly in this segment with a 95% market share!
DSL aims to grow its business by expanding access across India and overseas. They are also likely to benefit from government initiatives like UDAN, which will help increase access to more regional airports. The firm believes it is well-positioned for the upcoming growth opportunities due to its market dominance.
The company has received some interest in the grey market. DSL's IPO shares are trading at a premium of Rs 62 in the unofficial market today. Before applying to this IPO, we will wait to see if the portion reserved for institutional investors gets oversubscribed. As always, consider the risks associated with the company and come to your own conclusion.
What are your views on this IPO? Will you be applying for it? Let us know in the comments section of the marketfeed app!
Post your comment
No comments to display