Do TCS Investors have something to fear about?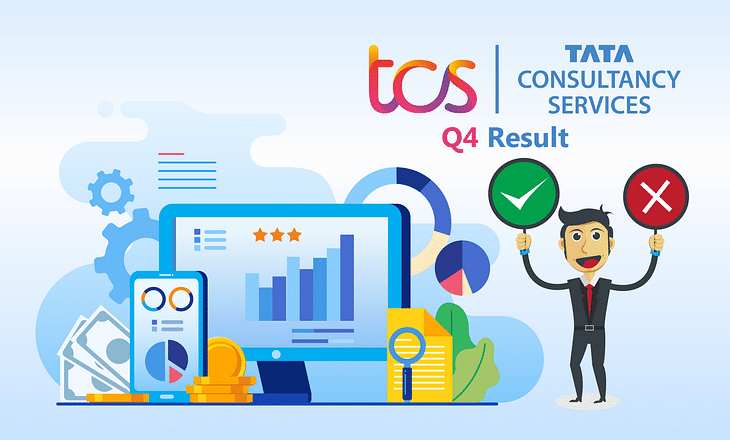 Tata Consultancy Services (TCS) launched its fourth-quarter results a few days back but since then, the TCS' share price has been experiencing a sell-off. Were their results disappointing? Is it something you should fear about?
After making an all-time high of Rs 3354 a day before its Q4 FY21 results, TCS has been falling. It went down till Rs 3,073 but recovered a bit in the last two days to close at Rs 3195 on 16th April. The chart below will show how it gained so much in the last two weeks with the expectations of great results. The yellow arrow marks the day when the Q4 FY21 results were declared.
Here, our aim is to give you the interpretations alongside the numbers reported by TCS. As an investor or a trader, we will just try to give you the perspective if there is something worrying about the results.
Positives Updates
TCS declared a 14.8% year-on-year (YoY) increase in net profit to Rs 9,246 crore for the quarter ended March (Q4 FY21). Their top-line also rose by 9.4% YoY to Rs 43,705 crore during this period. These numbers looked very impressive at the first glance.
Their profits have outshined their revenues which tells that TCS has done well in managing their bottom line. When a company is able to generate more profits from its revenue, it tells that the firm is working efficiently and is on the right path of development.
The IT firm announced a dividend of Rs 15 per equity share. Apart from this, TCS had another big news for its investors. They bagged deals worth $9.2 billion in this quarter, their highest-ever total contract value (TCV) in a quarter.
This took their annual order book to $31.6 billion, which is 17% more when compared to the previous financial year. All in all, the company has a modest increase in revenues and profits, a fine dividend payout and seized some big orders in a year which has thrown uncertainty at every point.
The Not-so Positives Updates
Although they were a bunch of positives, few of the updates were received not so well by the investors. Their operating margin increased by 1.7% to reach 26.8% when compared to Q4 FY20. But when we look at the previous quarter (Q3 FY21), the increase is just 0.2%. This is a bit worrying.
EPS or Earnings per share is one of the best metrics for investors to map out their benefits from investing in a company. Increasing EPS gives confidence to the shareholders whereas decreasing EPS can potentially raise a red flag for them. In FY18, TCS' EPS was 66.48 and by FY20, it surged to 86.18. An impressive growth inside two years but in FY21, this EPS increased by .63 points to 86.71.
This minuscule increase was not happily taken by the shareholders. TCS had an average annual growth rate of around 7% three years prior to Covid-19, but the current share price expects annual growth of more than 10% in the coming years, which is difficult to achieve. The results look good, as said before but they do not offer any justification for investors to raise their estimates.
Expectations Too High?
There is no one answer to this question. Even the brokerage firms across the world don't have a common opinion. Many of them have given a sell rating after the fourth quarter but at the same time, a few of the most reputed brokerage firms have still gone with a buy rating on TCS.
The Covid-19 pandemic has had huge negative implications on every company. The economy was not booming but the stock market was on a constant bull run since April 2020. TCS, which has a huge weightage in the Nifty 50 index also zoomed up like anything. The stock touched the low of Rs 1,506 in March last year and on 9th April 2021, it touched it's all-time high of Rs 3,354. This shows that the IT firm has already gained a lot and might be trading at a premium valuation.
The market believes that their metrics are amazing but the doubt is can they improve from here. Just for an example, an operating margin of 26.8% is phenomenal but it will take humongous efforts from the company to increase it from here. This shows that the market participants are a bit worried about the potential limited upside in this stock. This concern is very natural for any company when it is at maturity.
When we see a mixed response from analysts due to limited upside, we need to look at who is behind the wheels of the company. TCS comes from the house of Tata, one of the biggest brands in India for decades. Tata has seen India grow even before the time of independence. Being India's largest and one of the world's biggest IT firms, there should be very little doubt on the long-term future of TCS. The management works with a long-term vision and always looks to create positive returns for their shareholders.
The only question then remains that is there a "better investment". Surely the only question is: will TCS grow as fast as we think it will?
Post your comment
No comments to display