Could IndiGrid InvIT Be The Next Breakout Stock?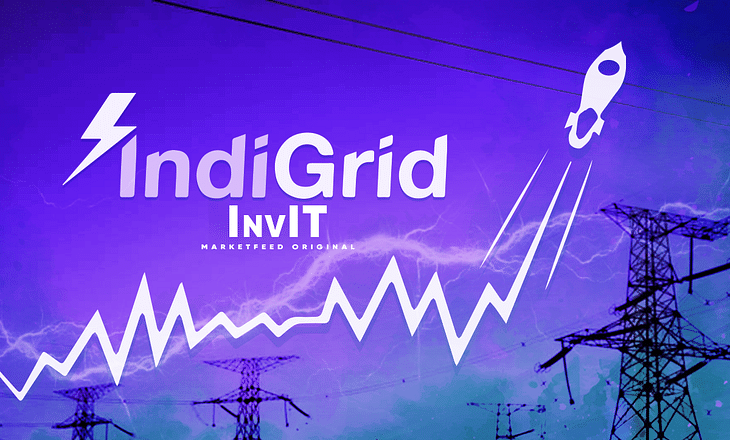 India Grid Infrastructure Investment Trust, or IndiGrid InvIT, is India's first listed power-sector infrastructure investment trust. The trust's assets under management (AUM) are currently worth ~Rs 15,000 crore. The listed company has delivered consistent growth in terms of share price appreciation, revenue, and profits since its Initial Public Offering in 2017. Could it be the next breakout stock?
In this piece, we discuss what an InvIT is, what sets IndiGrid InvIT from the rest, and what drives the company.
What is an InvIT?
An Infrastructure Investment Trust (InvIT) is an investment scheme (similar to a mutual fund) that enables individual and institutional investors to invest funds in infrastructure projects directly. These investors, who collectively invest small amounts of money in income-generating assets, receive a small portion of the income in return. These 'assets' could include road projects, power transmission lines, gas pipelines, and much more. Infrastructure companies monetise their income-generating assets (through InvITs) to repay their debt obligations quickly and effectively. The primary objective of InvITs is to promote the infrastructure sector of a country by encouraging more individuals to invest in it.
Read more about InvITs at marketfeed over here.
What is India Grid InvIT?
IndiGrid InvIT is India's first listed power sector infrastructure investment trust. It is sponsored by American global investment firm KKR & Co. and Sterlite Power Grid Ventures Ltd (SPGVL). The InvIT owns 13 projects, spanning over 30 transmission lines, spread across 7,570 circuit kilometres. IndiGrid also owns 11 substations with 13,550 MVA mega-volt ampere (MVA) transformation capacity across 15 states and one Union Territory. The company has projects in both Transmission and Renewable (Solar) segments.
Investor Corner: IndiGrid InvIT
Between 2018 and 2021, The company's total revenue has grown at a 3-year CAGR of ~56%. The company's net profit has grown at a 3-year CAGR of ~59% in the same period.
The company is profitable and has displayed consistent growth in terms of revenue, quarter after quarter.
The company debuted in 2017. Soon after, its price took a dip, consolidated for a while and took slowly declined till 2019. The InvIT had seen consistent growth in share price way before the pandemic. Its share price saw a steel rally after the pandemic induced slow down. While the share price hasn't noticed 'strong momentum' or 'volatility', it has witnessed a slow and steady growth rate in share price as is evident from the graph given below. IndiGrid has returned ~76% over the past three years. An investment of Rs 1,00,000 would yield Rs 76,000 at the end of three years.
The company's consistent growth is overshadowed by the HUGE debt burden that it has undertaken. Its Long Term Liabilities has grown from Rs 994.1 crore in March 2018 to Rs 10,401.7 crore in March 2021.
The average cost of debt is ~7.81%. This means that for every Rs 100 that the company borrows, it pays close to Rs 7.81 to the lender on average. Nearly 70% of the company's debt are fixed-rate borrowings where the interest rate does not increase significantly with time or in case of delayed repayment. The InvIT is rated AAA by credit rating agencies like CRISIL, ICRA and India Ratings.
The Way Ahead
The power transmission and distribution sector has been entangled in a web of political and operational issues. These projects weren't profitable because of high subsidization by the government, power theft, and payment defaults by local electricity boards. The 2021 budget session was a historical one for the power sector as the government tried to shift the burden of payments from power companies, onto itself. The government also paved the way through policies for the renewable energy sector to flourish. To sum it up, the power sector is going to flourish in the coming years.
IndiGrid InvIT saw lesser interest from investors in its initial days because the concept of an InvIT getting listed on the stock market was unheard of. Despite being consistent, the company's revenue and profits are not in tune with the debt burden that it has undertaken. This makes the company look fundamentally weak in the eyes of overseers. What one doesn't realise is that infrastructure projects take many years to flourish and yield a return. The current power policy is signing towards a flourishing sector, which would yield good returns for both shareholders and lenders.
Click here to read more about India's power transmission and distribution sector, its structure, functioning, and the business structure of the top players. 
Post your comment
No comments to display