Consolidation in Nifty and Bank Nifty! - Post-Market Analysis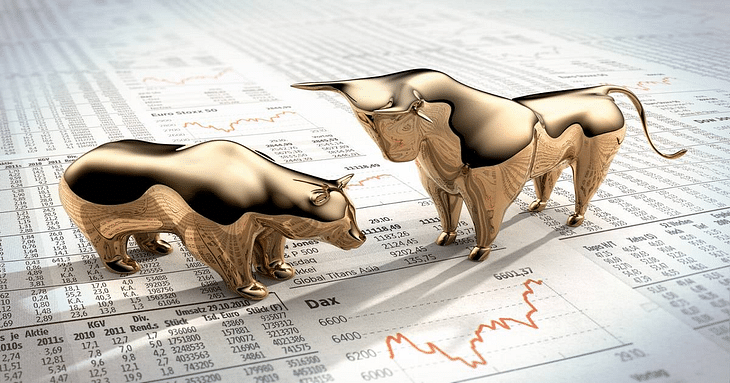 NIFTY started the day flat at 19,731. The index initially rose to 19,750 levels, fell 50 points, and moved up with strength to 19,755 levels (the day's high). Then, it fell sharply to 19,670 and consolidated in a nearly 45-point range for the rest of the day. Nifty closed at 19,694, down by 37 points or 0.19%.
BANK NIFTY (BNF) started the day flat at 43,591. The index initially showed strength by moving up to the 43,700 resistance zone. Then, it made a double-top and fell to 43,500 levels. After all the volatile moves, the index consolidated and BNF closed flat at 43,584, up by 1 point or 0.00%.


Nifty Auto (-0.76%) fell the most, while Nifty IT (+0.6%) moved up the most today.

Major Asian markets closed mixed. UK's FTSE100 is currently trading in the red, while France's CAC40 and Germany's DAX (+2%) are trading in the green.
Today's Moves
Divi's Labs (+2.02%) was NIFTY50's top gainer. The stock extended gains for the fourth day in a row.
Tata Investment Corp (+15.17%) rallied ahead of Tata Technologies' IPO on Nov 22.
Latent View (+9.25%) surged on the back of strong volumes.
Adani Enterprises (-2.67%) was NIFTY50's top loser. As per a Reuters report, Indian investigators aim to resume a probe into Adani Group. The inquiry focuses on suspected coal import overvaluation.
Bajaj Finance (-2.11%) fell after the lender temporarily suspended issuing member ID cards to customers following RBI's order.
Shares of Balkrishna Industries (-5.51%) fell sharply, extending losses for the second straight session. 
Markets Ahead
The Indian markets are currently holding near crucial resistance levels. However, the rise in India VIX and a PCR of 0.73 suggest a degree of bearish sentiment (especially in Bank Nifty). Given that both indices have been trading in a range, a decisive breakout or breakdown from these levels could lead to significant moves in the respective directions.
Nifty: The critical support level to monitor is around 19,660. If there's a breakdown from this level, potential targets in the index could be 19,600 and 19,500. On the other, the resistance to keep an eye on is at 19,720. A breakout from this level might lead to targets of 19,760, 19,800, and 19,860.
Bank Nifty: The key resistance level to monitor is at 43,800. A breakout from this level could propel the index to 44,000 and 44,200 levels. Meanwhile, the support level to keep an eye on is around 43,400. A breakdown from this level might lead to targets of 43,000 and 42,500 eventually.
Following today's consolidation, the upcoming FINNIFTY expiry tomorrow could be volatile. So stay alert for directional movements and trade with caution.
Please join The Stock Market Show at 7 PM on our YouTube channel.
Post your comment
No comments to display