Company Analysis: Indian Energy Exchange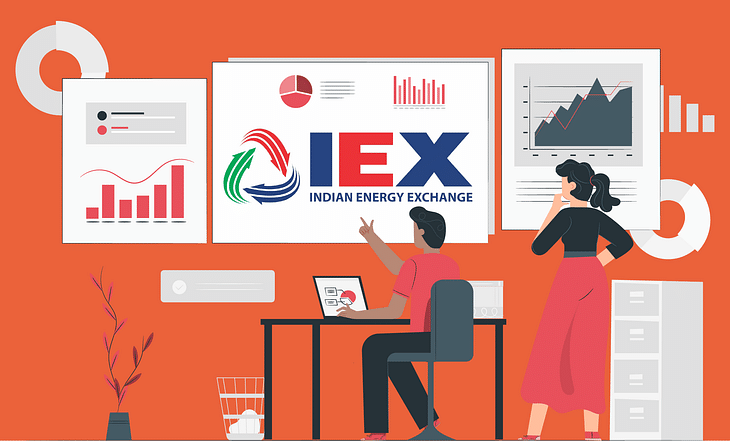 What is the Indian Energy Exchange?
The Indian Energy Exchange or IEX is an electronic power trading marketplace for electricity corporations and boards to trade contracts related to energy. In simple terms, just like how individuals can trade in the stock market to gain profit, electricity corporations can trade on the IEX to increase profitability and have better price discovery. It is a place where participants can buy and sell energy through a double-sided closed auction process.
State Electricity Boards, power-producing companies, power transmission companies, and power traders that have a huge capital trade on IEX. IEX is one of the only two power exchanges apart from Power Exchange India Limited(PXIL).
The IEX started operations in 2008. The Central Electricity Regulation Commission(CERC) regulates the IEX, just like how SEBI regulates the NSE and BSE.
Financial Vitals of IEX
Share Performance
As of January 2021, the company's share price has grown by ~38% since IPO and by ~94% in the past 1 year. The company's share price has been less volatile, but with consistent growth. It has a market cap of Rs. 7000 crore.
Growth in Net Profits/Revenue/Earnings
The company's sales, revenue, and net profit have been growing constantly for the past 5 years. As demand for power increases, there will be an increase in power trading to find a better price for power.
Increasing Trading Volumes
On average, 6000+ MW of electricity is traded daily on the exchange. The traded volume is growing at 32% CAGR. It has a consumer base of 4000+ Industries, 55+ distribution companies, 500+ generators, 1500+ renewable energy generators. The company has also seen increased trading volumes on BSE and NSE.
Increasing ROE/EPS
For IEX, the Return on Equity(%) or ROE is ~45%. This means that for every Rs. 100 invested in the company, the investors earn close to Rs. 45 every year. The company's price to earnings ratio or PE ratio has been declining constantly for the past few years. The fact that the company has excellent profitability and increasing revenue, it could probably mean that the company is undervalued and sees higher growth potential in the markets.
Increasing FII/MF shareholding
The company has an increasing FII(Foreign Institutional Investors) shareholding in company. In fact, it has doubled between September 2018 and September 2020. This shows that foreign investors are bullish on the idea of power trading in India and see a greater potential in IEX. Mutual Fund's shareholding has also increased by 4.5 times in the past two years between 2018 and 2020.
No Debt
The company has no debt or is not operated on credit. This saves it from default risk.
Decreasing Clearing Price
The clearing price is the price that companies pay to buy power after the bidding process is complete. The average market clearing price has gone from as high as Rs.3.38 per unit in July 2019 to as low as Rs. 2.35 per unit in June 2020. A decreasing clearing price means that more companies would flock to power exchanges for cheaper electricity.
Increasing Dependency on Green Energy Over Coal
As Governments push for environmental regulations and promoting green energy, there is a greater incentive for companies to invest in them. Moreover, coal prices are pretty volatile citing quality concerns, regulation, and also the recent decision for Coal Mine Auction by the Government. Products like Energy Saving Certificates, Green TAM, and Renewable Energy Certificates on IEX will have a greater demand.
Indian Gas Exchange
The Indian Gas Exchange or IGX is a subsidiary of IEX which is an exchange for trading in gas. It is India's first electronic delivery based gas exchange. It is regulated by the Petroleum and Natural Gas Regulatory Board. IGX currently offers trading in five contracts namely: Daily, Weekly, Weekday, Fortnightly, and Monthly. It has three physical setups, two in Gujarat and one in Andhra Pradesh.
Electricity Amendment Bill
The Electricity Amendment Bill is a prospective bill that will enable power companies to retain greater profits. The bill also aims to prevent the high number of defaults in the energy sector, often by the state regulatory board themselves. The bill also addresses the weak financial health of power companies. It aims to privatize and centralize electricity transmission and distribution. The National Renewable Energy Policy also promotes the production and use of renewable energy throughout the country.
IEX as a share to invest in hasn't caught the eye of the retail investors. The company's price is supported by a good balance sheet and awaits a great future considering the recent developments in power policy and shift of focus towards renewable energy. One should look out for future events like the Electricity Amendment Bill. A mix of all can ensure greater participation in the Indian Energy Exchange, thereby increasing trading volumes and cash flows for the companies.
To Know More, about how the exchange functions and the products it offers, click here.
Post your comment
No comments to display