Company Analysis: CRISIL Limited, an S&P Global Company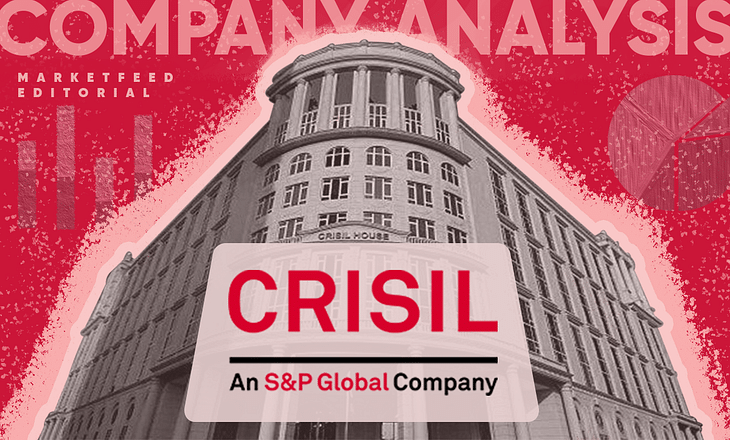 In India, when we go through the content on bonds, shares, and how they are rated, CRISIL comes as a common name. CRISIL Limited is an Indian analytical company providing ratings, research, and risk and policy advisory services. It is listed on both NSE and BSE. It is owned by a quite popular American financial giant, S&P Global.
In this piece, I shall take you through the company's business model, its recent financials, and the future prospects of the company.
Business Model
CRISIL Limited is a Credit Rating Agency(CRA). The role of a credit rating agency is to 'rate' or rank securities like bonds, shares, debt instruments, etc. based on their risk and ability to pay back its investors. Based on the ratings, investors can get an insight into the risk factor of the security they are investing in. Bond issuing companies can even decide the price of the bond or interest they pay based on the rating that the bond gets. It is recommended that you go through a piece we did at market feed on 'How Credit Rating Agencies In India Earn Money'.
Before we move any further, let me summarize the Credit Rating Industry for you. The industry is an oligopoly. This means that there are barely 4-5 established CRAs in India. It is virtually impossible to compete against these giants. Most of these giants are owned by the 'Big Three' credit rating agencies. Those are S&P Global, Moody's, and Fitch Ratings.
The company isn't limited to just its India operations. The company receives most of its business from North America and a major chunk of it from Europe as well.
CRISIL, just like any other CRA, makes money through three segments. Ratings, Research and Advisory. Looking at the revenue mix it is clear that CRISIL earns most (~63%) of its revenue from its Research business followed by Ratings and the Advisory.
Rating Business
The cash flow over here comes from two places, Bonds and Bank Loan Ratings. It is mandated by SEBI that every company issuing bonds must be rated by at least one of the Credit Rating Agencies in India. Additionally, whenever a big company borrows money from a bank, the bank assigns the task of rating the borrower company to a CRA, in our case, CRISIL. CRISIL owns close to ~68% of market space in the Rating business. When more bonds are issued, and more companies start borrowing money fuelling banking credit in the economy, CRISIL eventually ends up making money. In India, Banking credit has grown by ~6.2% CAGR and bonds issuances by ~9.35% CAGR, both over a period of 5 years. In the past year, the bond market has increased by 8% YoY, despite a stressful year for businesses.
Research Business
CRISIL allots maximum capital to this segment. In the quarter ended March 2021, CRISIL allotted ~Rs 642 crore against ~Rs 78 crore and ~Rs 89 crore to the Advisory and Rating segment respectively.
The Research segment doesn't require much elaboration. Most decisions taken in the market are based on research. Research requires data, the data is then analyzed, and a conclusion is reached. Gross Revenue from Research business has grown by 14.2% CAGR over the past 5 years. The company acquired a US-based research and analytics company Greenwich Associates and its subsidiaries for $40 million or Rs 296 crore. This was a major addition to the segment. What makes this segment unique is that it isn't impacted by the cyclicity of the market. In the financial world, whether the market is down or up, the demand for a good research report never ends.
Advisory Business
CRISIL provides advisory services in s in areas of regulatory reporting, credit risk, and select city infrastructure projects. The advisory business of CRISIL is picking up. CRISIL's advisory services see great potential growth since they have access to lots of data and research material. This gives them an edge when it comes to giving the right business advice. Even though the contribution to the revenue segment is small, one can expect it to grow in the future.
Financial Vitals
| | | | |
| --- | --- | --- | --- |
| . | Q4 2020 | Q3 2020 | Q4 2019 |
| Revenue | 508.65 | 612.2 | 462.6 |
| Net Profit | 83.5 | 110 | 88.1 |
All Amount in Rs Crores
In the above-given chart, we can clearly see that the revenue of the company is increasing steadily, but the profit margin isn't responding to the rise in revenue. Apparently, CRISIL is unable to trim down on its expenses.
Coming to CRISIL's expenses, more than 65% of it goes into paying for the salaries and benefits of its employees. Another sizable chunk goes in availing 'Professional Services' from third parties. CRISIL can utilize its capital more efficiently. In a world of automation and artificial intelligence, maybe it's time to upgrade its technology.
The stock seems to have gained quite some traction in the past one month more than other months. CRISIL stock has gained ~36% in the past month and ~76% in the past year. The stock traded pretty much sideways for quite a few months before 'freeriding' the bull run post the COVID-19 lockdown.
The Big Picture
In the chart give above, we get a clear picture of CRISIL's financial efficiency. All vital ratios like Return on Equity %, Return On Capital Employed %, Net Profit Margin Annual % have declined over the past decade, yet CRISIL's stock seems to have rallied more than 36.66% over Despite this, CRISIL seems to be rallying over the past month.
CRISIL stock happens to be in ace-investor Rakesh Jhunjhunwala's portfolio, the stock seems to have gained a special interest from Foreign Investors and Mutual Fund in the past month. A breakout from a long-borne consolidation spiked interest in retail traders that could have probably caused the breakout. From the data given above, we can concur that the rally isn't supported by the company's financials and could possibly be a short-lived one. Another possibility could be that the company turns around its financials in the coming quarter and the quarterly results become supportive of the rally.
Post your comment
No comments to display