Citigroup's Retail Exit: Explained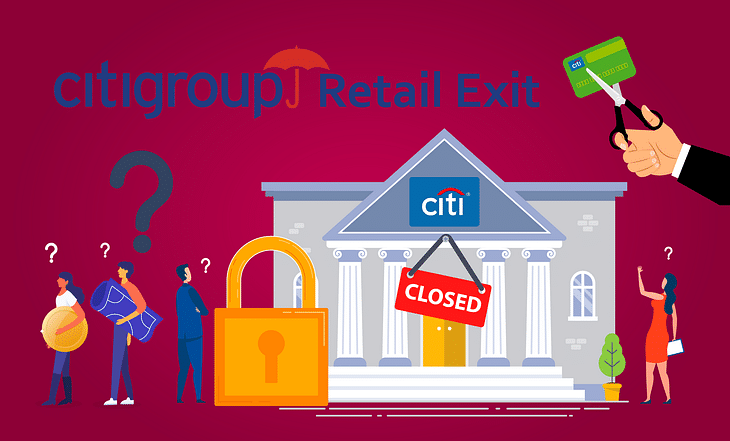 The world-renowned Citigroup Inc. has decided to exit its retail business in India and 12 other countries across Asia, Europe, Middle East, and Africa. This marks the withdrawal of one of the oldest foreign banking firms in our country— Citibank. Let us dive into the details surrounding this move.
The Story
On April 15, 2021, US-based Citigroup announced plans to shut its retail banking business— including credit cards, savings bank accounts, and personal loans— in India. The company has also decided to exit consumer banking operations in Australia, Bahrain, China, Indonesia, South Korea, Malaysia, the Philippines, Poland, Russia, Taiwan, Thailand, and Vietnam.
The group will now turn its focus on consumer banking in four major wealth centres or hubs— Singapore, Hong Kong, the United Arab Emirates (UAE), and London. This move is part of an ongoing review of Citigroup's strategy by Jane Fraser, the current Chief Executive Officer (CEO). The company's objective will be to capture the strong growth and attractive returns that are offered through wealth-management businesses from the hubs mentioned above. It will continue to offer products in those markets to customers of its institutional clients' group, which houses the private bank, cash-management arm, and investment banking and trading business.
Citigroup in India
Citigroup began its operations in India more than 119 years ago. Their retail operations (Citibank) have been around since 1985. They were the early pioneers of introducing credit cards and ATMs in our country. It is interesting to note that Citibank had 30 lakh customers, 12 lakh bank accounts, and 35 branches as of March 2020. Moreover, they had reported a strong deposit base of 1.5 lakh crore and had issued over 22 lakh credit cards by the end of FY 2020-2021. The bank claimed a 6% market share of retail credit card spends in the country. When compared to other foreign banks, Citi India had one of the highest value of total assets at Rs 2.99 lakh crore.
Despite these figures, Citigroup has realised that it can no longer carry on with its retail banking operations in India.
Major Reasons Behind the Exit
Citigroup has realised that its capital, investment dollars, and other resources should be employed for high-return opportunities in wealth management. Providing banking services to a large number of small retail clients requires a lot of capital, time, and other resources. Thus, Citi believes that it can efficiently utilise its current expertise and resources to tap the high potential of offering financial services to a few multinational corporations.
The Covid-19 pandemic had caused widespread disruption in the financial sector. It had forced large institutions such as Citi to analyse their operational performance in global markets and realign their strategies. They began to realise that not everyone could build a localised retail model (especially in India). Citigroup's strategy to exit the retail business in 13 countries is based on reducing high operational costs and protecting profitability.
The US-based company said it is exiting retail operations in those areas where it has not been able to scale up. In India, the company had been facing stiff competition primarily from domestic players such as the State Bank of India (SBI). For comparison, Citibank has a mere 35 retail branches in the country, while SBI has around 24,000. As mentioned before, Citigroup is not willing to use a large portion of its resources to increase market share or scale operations in this highly competitive space.
The Way Ahead
According to a statement by Citibank, its operations in India (including bank accounts, fixed deposits, and credit cards) will not be impacted. There will not be any immediate change in normal banking operations. Customers of the bank will be informed way in advance about future proceedings in order to avoid all complications. They have also ensured that its employees will not be laid off and its branches won't be closed. Moreover, Citigroup will continue to operate its institutional business in India.
As per reports, Citigroup plans to sell its retail business in India (Citibank India) in several phases. The group will first seek regulatory approvals from the Reserve Bank of India (RBI) to start the exit process. Domestic lenders such as Kotak Mahindra Bank, Axis Bank, and IDFC First Bank are reportedly strong contenders to acquire Citibank's retail or commercial banking business. Singapore-based DBS Bank might also be a likely buyer due to its deep pockets and ambitious plans to expand in India. Let us look forward to seeing how the situation unfolds in the near future.
Post your comment
No comments to display