China's Attack on Edtech Companies: Explained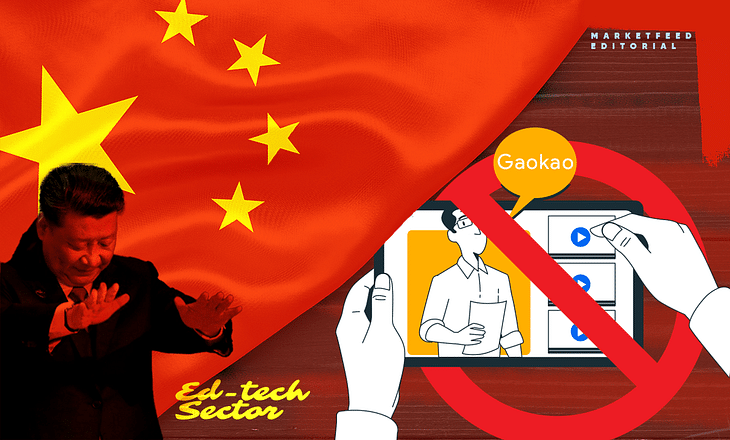 As part of their continued crackdown on tech companies, the Chinese government has asked after-school tutoring institutions in the education technology (ed-tech) sector to convert into not-for-profit entities. Ed-tech companies would also be barred from raising funds, launching a public issue (IPO), or acquiring other educational services. This has led to a massive sell-off of popular tech stocks in the Asian markets over the past few days. Chinese tech companies have collectively lost nearly $1 trillion in market cap!
In this article, we shall understand why China has introduced such severe measures that could ultimately wipe out the country's $100 billion ed-tech industry.
Reasons Behind China's Crackdown on Edtech Firms
Over the past year, Chinese authorities have asked all private educational institutions to scale back on operations. They are being forced to cap fees and suspend tutoring programs during the weekends and holidays. Many institutions were also fined for false advertising. Now, the government wants to limit the influence of ed-tech companies on the Chinese population. All these restrictions were formed as a result of changes in perceptions around education in China.
The country's labour force is shrinking rapidly. Unfortunately, most college graduates are unemployable as there are very few white-collar jobs (lawyers, accountants, bankers, etc) available. China has been promoting vocational training for creating a skilled blue-collar workforce. These are practical courses that impart skills and knowledge on a specific trade or occupation (such as technician, machine operator, electrician). However, most people do not opt for such jobs as it is considered 'inferior' and the pay is terrible.
Edtech Firms Causing Social Inequalities?
The Chinese government has started questioning the very existence of private tutoring services. The ed-tech industry primarily targets students who are appearing for China's main university entrance exam— the gaokao. It is a nine-hour-long test (spread over two days) that determines whether a student will attend an undergraduate institution or not. Similar to the IIT-JEE and NEET exams in India, the gaokao is considered a high-stakes exam. It is one of the most brutal educational assessments in the world.
The Chinese strongly believe that passing the gaokao is the ultimate pathway to success. Students spend years preparing for it. As a result, ed-tech firms have capitalised on this opportunity to a large extent.
According to reports, major ed-tech companies have been accused of triggering social inequality among urban and rural citizens of China by providing additional coaching to those who can afford it. Moreover, excessive tutoring has led to increased pressure and anxiety among the country's youth. It has also burdened parents with expensive fees. Now, the government authorities feel that the ed-tech industry does not serve any real purpose and may actually limit the country's true potential.
The new regulations on ed-tech are also said to be in line with Chinese President Xi Jinping's top priority at the moment— boosting the declining birth rate in the country. They had recently announced a three-child policy to counteract its aging population and declining workforce. The concerned authorities believe that restricting large ed-tech firms and providing affordable education is likely to encourage citizens to have more than one child.
Similar Events That Have Transpired
Over the past year, Chinese officials have been suppressing large and upcoming tech companies. Jack Ma, the founder of the Alibaba Group, had alleged that Chinese regulators have been restraining innovation. Soon after making certain comments against the government's anti-development policies, he disappeared from the public eye. His company, Ant Financial, was all set to launch a record-breaking ~$35 billion IPO during this period. Unfortunately, the IPO was called off as Chinese regulators tightened rules for companies to go public in American markets.
In a more recent case, Didi (a cab-hailing company in China) launched a $4.4 billion IPO in the US, which received a great response from investors. Within two days of its listing, Chinese regulators launched a full-fledged investigation into the company. The Didi app was pulled off from all app stores as Chinese officials alleged that Didi was illegally collecting and using the personal data of its users.
Tencent, a well-known multinational technology conglomerate, was ordered to give up exclusive music licensing rights by China's antitrust regulator. They also slapped a fine on the company for anti-competitive behavior. On July 26, the country's State Administration for Market Regulation issued new guidelines for food delivery platforms as well.
These are all part of China's efforts to minimise the interaction between Chinese companies and the Western markets. According to experts, President Xi Jinping and the Chinese Communist Party are sending messages to corporates and entrepreneurs to show them "who's boss". They simply do not want data collected from their citizens to fall into foreign hands. China will continue to introduce new policies and regulations that suppress all forms of innovation and development.
Conclusion
Now you know why China has started an all-out war against tech companies to limit their influence. The country is returning to state-controlled capitalism in a holistic manner. It has caused quite a stir amongst global investors of these firms. As per the draft rules issued by the government, ed-tech companies will not be able to issue stock or raise money in the stock markets. Thus, large equity investors such as Tiger Global Management and Temasek Holdings Pte will not be able to get their desired exits. This has turned out to be one of the major factors for the bearishness in stock markets across the globe. 
There is another interesting point to be noted here. Currently, China is the largest education market in the world. Out of 28 edtech unicorns (valued at more than $1 billion) in the world, eight are Chinese companies. If their government enforces strict restrictions on the operations of edtech firms, global investors may turn to countries such as India. This would benefit our country's popular edtech unicorns, BYJUS and Unacademy. As the saying goes, one man's loss is another man's gain.
Let us look forward to seeing how the situation unfolds in the days to come. Let us know your views on this topic in the comments section of the marketfeed app.
Post your comment
No comments to display