Can Zee Entertainment Reach Pre-Covid Levels?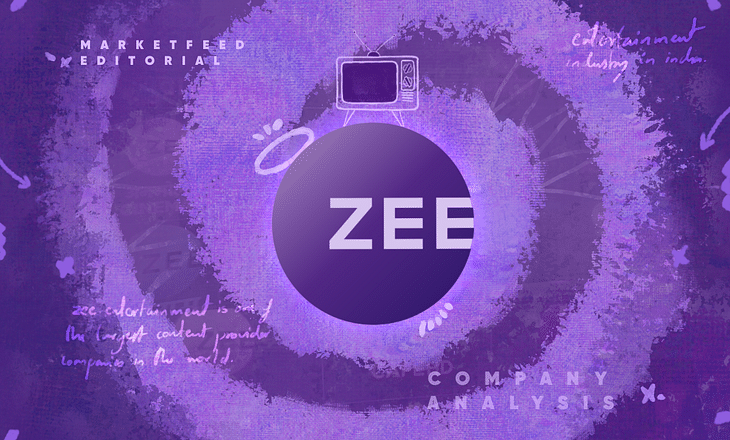 If you have ever watched television, even for a few days, you must have come across Zee channels. It is one of those companies that we can all associate very well, as we have used its services through some medium. In this article, we discover more about Zee and how fundamentally strong the company is.
Company Profile - Zee Entertainment
Zee Entertainment is one of the largest global content providing companies. It was started in the year 1982 by Subash Chandra who is also known as the Media Baron of India. It operates in multiple businesses like Broadcasting (both domestic & international), OTT digital platforms, Movies & Music and Live entertainment. They boast of having 100+ channels under their name and have 1.3 billion viewers, which is a staggering number.
When you have this high viewership, it is obvious that you are not present in only one or two languages. Zee provides their services in more than 10 languages, which is very important considering the diverse country we live in. Slowly and steadily, their new regional channels have established dominant positions in their respective markets. Their viewership is not only restricted to India but is spread to more than 170 countries with 8 foreign languages.
ZEE5 is the OTT platform under their brand which has been expanding its reach. It is relatively a very young OTT platform, especially when you compare it to the giants like Netflix or Prime. It was launched in February 2018 but has been taking a place in the audience's heart due to its eye-catching regional content. In FY21, more than 75 original shows and movies were released on ZEE5. The reunion episode of the popular TV show FRIENDS was premiered in India on ZEE5.
According to Manish Kalra, the chief business officer of ZEE5 India, their OTT platform gets 65.9 million monthly active users and 5.4 million daily active users. Not only this but Zee has a huge presence as a music channel on Youtube. Zee Music added more than 4 million subscribers on Youtube which have taken their total subscribers tally to 72.8 million, making it the second most subscribed Indian music channel on YouTube.
A look at Financials
The company admits that its financials are suppressed due to the negative impacts of Covid-19. Zee reported operating revenue of Rs 7,729 crore which is 5% less than what they reported in FY20. However, due to sensible management, the company was able to reduce its expense by 8.6% to Rs 5,939 crore in FY21 as compared to Rs 6,495 crore in FY20. Overall, the EBITDA of the company increased by more than 15% to Rs 1,577.57 crore on an annual basis.
Comparing the performance of Q4 FY21 to Q4 FY20, Zee declared an increase in advertising revenue by 8% from Rs 1,038 crore to Rs 1,123 crore. However, the impact of the Covid-19 on the first two quarters proved to be too heavy. The advertising revenue in FY21 decreased to Rs 3,748 crore from Rs 4,681 crore reported in FY20. This fall of almost 20% is of high significance keeping in mind that India is yet to pass through the grueling second wave.
To Zee's benefit, they were able to reduce the Programming cost by 19.2% during the fourth quarter of this financial year. The fixed assets under the company shrunk on an annual basis by 9.3%. However, an increase in the cash, loans & other investments category helped the company see a marginal rise of 3% in the total assets for this year. 
The impact of the pandemic can also be seen on the company's EPS (Earning per Share) which has fallen below Rs 9 for the first time since 2016. At the same time, they have tried to make their investors happy by paying a dividend of Rs 2.50 per share. With this, their dividend payout ratio has increased to 30% for FY21, the highest in a decade.
Without a doubt, the financials of the company have taken a huge hit, but what we can infer is the company is firmly looking to bolster itself. Their financial performance is increasing which can be a great sign for the company. We cannot ignore the effects of the pandemic but Zee has tried to fight this battle very well till now.
The fate determiner of NIFTY Media
The NIFTY Media index consists of media & entertainment stocks. Without a doubt, this is one sector that is intensely battered due to this pandemic. Zee Entertainment has the highest weightage in NIFTY Media. In fact, its weight is as high as 27.16%, which means almost one-third of the whole index. It is followed by PVR, Sun TV Network, and TV18 Broadcast with 16.44%, 15.97%, and 12.51% respectively. This tells that for this index to go up, ZEE needs to show some upward movement as well.
FIIs have been bullish by increasing their stake in the stock from 44% to 65% in the last two years. Many analysts believe that their single-digit growth in the advertisement could even turn into double-digit growth if the impact of the second wave is not too hard on them.
They still have the highest Market share of 36% in the Indian Television Market. The rise of ZEE5 into prominence has shown that the company is not only dependent on its Television advertisements. They are aware of the competition digital platforms pose in front of them. Thus, backing ZEE5 has been a very sensible step for the company.
Online streaming is for sure the right way to go. With more India specific shows and originals, Zee is competing fiercely with Disney+Hotstar. This will be a tough game to win, but there can be more than 1 winner.
It is one of the few large-caps which have not crossed its pre-Covid highs. There is still potential in the stock with the interesting valuation and Price to Book ratio of just over 2. Currently trading at a good resistance zone and can be watched by short-term players as well! Long term investors need to be concerned about the confusions at the management level.
What are your views on ZEE Entertainment? Do you believe its dominance in the entertainment sector can help it achieve success? Do let us know your opinions in the comments section by using the marketfeed app!
Post your comment
No comments to display