Can Tata's Trent Be The Next Retail King?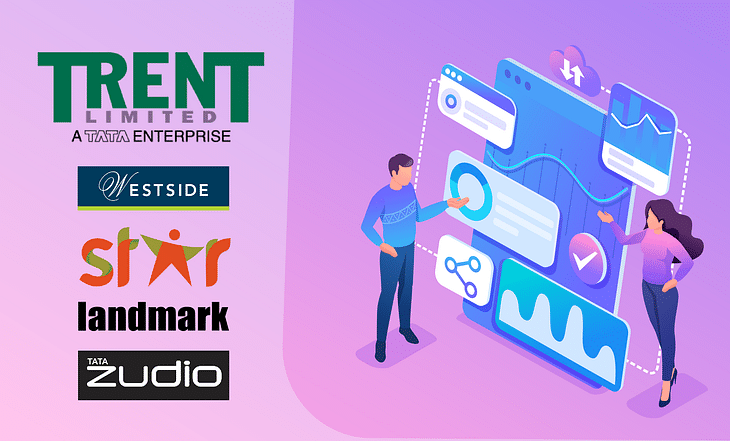 The Indian retail sector is witnessing rapid growth with a higher disposable income amongst citizens and changing consumer tastes and preferences. We can see domestic and global players such as Reliance Industries, Amazon, and Walmart entering into a heavy competition to obtain more customers. These firms have primarily focused on revolutionising our country's e-commerce space, which has proved to work in their favour. Trent is Tata's shot at this market.
The Tata Group, one of the largest business houses in the world, has been trying to expand and develop its retail segment as well. At a time when most companies have already made their mark in online retailing, it feels that the Tata Group is too late to enter the field. However, they have focused on improving its wide network of physical retail stores that come under its wholly-owned subsidiary, Trent Limited. Let us take a closer look into the company and its performance.
Trent - Company Profile
Trent Limited operates a chain of retail stores primarily under the Westside brand in India. It was incorporated in 1998 and is headquartered in Mumbai. The company's Westside stores provide a wide variety of apparel, footwear, lingerie, cosmetics, perfumes, accessories, and home furniture products.
Trent operates hypermarket and supermarket stores under the Star Market brand. It offers food and groceries, staple foods, beverages, health and beauty products, home furnishings, dairy and poultry products, and much more.
Through its chain of Landmark stores, the company provides lifestyle products, including toys, music, books, stationery, gadgets, and sports merchandise.
Further, Trent offers fashion apparel, footwear, and accessories under the Zudio brand.
Through the Utsa brand, the company provides ethnic apparel, beauty products, and accessories.
As of March 31, 2020, the retail company operates around 169 Westside stores, 10 Hypermarket and 39 Star Market stores, and 80 Zudio stores. Trent also operates 4 Landmark stores and 2 Utsa stores. It has been able to expand these brands across all major towns and cities in India. Notably, Inditex Trent Retail India (a 51:49 joint venture between Trent and Spain-based Inditex SA) runs Zara stores in India.
Financial Performance
As we know, the retail sector in our country is highly competitive. Large players such as Avenue Supermart (DMart) and V-Mart have shown exponential growth and continue to dominate the retail space. Amidst heavy competition, Trent has been able to report a modest increase in revenues and profits through its diverse portfolio. Over the last 5 years, the company's revenue has grown at a yearly rate of 6.59%, whereas the industry average stood at 19.21%.
As we can see, Trent has shown very impressive growth in overall sales over the past 5 years. The company is also virtually debt-free and has been able to introduce effective cost-control measures. It has a Return on Capital Employed (ROCE) of 16.94%, which is at par with the market leaders. This means that for every Rs 100 worth of capital employed, Trent earns Rs 16.94 on it. The retail firm has been maintaining a healthy dividend payout of 39.15%. As of February 2021, Trent Ltd has obtained a market share of 18.48%.
Trent's Q3 Performance
Amidst the Covid-19 pandemic and subsequent lockdowns, Trent faced significant losses. In the April-June quarter (Q1), The retail company's revenues declined sharply by 87% on a year-on-year (YoY) basis. However, with the easing of restrictions and improving consumer sentiments, the company has witnessed an improvement in sales turnover.
Trent Limited reported a 30.2% YoY jump in consolidated net profit to Rs 64.03 crore for the quarter ended December (Q3). Its consolidated revenue increased by 13.6% YoY to Rs 853.63 crore during the same period. The company had focused extensively on improving its digital presence. Thus, its online channel registered a high growth of 80% YoY in Q3. Westside revenues during the October-December quarter was up by 78%. This was also driven by huge demand during the festive season.
Noel Tata, the chairman of Trent Ltd, stated that the company's store expansion plans are on track. The firm has plans to launch a significant number of stores across strategic locations in India.
Is Trent Limited Overvalued?
At ~Rs 24,100 crore, Trent has one of the largest market capitalisations in the retail sector of India.
However, we can see that the stock is seen to be trading at 11.67 times its book value. [The book value of a company is equal to its total assets minus total liabilities]. The company's Price-to-Earnings (PE) ratio stands at 192.04, which is very high when compared to its peers in the retail sector. A high PE ratio shows that investors are willing to pay a higher share price today due to better growth expectations in the future. All these factors tell us that Trent is overvalued. However, upon further analysis, it was interesting to find that almost all its biggest competitors (such as Avenue Supermarts) are also overvalued.
An investor who focuses on such strong revenue figures and growth (rather than looking at its value) will find the stock to be very favourable.
The Way Ahead
From its highly-promising revenue and profit growth, Trent Limited seems to be a great bet for investors. This can be linked to the company's progressive management, which has set adequate targets for the upcoming financial years. They have planned to open around 30-40 Westside stores and 80-100 Zudio stores every year. This is primarily because private label brands account for nearly 90-95% of Westside sales, and launching new stores in key areas is likely to improve sales margins. Also, the Landmark and Star Market stores tend to be unaffected by seasonal changes. The management is confident that these stores will continue to show strong growth by catering to the requirements of all types of customers.
Trent has also collaborated with other Tata Group companies to establish a unique or pleasurable customer experience. For example, they have launched Starbucks outlets (operated by Tata Consumer Products) in Westside stores. The company has announced plans to bring about more innovations in its wide-network of physical stores. To adapt to the present market conditions, Trent will also focus on introducing a seamless online platform for its products. Due to this multi-fold approach for securing more customers, the future prospects of Trent remain to be very promising. It has the potential to become one of the largest retailers in the world.
Post your comment
No comments to display