Can Snowman Logistics Turn Around From Losses?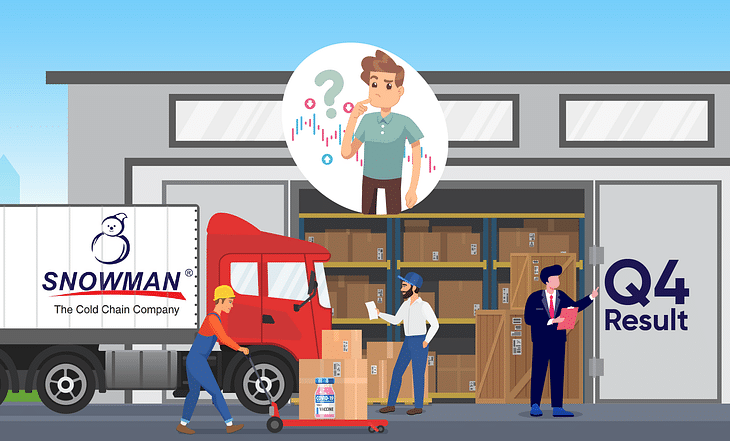 Snowman Logistics is India's first cold supply chain company with a nationwide network. It is also India's leading integrated temperature-controlled logistics company. It was incorporated by Amalgam Foods Limited in 1993. They have more than 25 years of experience in serving their client's needs related to cold storage, warehouse and transportation. Their rich list of clients includes Bharat Biotech, Walmart, Pepsi, Pizza Hut, Mother Dairy, ITC and others.
Why are we talking about Snowman again?
With the exponential rise in Covid-19 cases across India, the need for vaccination has increased massively. Many reports claim that India might look to entertain foreign vaccines as well. One of the vaccines which are used in many countries and have proven to be effective is Pfizer.
But, the Pfizer vaccine has some limitations due to its vulnerable handling and storage. A very cold atmosphere is required to keep the vaccine safe. That means cold refrigerators have to be deployed for storing these vaccines as well as the same low temperature is required to transport it from one place to another. Logistics has been a huge challenge for the Indian government till now.
If Pfizer is allowed to sell its vaccines in India, the government might have to call companies like Snowman Logistics to help in the domain of logistics. There is not a surety on this and we are not making any claims but the possibilities of this happening are still big. We covered Snowman Logistics in-depth in December when its stock price doubled after getting associated with the Pfizer vaccine for the first time.
Financial Overview of FY21
In the fourth quarter of this year, Snowman Logistics declared a total revenue of Rs 65.11. Their net loss in this quarter was calculated to be Rs 0.42 crore. This was much better than the loss of Rs 1.17 crore reported in Q4 FY20.
Total revenue for FY21 declined slightly to reach Rs 240.57 crore from Rs 243.39 crore. In the same yearly period, Snowman declared a net profit of Rs 0.06 crore against a net loss of Rs 15.01 crore reported in FY20. This slight drop in their revenue can be attributed to the lockdown imposed in March 2020. The non-essential vehicle movement was restricted for a few weeks at that time.
On the positive side, their warehousing department has seen a considerable improvement in margin from 38% to 42%. Total revenues from the warehousing segment increased by more than 5% in FY21 as compared to FY20. At the same time, revenues from the transportation services dropped by 10% which decreased the total revenue as mentioned above.
How will Snowman benefit?
Snowman Logistics launched a tech platform called 'Snowlink' to push refrigerated transport fleets across the country. With increasing transportation capacity, it will also aim to offer end-to-end solutions to customers. In the last four months, they have increased their area of coverage to 16 cities. Amidst the time of the pandemic, Snowman has created a new pharma vertical.
This new vertical will handle the distribution of COVID vaccines in some regions. They also plan to provide Pan-India storage and distribution but have to wait for the necessary approvals from various authorities. The company claims to be well-positioned for the mass distribution of the covid vaccine. Also, they are focussing on expanding in high yield locations to generate more sales across the nation.
According to the company's CEO, Snowman is already operating at 85% capacity utilization and has a further 15% capacity available for vaccine transportation. He further adds that Vaccine transportation will increase at a rapid pace as the government has opened the vaccines for everyone above age 18. Thus, their business can increase massively starting this May. Any noticeable change in revenues and profits will be displayed in the next quarterly results.
Do let us know in the comments section of the marketfeed application. What is your opinion on Snowman Logistics? Are you also keenly tracking what is going around the company and its business? 
Post your comment
No comments to display