Can Snowman Logistics Benefit From Covid-19?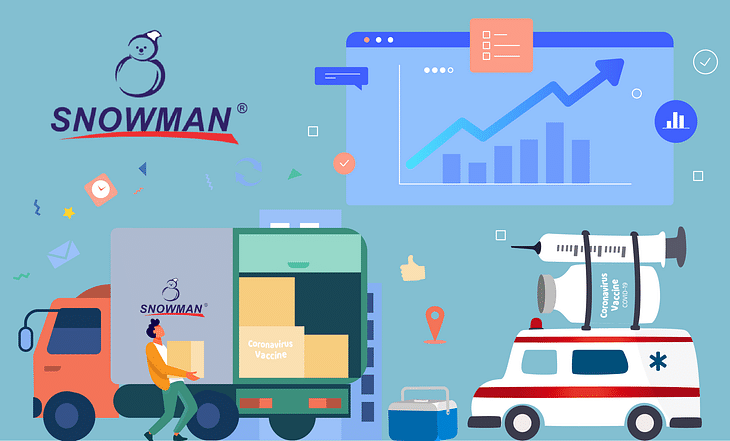 Coronavirus has impacted everyone's life. It's been 9 months already but India, along with most nations, is still struggling to contain the spread of the virus. As of 2nd December, India is very close to 1 crore positive cases. All the hopes lie on scientists worldwide to discover the vaccine. Many possible vaccines have been rolled out in the past two months which are close to getting approvals from the various authorities. To know more about these possible vaccines, click here.
Discovering and testing vaccines is one challenge, but distributing them is another. As the launch of a vaccine comes near, it's quite natural that focus will shift to many logistics companies as well. One such logistics company is Snowman Logistics.
About Snowman
Snowman is India's leading integrated temperature-controlled logistics company. Incorporated by Amalgam Foods Limited in 1993, it is India's first cold supply chain company with a nationwide network. Gateway Distriparks Limited is their promoter and largest shareholder.
With over 25 years of experience in temperature-controlled warehousing and transportation, Snowman has been able to gather some big clients. These clients are from various businesses like pharmaceuticals, QSR (Quick Service Restaurants), meat, seafood, dairy, retail, etc. Few of the client companies to name are ITC, Lupin, Walmart, Pepsi, Pizza Hut, Mother Dairy, Mondelez, Bharat Biotech (potential vaccine manufacturer) and more. Snowman offers a variety of services from consultancy to transportation to distribution.
The chart below will explain their end-to-end solutions in a detailed manner.
The products which Snowman deals with are temperature-controlled. Due to this, it becomes very important to take special care of them. To get real-time updates, Snowman has incorporated an ERP system. This ERP system is a technology with which they trace all their trucks and warehouses. This real-time monitoring helps them to optimize and secure their operations. Currently, they hold pallet capacity of 105,228 in 31 warehoused across 15 cities. These 15 cities include Kochi, Chennai, Banglore, Mumbai, Delhi, Ahmedabad, etc. You can find Snowman's 2019-20 annual report here.
Pfizer & Snowman
US-based Pfizer Inc and Germany-based BioNTech developed a vaccine which proved to be 95% effective in preventing Covid-19. The UK government became the first country on 2nd December to approve the use of Pfizer-BioNTech's covid-19 vaccine. Reports suggest that this vaccine will be available across the UK from next week. The US Food and Drug Administration (FDA) will meet on 10th December to discuss whether to authorize the COVID-19 vaccine developed by Pfizer Inc.
Can it come to India? There are many roadblocks of this vaccine coming to India. The biggest is the temperature it has to be stored and transported. According to reports, Pfizer's vaccine requires an ultra-cold chain of -70 degrees. India does not have many logistics companies which can provide logistics services at such low temperature. Snowman Logistics is one of the very few Indian companies which can offer services similar to what is required by Pfizer's vaccine.
According to Snowman's CEO Sunil Nair, their current facilities can provide logistics and storage up to -40 degrees. But if it requires more than that, any company in the world will find it hard to offer their services if the technology is not improved. He added "Going up to -40 degree Celcius if I take that as then we have one lakh pellets positions total capacity and as of now the spare capacity is around 15,000 pellets positions and depending on the requirement we can increase it by creating some more space. Each pellet can accommodate 6000-7000 doses of vaccine."
The day Pfizer's vaccine news came out, Snowman Logistics' share went 8% up. The chart below depicts how the investors have got behind this stock. In March, the stock touched its 52-week low at Rs 24.60. Since then, it has really struggled to get back up. Till 3rd November, the stock was trading in the early 30s. In just one month, it went from Rs 34 to Rs 67.30. Almost a double! That's why it is often said that the stock market is unpredictable. But believe us, if you know the fundamental reason behind the happenings, you will always be a better and a knowledgeable investor in the long-run.
Financial Performance of Snowman Logistics
The company may have an amazing business opportunity, but how strong are they fundamentally? Let's check out.
| | | | |
| --- | --- | --- | --- |
| | March 2020 | March 2019 | March 2018 |
| Net Sales | 240.20 | 232.55 | 194.28 |
| EBITDA | 60.19 | 46.79 | 44.46 |
| PBT | -6.31 | 10.86 | -3.56 |
Values in Rs Crore
Snowman Logistics registered a mere 3% YoY rise in total revenue in FY20. But at the same time, they failed to record a profit for the third time in the last four years. Between 2017 to 2020, they recorded a profit only once and it was in 2019. This is mostly because of the high depreciation. In FY20, the company calculated total depreciation to be more than Rs 50 crore. That means, more than one-fifth of their total revenue was lost in covering for depreciation.
On a positive side, Snowman Logistics reported a positive net cash flow for the first time in the last five years. The company reported a net cash inflow of Rs 1.13 crore. Apart from depreciation, a major chunk of Snowman's money goes out to pay the debt. They have maintained a very low debt-to-equity ratio which means most of the money has come through equity rather than debt. Snowman's current debt-to-equity ratio is 0.15. This ratio was 0.32 in 2018. Overall, the company has not performed well financially over the past 5 years. Yet, the continuous decreasing debt pattern provides a brighter look to the company. Any company which has less debt, with a good market to compete in, is considered less risky by the investors. You can also look into its peer cold supply chain companies like Blue Star.
In another note, Adani Logistics offloaded approximately 9.59 lakh equity shares indicating 0.57% stake in the company at Rs 55.64 per share last day. This is not looking like a good sign.
Be it vaccines or FMCG products, cold-chain supply in India is set to witness a boom. Can Snowman Logistics take advantage of this? Or will the stock fall after the recent rally based on potential vaccine news be futile? Let us wait and watch.
Post your comment
No comments to display