Can Rakesh Jhunjhunwala's 'Akasa' Fly to New Heights?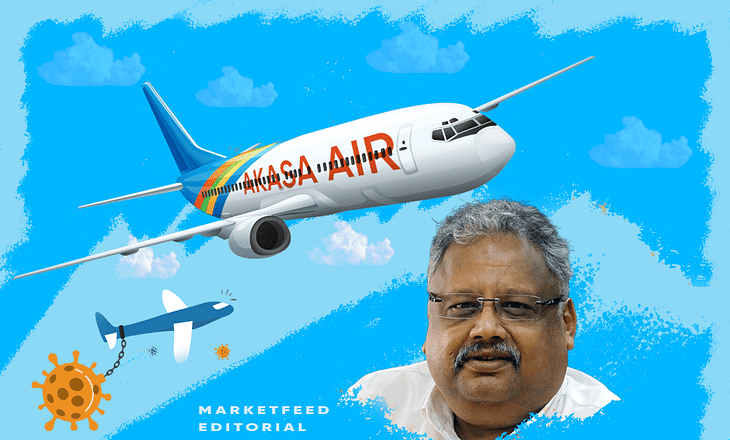 You must have heard it by now. Ace investor Rakesh Jhunjhunwala has announced plans to launch his own airline, "Akasa", with 70 aircraft over the next four years. He will invest $35 million (~Rs 260 crore) and hold a 40% stake in the company. Interestingly, Vinay Dube, the former CEO of Jet Airways and GoAir, will be leading the new venture. Reports also state that former IndiGo boss Aditya Ghosh has joined the Akasa team. They have sought a No Objection Certificate (NOC) from the Ministry of Civil Aviation to commence operations.
At a time when the entire airline industry is struggling to cope amidst the Covid-19 pandemic, is it wise to launch a new airline? Let's find out.
The Present State of India's Aviation Industry
According to a report from consultancy firm CAPA, airlines in India are expected to incur losses of over $4 billion (~Rs 29,750 crore) for the second year in a row. Air traffic has declined considerably due to Covid-related restrictions across our country. Data published by the Directorate General of Civil Aviation (DGCA) revealed that the number of air passengers fell from ~233 lakh in the quarter ended March (Q4 FY21) to 109 lakh in Q1 FY22. Major airlines such as IndiGo, SpiceJet, and Go First (previously known as GoAir) are currently operating at 65% of their pre-pandemic seat capacity.
Revenues have taken a severe hit due to restrictions on the movement of people. IndiGo reported its highest-ever quarterly loss of Rs 3,174 crore in the April-June quarter (Q1). Moreover, the companies mentioned above are burdened with high costs and debt. Airlines are incurring extra costs to set up health and safety systems for passengers. At the same time, the cost of aviation turbine fuel is surging. The ongoing effects of the pandemic will continue to cause trouble to the airline industry. Existing airlines are a long way away from recovery. The government is not providing any direct support as well.
Now, on the onset of a third wave, the Big Bull Rakesh Jhunjunwala is betting on the future prospects of the aviation sector.
The Right Time to Launch a New Airline?
Currently, all prominent companies in India's airline space are financially weak. Some are likely to go bankrupt if the Covid-19 situation prevails. Many analysts feel that this is a perfect time to launch a new airline in India. And that too, a well-funded ultra-low-cost carrier (ULCC). Other airlines will have no option but to reduce their prices to compete with a ULCC, which will cause further strain on their financial performance.
Most airline companies across the world lease aircraft rather than outrightly purchasing them. They borrow the large Boeings and Airbus planes from leasing companies and make payments in installments. With the onset of the Covid-19 pandemic, these leasing firms had a large fleet of aircraft at their disposal that was simply left idle or unused. As a result, they started offering huge discounts on lease rates to new customers. Akasa could greatly benefit from this.
A lot of pilots and cabin crew members across all airlines in India lost their jobs amidst the pandemic. They are desperately looking for new work and are willing to take salary cuts. Thus, Akasa's initial expenses would be minimal.
Conclusion
Akasa will be an ultra-low-cost carrier, which means that Rakesh Jhunjhunwala and his team plans to capture a significant portion of the Indian market. The airline is expected to bring down average fares and make flying affordable to a larger population base. However, the success of a new airline will ultimately depend on the kind of airport slots they get access to. Moreover, IndiGo (a low-cost carrier) has over 54% market share. Jet Airways is all set to make a comeback as well. Akasa will have to compete heavily with the well-established networks of these existing airlines.
In his interview with Bloomberg TV, Jhunjhunwala said: "I'm very bullish on the Indian aviation sector in terms of demand and I think some of the increment players will not recover".
Many believe that Rakesh Jhunjhunwala's deep pockets and business acumen will play a vital role in Akasa's launch and success. If they deliver on promises and manage to keep expenses low, Akasa will be able to perform well. If the prices are attractive enough, Indian customers would simply move to the new airline. We will have to patiently wait and watch how they execute all strategic plans in the near future.
Will Akasa be able to take off smoothly and disrupt the aviation industry? Let us know your views on this new airline venture in the comments sections of the marketfeed app.
Post your comment
No comments to display