Can Just Dial be the next IndiaMart?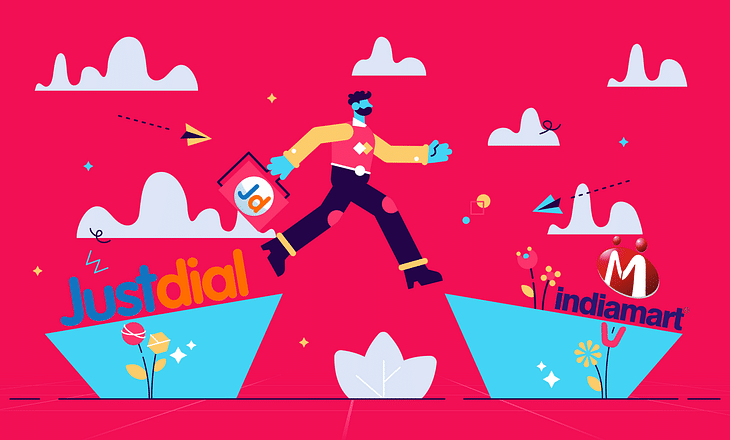 Just Dial, the hyperlocal search engine, has ventured into a new initiative that can turn the company into gold. It was launched in 1994 as a phone-based local directory. The Mumbai-headquartered company has launched its Business-2-Business(B2B) e-commerce portal which will be known as JD Mart. The new JD Mart will directly compete against IndiaMart and Udaan which are already present in this B2B e-commerce market. Just Dial promises to bring a new wholesale experience for the customers with the aid of JD Mart. They will ensure to offer quality vendors with wide categories of products. 
JD Mart will aim to provide you with a complete experience with the help of interactive content cataloguing and 24x7 support. The products will be certified and verified so that the customers are not fooled to buy poor quality products.
When we visit Flipkart's website and buy products from there, it is Flipkart's Business-2-Customer(B2C) business. With JD Mart, Just Dial is trying to lure sellers who want to buy products in a bulk hence the B2B. This will help them to sell their products at a wholesale price.
The Legal Battle
JD Mart was scheduled to launch in the latter half of 2020 but the launch was delayed. This was because of India Mart who went to Delhi High court against JD Mart over copyright violation. India Mart was successful to obtain a temporary injunction which stalled Just Dial's entry into the B2B e-commerce space.
In return, JD Mart termed India Mart's complaints as "absolutely baseless and frivolous". Also, they accused IndiaMart of data-copying and cybersquatting. The Delhi High Court launched an investigation of the alleged data theft by Just Dial. Finally, after the 4-5 month tussle, Just Dial unveiled JD Mart in the last week of February.
A Look at Just Dial's Financials
Just Dial is one of those very few companies that have consistently seen an increase in their numbers. Their revenues have never seen a dip since 2012. In FY19, their revenue was Rs 984 crore which increased to Rs 1092 crore in FY20. The same can be said about their net profits as well. They amassed a net profit of Rs 272 crore in FY20 which was almost 25% higher than what they recorded in FY19 (Rs 206 crore).
In the last three years, their EPS also increased from 17.46 (FY17) to 42 (FY20). EPS stands for Earnings per Share which tells how much an investor is able to earn per share. Thus, the higher the EPS, the better for the investor. Before you invest in a company, it is important to gauge how risky that bet is. This can be mapped out via the debt company holds.
Another positive news for the company is that over the last 5 years, their debt to equity ratio has been 1.27%. This is way lower than 3.49% which is the industry average for this ratio. In the last year (from December 2019 to December 2020), the promoters of Just Dial have increased their holding in the company from 32% to almost 36%. The last share buyback took place just a few months ago. Promoters increasing their stake in their company is always a good signal for the investors. It is interpreted as proof of the confidence of promoters in their business.
The Success of IndiaMart
IndiaMart has given massive returns to its investors since its IPO in 2019. The IPO price of IndiaMart was Rs 973. The IPO was listed at Rs 1,180 and closed the day at Rs 1,302. That is more than Rs 300 benefit on just one share! Currently, the stock is trading at more than Rs 8000. If an investor has held even one share for 1.5 years, he would have earned a capital appreciation of Rs 7000. Last month, it touched it's all-time high of Rs 9950. If any of you have enjoyed this unbelievable rally, then do let us know in the comments section below. You can also view India Mart's price chart above.
The Final Take
The speculation in the markets is wide that the arrival of JD Mart can potentially be as big as IndiaMart in the next few years. Just Dial has been in business for years and they have a huge client base. They are a well-known company when you have to search for any store nearby. The new JD Mart can take the benefits of the huge client base of Just Dial.
This will increase their reach on the new web portal and can be a very strong competitor to India Mart. The B2B e-commerce market is a space with a lot of potential in the future. With low competition, and high potential to expand, we think that if JD Mart can attract people, they can surely be a big thing in future. What do you think about the B2B market in India? What is your opinion on JD Mart vs India Mart? Share your views with us in the comments section below!
Post your comment
No comments to display