Can Clean Energy Take Reliance to New Heights?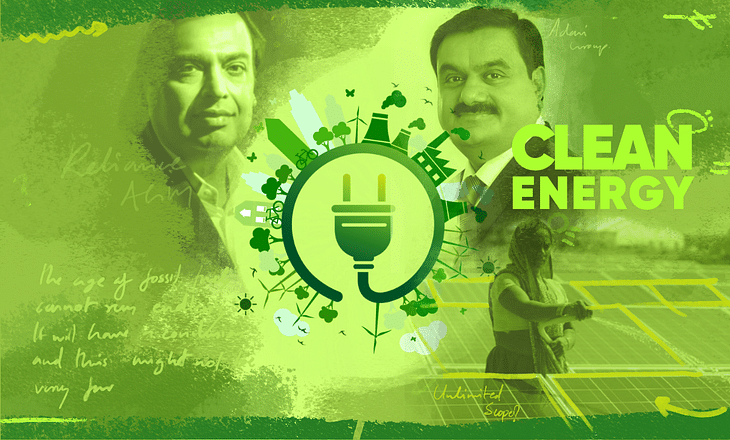 Reliance's Annual General Meeting last week looked positive, the announcements were put forward with great vision, the markets they are competing in have huge scope. But even with this, the stock price is seeing selling pressure. One of the main takeaways from the AGM was the venture of Reliance into the much-talked Green energy business. However, an oil-to-telecom conglomerate moving into this new energy domain might feel awkward to a few, but it is not. Mukesh Ambani has already stated last year that he wants his company to lead India's fight for sustainable energy.
Let's see what are the prospects of the green energy business sector and how Reliance is planning to become a major player here.
Indian Renewable sector
The age of fossil fuels cannot run endlessly. It will have a conclusion and this might not be very far now. To boost a new sector, it is important to allow investors to pump money. With this in mind, India's foreign investment policy allows 100% FDI through the automatic route. According to the reports, the Indian renewable energy sector has received a total investment of about Rs 5.2 lakh crore in the last seven years. Not only this, by 2028, India can reportedly see investments worth $500 billion in this sector.
As of 2019, India was ranked fifth in wind and solar power and fourth in renewable power installed capacity. What makes this sector even more interesting is the subsidies and benefits offered by both central and state governments. The governments of different states want the factories to be set up in their area so that their unemployment numbers can reduce and benefit from the taxes in the long run.
By 2040, it is expected that around 49% of the total electricity will be generated by renewable energy. The Central Electricity Authority (CEA) also says that the share of renewable energy generation would increase from 18% to 44%, while that of thermal power is expected to reduce from 78% to 52% by 2030. If you notice, all these aims are for the next 10-15 years. And, any massive change in the short-term is not expected.
Reliance AGM revealing the Green energy push
Reliance is entering into this segment with the aim to bridge the energy divide between India and other countries. They have announced plans to invest Rs 60,000 crore in building four factories. These will be a solar photovoltaic module factory, electrolyser factory, fuel cell factory, and energy storage battery factory. Apart from this, they will also invest Rs 15,000 crore in strengthening the value-chain partnerships and future technologies.
Both of these investments will be made over the next three years. Mukesh Ambani also revealed that the company has already started developing the Dhirubhai Ambani Green Energy Giga Complex on 5,000 acres in Jamnagar. The chairman claims that this complex will be one of the largest integrated renewable energy manufacturing facilities in the world. Overall, this will help the company to meet its ambitious goal of becoming net-carbon zero by 2035.
Reliance has the aim of enabling 100 gigawatts of solar energy by 2030. They will also invest in carbon fibre plants for sustaining their hydrogen and solar ecosystems. This whole ecosystem is planned to be bolstered by a dedicated Renewable Energy Project Management and Construction Division.
Unlimited scope to grow
Reliance is sure to be a great part of India's future but if they can meet their targets in the defined period, their growth won't be restricted to India but will spread to the global market. Now we have the countries of super-rich businessmen competing against each other in one of the most lucrative sectors. Yes, we are talking about Reliance's Mukesh Ambani and Adani Green's Gautam Adani. One international top competitor you can expect will be Tesla's Elon Musk.
Just like many other sectors, China has a huge hold in the development of clean energy as well. Four of the Chinese companies are responsible for producing nearly half of the world's solar polysilicon supply. Recently, US president Joe Biden added three of these companies to its export blacklist. The sentiments against China are very high due to the Covid-19 spread.
Allegedly, it was from China where this virus actually started surfacing. This has not been received well by many countries who demand action against China. Indian companies like Reliance can take benefit of this lost love and spear ahead to dominate in the clean energy business. It's a new road for Reliance. And, a road of unlimited growth potential. Can they become a giant in this clean renewable energy sector? What are your views? Let us know in the comments section of the marketfeed app.
Post your comment
No comments to display