Can BluSmart EV Cabs be a Threat to Ola, Uber?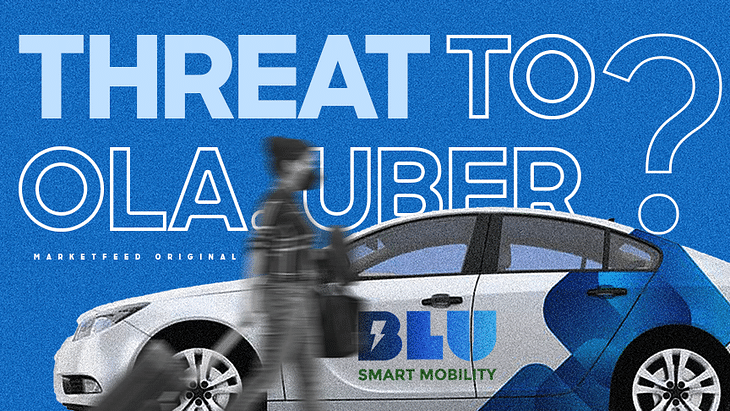 An electric vehicle (EV) ride-hailing platform has made a grand entrance at a time when Ola and Uber (who have largely enjoyed a duopoly) are facing the rage of customers over numerous concerns, particularly with how surge pricing is determined.
In this article, we discuss the challenges faced by online cab service providers and how BluSmart, the newest entrant in the ride-hailing segment, seems to be checking off all the right boxes.
Transformation of the Indian Taxi Industry
We have all witnessed a major transition in the Indian taxi industry. Around 2010, we experienced a shift from radio cabs or conventional taxis to online cab services from OLA and Uber.
Before the OLAs and Ubers took over the Indian market, there was a scarcity of good cab services. There was a time when getting a taxi in places like Mumbai and Delhi required a 40-minute wait. Owing to high demand and betterment in the quality of cabs, the organised taxi market grew. The online players were responsible for changing the customer perception of taxi services in India.
"Customer is god". We all know that, but these online players also strived to keep their driver-partners content. Bonuses, incentives, free training, and health check-ups were provided. These companies knew that if they kept their drivers satisfied, then the riding experience would improve, and that would translate into higher brand value.
Challenges Faced by Online Cab Service Providers
With rising fuel prices over the years, driver incentives were eliminated and the earlier no-cancellation policy was now a major curse.
App-based taxi aggregator companies had promised their drivers high monetary incentives. However, incentives were drastically cut, resulting in increased driver dissatisfaction.
The average wait time for the cab was 2-4 minutes, which has now been increased to 12-15 minutes.
Fare prices have also increased, which is driving customers away.
Users have been complaining about the high rates of cancellations and the drivers' insistence on cash payments.
The drivers work 14-16 hours shifts a day to make ends meet.
BluSmart: Disrupting the Disruptors
These shortcomings are exactly what Gurugram-based BluSmart is attempting to address and eradicate!
BluSmart is an electric shared smart mobility platform that offers intelligent, economical, sustainable, and efficient transportation. It was established in 2019 with sustainability being the core foundation of its operations. They have the vision to bring positive environmental changes to Indian cities by establishing a holistic and comprehensive electric on-demand mobility platform.
As of July 2022, the company announced it had saved 4300+ tonnes of CO2 over 1.8 million rides in Delhi NCR and received Verra accreditation (a standard for certifying carbon emissions reductions) on carbon emissions.
BluSmart's drivers don't have a cancel button in their app! It has also onboarded women drivers. In that sense, it seems to be checking off all the right boxes— spanning higher service levels, environmental awareness, and women empowerment.
Challenges in Growth
BluSmart's expansion faces several hindrances. It accepts reservations/bookings for its automobiles and works in accordance with the availability of slots. Since the rider already has a set itinerary, this will not pose a problem. However, it may lose out on rides where spontaneous travel decisions are made. On the same right, BluSmart users have reported that their vehicle usually arrives at the pickup location well before the allotted time frame.
Also, their vehicles are not driver-owned assets, unlike Ola or Uber. BluSmart possesses ownership of all its vehicles. Its entire fleet is electric and consists of Tata Tigor EVs. This also implies that these vehicles require a location to recharge their batteries. The lack of charging infrastructure in India poses a significant hurdle to the company's expansion. However, BluSmart has partnered with Jio-BP to set up charging infrastructure across India.
The Way Ahead
BluSmart is dedicated to expanding its substantial and competitive presence throughout all of the nation's megacities. After being Delhi NCR-focused, it has started operations in certain areas in Bengaluru, including Indiranagar, Koramangala, Wilson Garden, Domlur, HSR Layout, Bellandur, and a few more.
The ride-sharing company also aims to grow its fleet size from 2,200 cars to more than 5,000 by the end of this year. It plans to operate 30,000 EV cabs by the end of 2023!
BluSmart is creating inclusive and equitable economic opportunities for driver-partners who can drive and earn without the hassles of asset ownership. The startup's goal is to provide economical and environmentally friendly transportation options for metropolitan India.
Will BluSmart outsmart Ola and Uber, or will it face the heat and pressure of the veterans? Let us know your views in the comments section of the marketfeed app!
Post your comment
No comments to display