Can a Relief Package Save the Telecom Sector?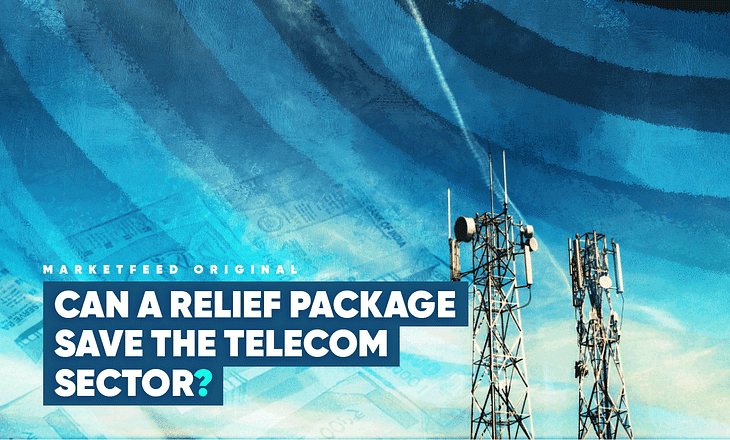 Telecos Vodafone Idea and Bharti Airtel can finally breathe a sigh of relief. The Union Cabinet has approved a crucial relief package that will ease the financial burden of telecom companies. The new measures seek to drive progress, facilitate investments, and increase employment opportunities in India's telecom industry. In this article, we shall dive into the reforms approved by the Centre.
What's in the Relief Package?
The Union Cabinet has approved a four-year moratorium on payment of unpaid spectrum and AGR dues by telecom companies. For clarity, spectrum dues is the amount payable to the Centre for airwaves that were purchased via auctions. Adjusted Gross Revenue or AGR is a percentage of a telecom firm's total revenue "shared" with the government. [You can learn more about AGR here] Interest will be levied if companies opt for the moratorium.
The government has also decided to allow 100% foreign direct investment (FDI) in the telecom sector through the automatic route. It means that foreign investors can now invest fully in telecom firms without prior approval. Currently, only 49% FDI is allowed through the automatic route. Anything beyond that has to necessarily go through the government route.
The definition of Adjusted Gross Revenue (AGR) paid to the government will be changed to exclude all non-telecom revenue. Currently, telecos have to share a percentage of their total income, including those from interest income, sale of assets, and other miscellaneous income.
There will be an increase in the tenure of spectrum ownership to 30 years, compared to the current tenure of 20 years. It means that companies securing the rights to use spectrum (or airwaves) can now leverage the assets for up to 30 years after bidding for them in future auctions. There will be a cut in spectrum usage charges (SUC) to reduce the capital cost (fixed, one-time charges) of telecom firms. The government will also scrap SUC for airwaves acquired in the upcoming auctions.
The package is also expected to boost and expand the 4G network footprint in India. It will also create an enabling environment for investment in 5G networks.
How Will it Benefit the Telecom Sector?
The structural reforms introduced by the Centre are expected to bring positive changes to the entire telecom landscape of India. These measures are aimed at providing much-needed relief to players such as Vodafone Idea (Vi) and Bharti Airtel, who are struggling with huge debt. Vi, who has been losing lakhs of subscribers every month, is on the brink of declaring bankruptcy.
As of 2019, telecom operators collectively owed nearly Rs 1.47 lakh crore to the Centre. Out of this, Vodafone Idea's deferred spectrum charges stand at ~Rs 1.06 crore! In 2019, telecos were offered an extension of two years to pay off all financial obligations with interest. Reports suggest that Vi has to pay an installment of Rs 16,000 crore at the end of March 2022. Unfortunately, the financial condition of most telecom companies has continued to deteriorate. Thus, the government has now deferred these payments by another four years. This measure will provide space for financially stressed telecos to improve their business and clear dues over a longer period.
We know that Vi has been losing lakhs of subscribers due to cutthroat competition in the telecom space in India. The company is unable to compete with aggressive tariff rates from Reliance Jio and Airtel. The risk of a duopoly (two firms dominating a market) would lead to a further hike in tariffs. Moreover, the cash-strapped firm is not in a position to invest in 4G/5G infrastructure. The approval of 100% FDI in the telecom sector will help address the cash flow issues faced by Vodafone Idea. Foreign institutions could swoop in and save the company from its inevitable death. Vi needs to raise capital quickly to survive in the industry.
Conclusion
The relief package will be instrumental in generating more jobs (due to new investments) and protecting the overall interests of consumers, employees, banks, and the government at large. It comes as a virtual lifeline for Vodafone Idea. The moratorium will bring relief to lenders that have massive exposure to distressed telecom operators. If companies are still finding it difficult to pay off their financial obligations at the end of four years, the government will be open to acquiring their equity.
The package has made vital changes to telecom regulations, which will support the growth of entities in the telecom sectors in the long term. However, the Centre may find it difficult to support BSNL from collapsing while also extending measures to private players. There is no clarity whether the relief package will resolve all challenges faced by Vodafone Idea. However, it will surely help them to tide over the immediate crisis. Vi has found a breathing space but still has a long way to go. As per the recent data released by India's telecom regulator, Vi continues to lose subscribers. Meanwhile, Reliance Jio and Bharti Airtel are in tight competition to secure more market share.
Ultimately, we have to analyse how telecos take advantage of these relief measures and improve their financial metrics. What are your views on the relief package for the telecom sector? Let us know in the comments section of the marketfeed app.
Post your comment
No comments to display