BPCL and its Privatization News. What to Expect?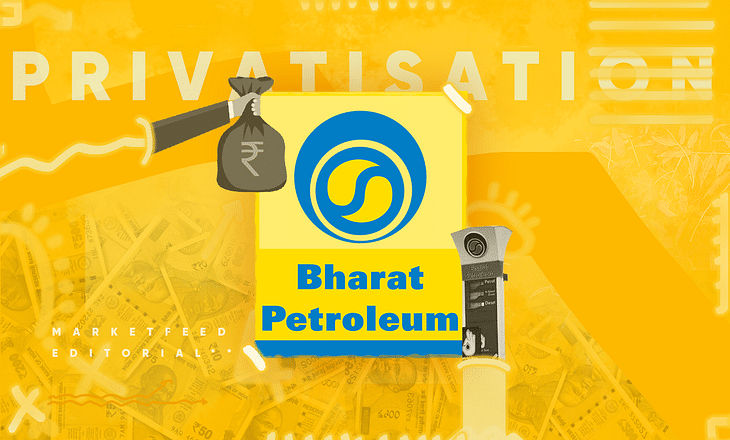 Bharat Petroleum Corporation Limited (BPCL) has been a hot company to keep an eye on since the Indian government had intended to sell its stake in the company. Why is all the fuss about BPCL? What are the developments in its privatization? Let's check it out here.
All on the Privatization front
The government plans to sell its 52.98% stake in BPCL as part of its ambitious divestment process. As expected, the company received multiple expressions of interest (EOI) from different entities who were willing to purchase the government's stake.
To everyone's surprise Reliance, Saudi Aramco, United Kingdom's BP or France's Total didn't express their interest in buying BPCL. These companies along with Russia's Rosneft-led Nayara Energy were considered to be the most eager parties but none of them came forward to participate in the bid. Vedanta Group is one of the three entities to submit an EOI for BPCL's acquisition.
The other two are private equity firms Apollo Global and I Squared Capital's arm Think Gas. Currently, BPCL owns 22.5% of Indraprastha Gas Ltd (IGL) and 12.5% of Petronet LNG Ltd and acts as a co-promoter. The rumours were high that BPCL will be selling its stake in IGL and Petronet which could prove to be very destructive for the company.
But the management of the energy company came ahead and squashed all these stories. As a part of their divestment strategy, BPCL sold its entire 61.5% stake in Numaligarh Refinery in Assam to a consortium of Oil India, Engineers India and Government of Assam for Rs 9,876 crore. The majority of the chunk went to Oil India who bought a 54.16% stake. This helped them to increase their refinery shareholding to 80.16%.
This was done to stay aligned with the Assam Peace Accord which asks the government to keep Numaligarh Refinery in the public sector. The privatization-bound company also bought Oman Oil company's remaining shares in the Bina refinery project for about Rs 2,400 crore. It already had a 63.68% stake in Bharat Oman Refineries which will get increased to 100% after this purchase.
The most recent update came that the government might tweak FDI policy to allow 100% Foreign Direct Investment (FDI) in BPCL. However, that seems to be confusing because according to the current FDI policy, FDI is restricted to 49% under the automatic route in petroleum refining by PSU.
Now it has been told that the ministry of commerce and industry will elaborate on this tweak in the coming days. It is definitely something we have to keep a watch on! Can you imagine one of the biggest Indian oil companies run by a foreign entity completely?!
A look at their Q4 performance
BPCL announced a net profit of Rs 11,940 crore for the quarter ended March as against a net loss of Rs 1,361 crore which was reported in the same quarter in the previous year. One of the key things to look at is how much of this came from their operating business. Remarkably, the total revenue from operations increased by 21.5% to Rs 98,755.6 crore for the quarter.
There was a one-time exceptional gain of Rs 6,992.95 crore in the financial books. The company sold its Numaligarh Refinery (covered in the above section) through which it gained Rs 9,422 crore. After taking an impairment of assets worth Rs 2,032.8 crore and expenses related to employee shares, their total gain reached Rs 6,992.95 crore. Their Gross refining margin (GRM) surged to $4.06 per barrel in FY21 as compared to $2.5 per barrel in FY20. The GRM refers to the earnings by converting one barrel of crude into fuel.
Not only this, BPCL made its investors feel ecstatic by offering a final dividend of Rs 58 per share. This had a one-time special dividend of Rs 35 per equity share which was offered due to the sale of the Numaligarh Refinery. Not to mention, they have already announced an interim dividend of Rs 21 per share. Thus, a total dividend of Rs 79 per share for a stock trading in the range of Rs 400. That is amazing!
Still, a long way to go?
Despite challenges put forward by this pandemic, BPCL has made huge steps towards its privatization. BPCL's sale will help the Indian government to reach the Rs 1.75 lakh crore disinvestment target set for 2021-22. This disinvestment has become more important in these tough Covid-19 times when the government has to spend a lot from their pockets.
The revenues of the government are hit due to this pandemic, and on the other side, their expenditure has increased massively. Another roadblock is that the bidder who purchases the government's stake might have to make an open offer to other shareholders for acquiring another 26% at the same price.
Also, the final bidders will wish to visit the refineries and sites personally which cannot be allowed completely due to restrictions on international travel. Thus, one can expect another six months to complete this deal.
Currently, BPCL holds 15.33% of India's oil refining capacity and 22% of the total fuel marketing share. This means whichever company acquires it, will gain a good hold of energy refinery and distribution in India. Thus, it becomes even more interesting to wait and see who takes control of it.
What are your opinions on BPCL and its privatization? Were you holding BPCL when they announced their special dividend? How happy were you? Let us know in the comments section of the marketfeed application!
Post your comment
No comments to display