Bitcoin Is Now Legal Tender In El Salvador. What Next?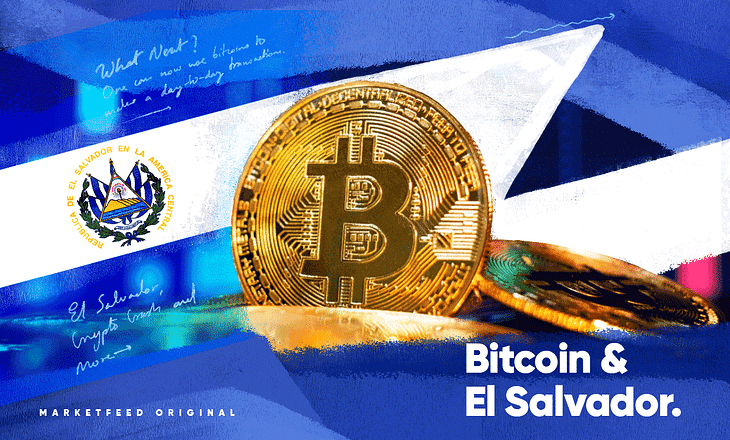 Bitcoin is now legal tender in El Salvador. One can now use Bitcoins to make day-to-day transactions. There was quite some stir in the crypto market after the announcement was made. There are some aspects of this move by El Salvador that are of serious concern. In this piece, we talk about why cryptos crashed after Bitcoin was legalized in El Salvador, how this move could affect the country's economy, and if this move is possible in other countries.
El Salvador, Crypto Crash, and More
El Salvador made Bitcoin legal tender on Tuesday, September 7, 2021. The crash was anticipated, as the announcement was made way back in June 2021. After the decision was finalised, the entire crypto market came tumbling down. Bitcoin, which had hit $52,000 on Tuesday, tumbled close to ~11% after a sporadic bull run lasting months. Bitcoin's rivals Ethereum (ETH) was down ~10%, Cardano was down ~11%, XRP by Ripple tumbled ~17%, Dogecoin slumped by ~15%.
All currencies tumbled, but there was ONE that defied the crash. Solana, another cryptocurrency, defied odds and rose by ~5% after the move was announced. Solana token has zoomed by ~400% in 30 days. Solana is a blockchain network (similar to Ethereum) that seeks to develop crypto-based products and services with more than 400 projects under it.
Social media handles were anticipating the crash a day before El Salvador finalized its bid to legalize Bitcoin. The crash was triggered by traders booking profits in a move powered by overpriced crypto markets. Additionally, uncertainty arose on the implementation of the system in the country. Chivo, a widely used crypto wallet in El Salvador, crashed after the announcement was made. Right after global cryptos crashed, Salvador's President Nayib Bukele tweeted that the country is buying 150 Bitcoins. 'Buying the Dip. 150 new coins added', read Bukele's tweet. As of September 9, 2021, El Salvador holds 550 Bitcoins in total.
Sustainability and Suspicion
El Salvador's move to make Bitcoin a legal tender was seen with suspicion. According to a Central American University (CAU) survey, close to 70% of Salvadorians has opposed the move. The sustainability of the move is also questionable. El Salvador uses the US Dollar as its official currency. In a country where only 30% of the total population has bank accounts, Bitcoin benefits only the rich and not the marginalized.
The World Bank had rejected El Salvador's request for implementing the Bitcoin system in the country, citing 'environmental and transparency concerns'.
El Salvador's Gross Domestic Product (GDP) relies on foreign remittances from Salvadorians living abroad who send back money home. In 2020, Salvadorians sent back $6 billion home in the form of remittances. President Bukele argues that sending money home in Bitcoins will help Salvadorians save on 'remittance fees.'
The country has budgeted $203 million for the implementation of Bitcoin in the country. It has also set aside incentives for its citizens to use bitcoins. It has set aside $150 million to guarantee the convertibility of Bitcoin into US dollars and close to $23 million for financing the rollout. The country has set aside $30 million for a $30 bonus for new users of Bitcoin.
Conclusion
The idea of a cryptocurrency as an asset or an investment class is widely accepted. Yet, the use of cryptos as a mode of payment is seen as a blunder. First is the problem of cryptos being widely used to finance illicit or illegal activities. Second, comes the issue of taxation of cryptos. A currency that cannot be tracked or regulated cannot be taxed efficiently. The third issue is the volatility of cryptos. They are an extremely volatile asset class, and one might risk losing their savings in case an unprecedented change comes in its exchange value. The latest news is that Ukraine has also legalized and regulated Bitcoins in a law passed by the parliament. Only six lawmakers opposed the implementation of Bitcoin.
Coming to the crypto trading space. Cryptos managed to bounce back as traders across the globe 'bought the dip'. Bitcoin currently has a support level of $45,000 and a resistance at $50,000. Its fall from $52,000 has eased selling pressure off the market. The next big move that crypto traders need to watch out for is the quantitative easing or interest rate cuts that the US Fed plans to introduce by October-end or November-mid.
Post your comment
No comments to display