Best Stocks to Watch in the Education and Training Sector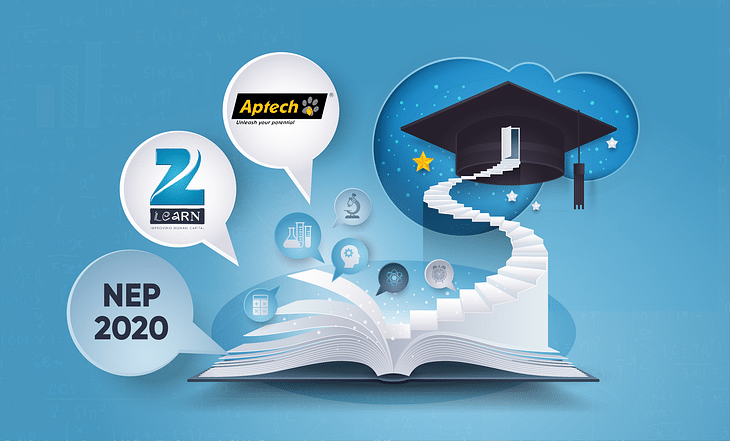 India's Education and Training sector is relatively young. There is a low school enrollment rate coupled with increasing demand for "skilled" labor. This leaves room for massive growth and investment in the sector. Around a decade ago, there were close to zero education and training stocks. However, the past decade has seen several IPOs of companies dealing in education and technology(Ed-Tech).
According to IBEF, the Indian Education Sector was valued at Rs 6 lakh crore in FY18. Moreover, the sector is growing at ~13% CAGR. The COVID-19 lockdown forced the world to switch to Ed-Tech companies for academic needs, so this CAGR figure may improve more. From workshops to MOOCs to University courses, all of it was online. The EdTech sector's market size is close to ~Rs. 21,000 crore. Education as a virtue has been talked of for ages, let us dig deep into the finances of the sector.
The Opportunity
India has a fairly young population. Such a young population requires the correct level of education and skill-building. Besides, Access to proper offline education is a problem in rural India. This allows expanding into online teaching.

India's Gross Enrollment Ratio(GER) is 27% as compared to 88% in the United States. Gross Enrollment Ratio is the measure of students enrolled in a given level educational course, regardless of age. With such low GER figures, there is an opportunity in making education affordable and accessible.
The growing middle class with rising income levels have encouraged better education opportunities. Rising expectations of parents and pupils might not be met with classroom education. This is leading to a switch to online learning where there are multiple sources to learn from that are affordable, sometimes even free.
Evolving Technology: Data Science courses are a popular choice for freshers in the industry. Used in business analytics, finance, stock market, IoT, automobile, etc. As the field evolves, there is a need to update one's skill sets to keep pace with the rising market. This is when IT training companies like NIIT come into the picture.
Zee Learn
Zee Learn has three product segments:
Educational Services- Schools, Preschools, Vocational Courses, etc.
Construction and Leasing (for education) - constructing, leasing, and renting education infrastructure.
Training and Manpower- training and consultancy in human resources, manpower, business processes, etc.
As of January 2021, the company's share price has depreciated by ~35% over the past year. The company has a market cap of Rs 423 crore. Educational services contribute a maximum(~75%) to their revenue stream followed by Construction/Leasing and Training and Manpower. In the Educational Services segment, preschool brand KidZee is the highest contributor. The company suffered major losses during the COVID-19 lockdown since it mostly operates physical schooling infrastructures and very few digital platforms. However, the company has slowly started incorporating digital media onto its revenue stream with products such as Robomate, KidZee Learning App, and Tablet.
MT Educare or 'Mahesh Tutorials' another test-prep and after-school education center was bought by Zee Learn for a sum of Rs 200 crore. You may check out this interesting investor presentation which gives an overview of Zee Learn, its risks, its competition, and the education sector as a whole.
Career Point
The market cap of Career Point is close to Rs 311.4 crore. The company is a strong performer in the market as compared to its other counterparts in the sector. It has consistently increasing Net Profit and Revenue since March 2016. The company began by offering 'coaching' or test preparation for Engineering and Medical entrances in Kota, Rajasthan. However, it now has its hand in both formal and digital education all over the country. The company owns universities, schools, and colleges. It offers e-learning services, live coaching for students, and skill development services to industries. Career Point also has its own Non-Banking Finance Company(NBFC), which specializes in home and education loans. It also has a subsidiary that deals in the publication and production of educational material and accessories.
NIIT
National Institute of Information Technology or NIIT is a skills and talent development corporation with a market capitalization of Rs 1,983 crores. The company has operated on low debt, has an increasing EPS or Earning Per Share, giving great returns over the past 5 years. It has an increasing interest amongst Foreign Institutional Investors(FIIs). The company provides corporate training and skill development services to corporates all across the globe. Its clientele includes DELL, SAP, Shell, Bank of America, Standard Chartered, and many more. Its revenue stream has three segments, Corporate Learning, Skills and Career(SNC), and School Learning Group. The company has changed paths over time. Previously, its main income source was the Skills and Careers Group, where it trained and counseled young individuals right before employment. The focus then shifted to corporate training now, where most of its income comes from.
Source: Company Reports & Ventura Research
Aptech
Aptech is a company, much like its counterpart NIIT. Its market capitalization is close to ~Rs 704 crore. Big Bull Rakesh Rakesh Jhunjhunwala and his wife Rekha Jhunjhunwala together own a 23% stake in the company. Its products and services include:
Arena Animation
Maya Academy of Advanced Cinematics
Aptech Aviation Academy
Preschooling
IT Training
Banking and Financial Services Training
Assessment and Testing Solutions
Corporate Training
As education gets digitized and costs come down, EdTech companies are likely to spring up. One such company with an amazing valuation is BYJUs. Starting as a small EdTech startup, to sponsoring the Indian Cricket Team, the company has come a long way. The company might go public around next year with an IPO.
Conclusion
Indian Education Sector in the stock market has been an underperformer. There are very few companies that hold value and continue to perform well. COVID-19 was a blow for companies that owned physical setups and a boon for the ones invested in e-learning and digital media. Speaking of e-learning, the New Education Policy(NEP) 2020 has emphasized vocational courses, extracurricular activities, and online education. Besides, the Government has rolled out its e-learning platforms like SWAYAM, DISHA, etc. Furthermore, NEP 2020 also emphasizes teacher and faculty training. You can check out the NEP 2020 over here.
Post your comment
No comments to display