Which are the Best Credit Cards in India 2023?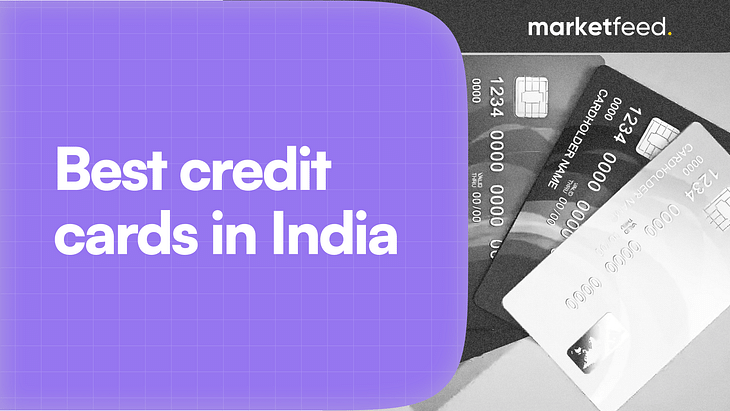 Credit cards have become a popular method of payment among many Indians, offering convenience, flexibility, and a range of benefits. Recent data from the Reserve Bank of India showed that credit card transactions have surpassed debit card usage in India. However, a credit card is a double-edged sword and can hurt you if not used carefully. This article explains what credit cards are, their advantages and disadvantages, and factors to consider while getting a credit card. We also compare a few of the best credit cards in India.
What is a Credit Card?
A credit card is a plastic card issued by a financial institution, typically a bank. The cardholder can borrow funds to purchase products or pay for services. It provides a line of credit that you can use for various transactions. When you use a credit card for a payment, you borrow money from the issuer (bank). The borrowed amount gets recorded as a debt, which you should repay within a specified time frame. Interest charges are applied if the balance is unpaid on the due date.
What are the Factors to Consider While Choosing a Credit Card?
Before getting a credit card, it's important to consider several factors and technicalities involved. Here are some key factors to consider before getting a credit card:
Credit Card Types and Features
Understand the different types of credit cards available, such as cashback cards, rewards cards, travel cards, and secured cards. (Secured cards are those backed by fixed deposits. Your FD amount acts as collateral for your credit limit. First-time borrowers and those with a poor credit history could look into secured cards). Research their features, benefits, annual fees, interest rates, and other associated charges. Compare multiple options to find a card that aligns with your needs and financial goals.
Interest Rates
Credit cards typically charge interest on unpaid balances each month. Familiarise yourself with the interest rates associated with different credit cards, as high rates can significantly impact the cost of borrowing and debt repayment. Look for cards with lower interest rates, or consider paying off the balance in full to avoid interest charges.
Credit Score Requirements
Most credit card applications consider your creditworthiness, which is a reflection of your credit score. Understand the credit score requirements of the credit card you're interested in. Some cards may require a higher credit score for approval. Review your credit report and ensure its accuracy before applying for a credit card.
Charges & Fees
Credit cards may come with various fees, including annual, late payment, cash advance, and foreign transaction fees. Carefully review the fee structure of the credit card you're considering to understand the potential costs involved. Some cards may offer fee waivers or benefits that offset the fees, so weigh the fees against the card's features.
Rewards and Benefits
If earning rewards interests you, take the time to explore the rewards programs and benefits offered by different credit cards. Consider the earning potential, redemption options, and any restrictions or limitations on rewards. Assess whether the rewards align with your spending habits and provide value for your preferences.
Credit Limit
The credit limit on credit cards signifies the maximum borrowing capacity available to cardholders. Understand the credit limit associated with the card you're considering and evaluate whether it meets your financial needs. Using your credit limit responsibly is crucial to ensure you don't exceed your capacity to repay.
Terms and Conditions
It's crucial to thoroughly read and understand the terms and conditions linked to the credit card you're considering. Pay attention to interest rates, grace periods, payment due dates, and other vital details. Be aware of any changes to terms and conditions that may occur in the future.
What are the Advantages and Disadvantages of Credit Cards?
Here are some of the pros and cons of owning a credit card:
| | |
| --- | --- |
| Advantages | Disadvantages |
| Convenience and flexibility in making purchases, eliminating the need for cash. | Risk of accumulating debt due to overspending and high-interest rates. |
| Online transaction capabilities and easy access to funds. | Potential for credit card fraud and identity theft. |
| Rewards programs, cashback, and discounts that allow for savings and perks. | The temptation to overspend and exceed budgetary limits. |
| Opportunity to build credit history and establish a positive credit profile. | Additional fees, such as annual fees, late payment fees, and cash advance fees, increase the cost of credit card usage. |
Which are the Best Credit Cards in India?
Credit cards in India come in various categories, each catering to specific needs and preferences. Whether you're seeking cashback, rewards, travel benefits, or specialised perks, there is a credit card that suits your requirements.
Axis Bank Insta Credit Card
Axis Bank Insta Easy Credit Card is a credit card that is issued against your Fixed Deposit with Axis Bank.
The credit limit offered on this card is flexible, up to 80% of the principal amount of the fixed deposit.
Cash withdrawals are allowed up to 100% of the credit limit given.
Interest-free credit is offered for 50 days.
A 1% fuel surcharge is waived for fuel transactions all over India.
ICICI Instant Platinum Card - Secured Credit Card
ICICI Bank Instant Platinum Credit Card is a secured credit card from ICICI Bank. You can get this card if you have a fixed deposit with ICICI Bank of at least ₹20,000. The pledged fixed deposit will continue to earn interest for cardholders.
The card has no annual or joining fees.
Cardholders earn two reward points for every ₹100 they spend. The cardholder can redeem the reward points for cash. It also offers attractive movie offers, rewards, and dining benefits.
Citibank Cashback Credit Card - Cashback Card
Citi Cashback Credit Card from Citibank offers exciting cashback deals to cardholders.
You can earn 0.5% cashback on all spending and 5% cashback on movie tickets, telephone bills, and utility bills.
Cardholders can also save on dining, flight bookings, and hotel bookings. Cashback is credited to your account automatically in multiples of ₹500.
HDFC Platinum Plus Credit Card
HDFC Bank Platinum Plus Credit Card is one of the popular credit cards that rewards you on every purchase.
The card offers two reward points on all general purchases and 50% more rewards for every Rs. 150 you spend above Rs. 50,000 per statement cycle.
A 1% fuel surcharge is waived off on fuel transactions of a minimum ₹400 with a maximum cashback of ₹250.
Disclaimer: The credit cards mentioned in the article are purely for educational purposes. Please do your own research and consider the risks involved before applying for a credit card.
Post your comment
No comments to display