Bears Rule The Day. Bank Nifty Closes Below 40k, But Above 39,500 - Post Market Analysis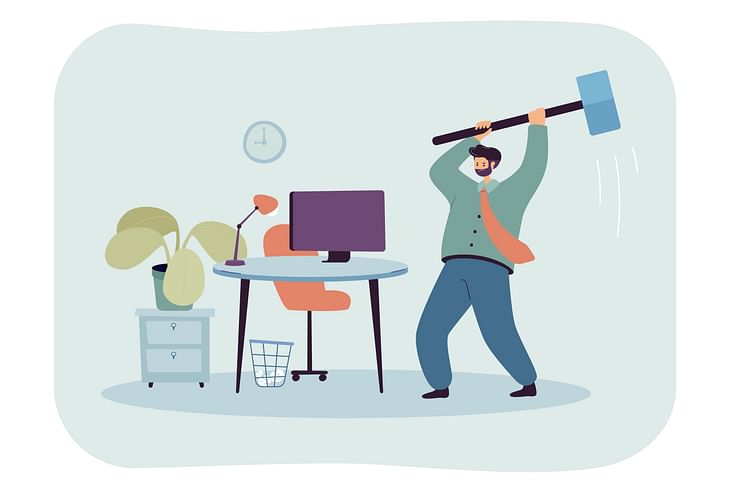 NIFTY opened the day at 17,593 with a gap-down of 35 points. The index fell 200 pts in just 30 mins and then consolidated below 17,450 for nearly 3 hours. After the European market opening, it started moving and hit a day low at 17,291. NIFTY closed the day at 17,327, down by 302 points or 1.72%. 
BANK NIFTY started the day at 40,429 with a gap-down of 201 pts. Unlike Nifty, it had no consolidation phase and was in a complete downtrend with different momentums. Bank Nifty easily broke 40k and ended the day at 39,546, down by 1084 points or 2.6%.
Nifty Auto (-1.7%), Nifty Media (-3.4%), Nifty Metal (-1.2%), Nifty PSU Bank (-3.9%) and Nifty Realty (-2.9%) moved down the most.
Major Asian Markets closed in the red. European Markets are trading 2% down.
Today's Moves
Only five Nifty 50 stocks closed in the green and three of them are from Nifty Pharma- Divis Lab (+1.7%), Sun Pharma (+1.4%) and Cipla (+0.58%).
Yesterday's Nifty 50 Top Loser- Power Grid (-7.9%) once again ended in the same spot.
Adani Ports (-3.4%) and SBIN (-2.9%) continued huge profit bookings from their recent highs.
M&M Fin (-13.1%) saw a sharp fall after RBI directed to stop recovery operations via a third party.
Other Other NBFC stocks Bajaj Finance (-2.7%), Bajaj Finserv (-2.8%) Shriram Transport (-4.3%), Manappuram (-2.7%), Chola Fin (-5.8%), Poonawalla Fin (-3.5%), Shriram City (-4.2%), L&T Finance (-4.2%), LIC Housing (-4.8%) and India Bulls Housing (-5.6%) also ended in the red.
Nifty IT majors- HCL Tech (-0.20%), Infy (-0.18%), TCS (-0.84%), TechM (-1.2%) and Wipro (-0.90%) managed to control the loss as India Rupee continued its weakness against U.S Dollar.
All the Bank Nifty stocks closed in red, led by HDFC Bank (-2.6%), ICICI Bank (-2.3%), AU Bank (-3.8%), Federal Bank (-5%), IDFC First Bank (-3.8%), Kotak Bank (-1.5%) and SBIN (-2.9%).
According to media reports, CCI has found that India's largest hospital chains abused dominance through excessive pricing. Apollo Hospital (-4.1%) fell more than 4% after the news.
Tata Steel (+0.68%) closed in the green after the decision of merging all the metal companies of the Tata group into it.
Tata Steel Long (-12%), Tata Metaliks (-4.6%), Tinplate (-5.9%), and TRF (-5%) fell heavily after the news.
Markets Ahead
It was a day of bears.
In a single day, Nifty has lost multiple supports- 17,600, 17,480, and 17,380. The fall in the first 30 mins was really scary and it was later fueled by the weakness in European markets.
Towards the day's end, the Nifty took support below 17,300. Along with this, 17,220 and 17,160 supports will be watched. Nifty's 2022, is a red one, let's see how it ends.
Nifty is testing the 50-Day EMA support.
Bank Nifty was in ultimate bearishness, falling 1000+ pts today. It fell 2300 points, or 5.5% from the record high hit last week.
Strength in Nifty IT can be connected to the weakness of the India Rupee, and can't be considered as a permanent one.
How is this merger plan going to impact Tata Steel in a long-term vision? Share your thoughts in the comments section of the marketfeed app.
Post your comment
No comments to display