Bearishness Continues. Media, Realty Stocks Fall - Post-Market Analysis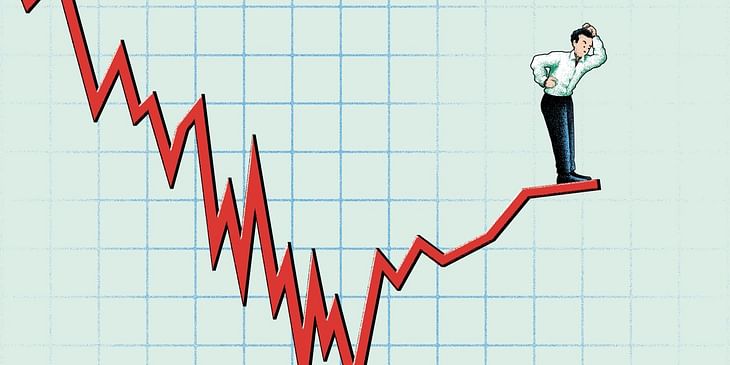 NIFTY started the day at 18,300 with a small gap-up of 13 points. From the beginning itself, the bearish trend from yesterday continued, and the index fell nearly 200 points. It tried to take support from 18,250 zones, but after a small retracement, it started falling down till 18,100 zones and then gave a minor pullback of 80 points towards the end to close at 18,181, down by 104 points or 0.57%.
BANK NIFTY started the day at 43,948 with a gap-up of 44 points. After opening near yesterday's low and crossing that level, the index faced selling pressure similar to Nifty and fell down till the support zones of 43,500. It then made a double-bottom and retraced back around 300 pts. Bank Nifty closed at 43,698, down by 205 pts or 0.47%.
All indices except NIFTY Auto (+0.09%) and NIFTY FMCG (+0.06%) closed in red. NIFTY Media (-2.09%), NIFTY Realty (-1.3%), and NIFTY IT (-0.9%) fell the most.
Major Asian markets closed mixed. German markets are currently trading in the green, while UK's FTSE 100 and France's CAC 40 are trading flat-to-red.
Today's Moves
Hero MotoCorp (+1.3%) was NIFTY50's top gainer. The company plans to launch multiple models in 2023, including a new Harley Davidson bike.
Amber Enterprises (+15.39%) surged after reporting an 82% YoY growth in net profit to Rs 108 crore for Q4.
Kotak Bank (-1.95%) was NIFTY50's top loser. Yesterday, the bank hiked lending rates by 10 basis points across tenures.
Oberoi Realty (-6.1%), Prestige (-2.4%), Indiabulls Real Estate (-1.8%), and other real estate stocks fell sharply. As per reports, continued weakness in household income growth represents the biggest hurdle in the growth of the residential property market.
LIC Housing Finance (-6.3%) fell after reporting muted Q4 results. Morgan Stanley is 'underweight' on the stock.
Markets Ahead
Just like we discussed in yesterday's post-market report, Nifty breaching 18,250 can give us a good fall to 18,100-50 levels, and that happened today! And Bank Nifty breaching the consolidation zone of 43,850 gave us a fall till 43,500, and we saw both indices performing similarly.
Being an expiry tomorrow in Nifty and Bank Nifty, we can expect some volatility, and the selling pressure can continue.
In Nifty, today's low levels of 18,050-18,100 can be looked out for immediate support. In Bank Nifty, the 43,500 round level can act as an important support. If these levels are breached, the indices can move further down.
As of now, markets have turned a little bearish. If these important supports are broken, we can look for selling opportunities at every leap, and if the indexes decide to move up it'll keep hitting resistances and we can expect a choppy to sideways market.
What levels are you watching out for expiry tomorrow? Let us know in the comments section of the marketfeed app.
We apologise for the delay! All the best to expiry traders tomorrow!
Post your comment
No comments to display