Barbeque Nation IPO: All You Need to Know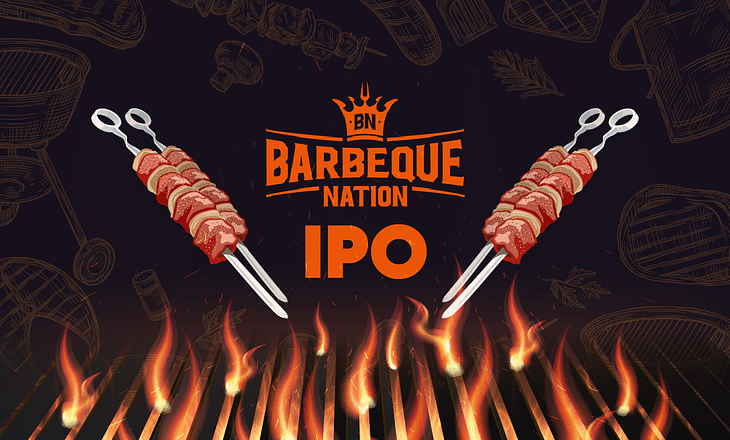 Barbeque Nation is one of the most well-known restaurants in India. If you have visited their outlet you would be aware of the free birthday cake they serve you! It is a restaurant with great cuisines with a lot of variety. But why suddenly are we talking about delicious food? Well, Barbeque Nation has decided to take the public route and their IPO will hit the market on 24th March 2021. Let's see in-depth how great the company is and if you should invest in this IPO or not. Ultimately, visiting a restaurant to have food and investing your money is a completely different ballgame.
Company Profile - Barbeque Nation
Barbeque Nation Restaurants was incorporated in 2006 and the first Barbeque Nation Restaurant was established in 2008. Since then, it has developed into one of the leading casual dining restaurant chains in India. Barbeque Nation has a unique concept where they allow guests to grill their own barbecue's right at their tables. They offer various types of cuisines which attract customers of all ages. They are known for their delightful food, lovely ambience and satisfying service.
The number of Barbeque Nation Restaurants has grown steadily over the years. In 2013, they had 32 restaurants which increased to 79 by 2017. Currently, they are present in 77 cities in India and in 3 other countries. They own and operate 138 outlets in India, 5 outlets in UAE, 1 outlet in Malaysia and 1 outlet in Oman. Barbeque Nation has diversified into another brand which is called "Red Apple." This brand operates 10 Italian restaurants in 2 cities of India (Bengaluru and Chennai).
Barbeque Nation has 70% of its outlet in metro cities. The rest 30% of the outlets are present in Tier-1 or Tier-2 cities. According to CEO Rahul Agrawal, the company would prefer to expand further keeping this ratio more or less constant. Jubilant FoodWorks is one of the financial investors in Barbeque Nation. They reportedly acquired around 10% of the total stake in Barbeque Nation very recently. Not only Jubilant FoodWorks, but Rakesh Jhunjhunwala is also one of Barbeque Nation's financial investors. His investment firm Alchemy Capital holds close to a 2% stake or 575,000 shares in Barbeque Nation Hospitality.
About the IPO
Barbeque Nation Hospitality's IPO will open on 24th March 2021 and will close on 26th March 2021. The total issue size of the IPO is Rs 452.87 crore. The total issue comprises of two parts: A Fresh Issue and an Offer for Sale. The fresh issue and the Offer for sale aggregate up to Rs 180 crore and Rs 272.87 crore respectively. The price band of the IPO is Rs 498 – Rs 500 per equity share. The allotment date and listing date for the IPO are 1st April 2021 and 7th April 2021 respectively.
An investor has to apply for a minimum of one lot which is equal to 30 shares. The maximum number of lots an investor can apply for is 13 or 390 shares. If the issue is oversubscribed, the maximum number of lots you will get is one. The minimum investment required by an investor is Rs 15,000. The maximum investment one can make is Rs 1,95,000.
Sayaji Hotels Limited, Sayaji Housekeeping Services Limited, Kayum Dhanani, Raoof Dhanani, and Suchitra Dhanani are the promoters of Barbeque Nation Hospitality Limited. Currently, the promoters of the company have 60.21% of the total holdings. The company plans to use the net proceeds from the IPO in two ways. Their first objective is to make prepayment or repayment of all or a part of the company's outstanding borrowings. The remaining sum of the money will be used to meet general corporate purposes.
Financial Overview
| | | | | |
| --- | --- | --- | --- | --- |
| * | 30 Nov 2020 | 31 March 2020 (FY20) | 31 March 2019 (FY19) | 31 March 2018 (FY18) |
| Total Assets | 908.58 | 955.45 | 819.08 | 723.16 |
| Total Revenue | 236.60 | 850.79 | 742.54 | 590.44 |
| Profit/Loss After Tax | -100.64 | -32.92 | -38.38 | -5.8 |
(Values in Rs crore)
Barbeque Nations is a popular name as mentioned earlier but is still making a lot of losses. Their revenue has zoomed up from FY18 to FY20 but so have been their losses. This clearly shows that the revenue the company is generating is not enough to cut off the cost they are incurring. This fiscal year, their revenue collection has also decreased massively.
Till 30th November 2020, Barbeque Nations generated revenue worth Rs 236.60 crore which is one-fourth of what they collected in FY20. The major reason behind this is the lockdown due to Covid-19 which forced the restaurants to shut down completely. This has forced their losses to increase to Rs 100 crore by November 2020. Not a great sight at all!
As the company is a loss-making company, its net profit margin of -42% does not surprise me at all. Also, their debt-to-equity ratio is also 14%, which is considered to be very high. To sum up, Barbeque Nation looks very weak financially and their short-term future, amidst Covid-19, also does not look promising.
Risk Factors
Covid-19 has had a damning effect on Barbeque Nation. The lockdown induced by the national government forced their restaurants to shut down completely. Even after the lockdown, the restaurants were told to operate at 50% capacity. This has decreased revenue collection massively.
Barbeque Nation depends on third party delivery aggregators for a huge portion of their food delivery services. Any deterioration of their relationship with these third party companies can affect them immensely.
Being in the food business, the company has to continuously focus on people's changing taste and preferences. Any failure to judge what their customers want can negatively impact their financials.
Barbeque is not exactly a premium restaurant but its prices are still on a higher side. Thus, at this price, they won't be able to attract customers from small cities.
Due to the pandemic, the company's expansion plans have taken a huge hit. The opening up of new restaurants was paused but they are hopeful of gathering the pace up again.
IPO Details in a Nutshell
| | |
| --- | --- |
| IPO Date | March 24, 2021 – March 26, 2021 |
| Issue Type | Book Built Issue IPO |
| Face Value | Rs 5 per equity share |
| IPO Price | Rs 498 to Rs 505 per equity share |
| Lot Size | 30 Shares |
| Issue Size | Aggregating up to Rs 452.87 crore |
| Fresh Issue (goes to the company) | Aggregating up to Rs 180 crore |
| Offer for Sale (goes to promoters) | Aggregating up to Rs 272.87 crore |
| Allotment Date | April 1, 2021 |
| Listing At | BSE, NSE |
| Listing Date | April 7, 2021 |
Conclusion
Till now, Barbeque has been a service-oriented business. They just started to explore the delivery business and still need to do a lot more to reap benefits. Rahul Agrawal has stated that even though they are predominantly in a casual dining business, they are focussing a lot more on the delivery space. The company is backed by some strong investors which give great positive signals to the investors before the IPO. But, we can't forget the financial performance of the company and risk factors associated with their business in the current situation.
The huge losses incurred by the company is worrying. The surge in Covid-19 cases in a few states also adds to my worry. This demotivates me from thinking of this IPO as a perfect investment. But the current IPO frenzy is helping many investors to record profits. Being a popular brand name is always great for a company. Can this factor aid this IPO to be oversubscribed? We will find it out very soon!
IIFL Securities Ltd., Axis Capital Ltd., Ambit Capital Pvt. and SBI Capital Markets Ltd. are the book-running lead managers to the issue. I will wait till the end of 24th March and see how much the IPO is subscribed to. Do your own analysis about the company and let us know in the comments section if you find any other interesting information. You can find Barbeque Nation red herring prospectus here.
Post your comment
No comments to display